Tether Gold (XAU₮) is now available for trading against USDT on DeversiFi. Traders can now gain exposure to physical gold, directly from their private wallets.
Head directly to DeversiFi to start trading XAU₮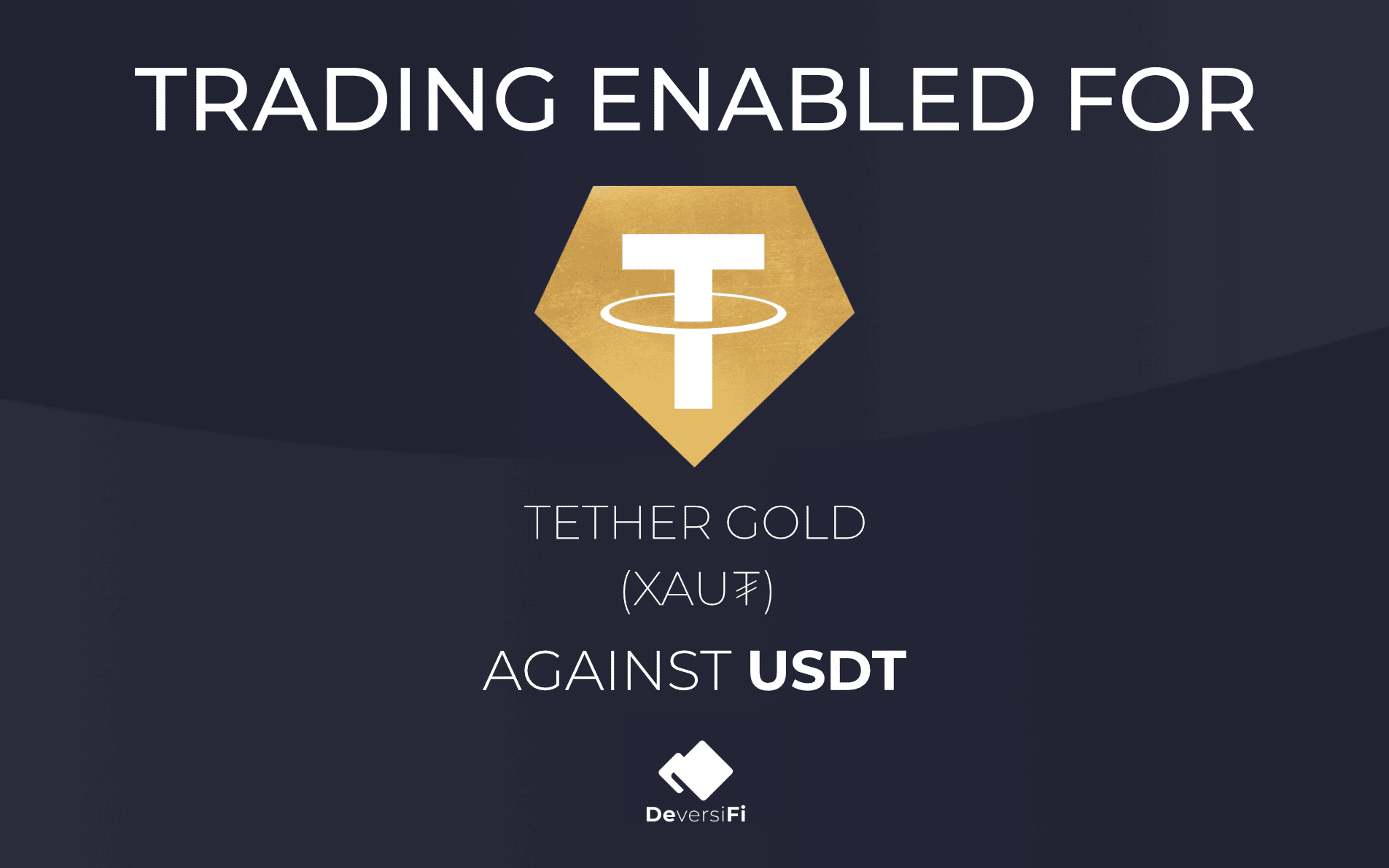 DeversiFi is the first non-custodial exchange to list XAU₮ after its launch in January 2020. Traders can now trade XAU₮ directly from their private wallet using MetaMask, Ledger, Portis, Trezor or keystore, whilst facing liquid order books, ensuring that they always maintain custody of their digital assets at all times.
About Tether Gold
Tether Gold (XAU₮) is a digital asset offered by TG Commodities Limited. One full XAU₮ token represents one troy fine ounce of gold on a London Good Delivery bar. Owning the digital token enables traders to gain exposure to physical gold, without the fees associated with physical gold custody.
XAU₮ tokens can be redeemed for the physical underlying gold with TG Commodities Limited provided that a total of 430 tokens are held and customers on-board with TG Commodities Limited.
The XAU₮ token can be transferred to any on-chain address from the purchasers' Tether wallet where it is issued after purchase. Specific gold bar(s) will be associated with each on-chain address where Tether Gold is held.
For more information about Tether Gold, please visit: https://gold.tether.to/
About DeversiFi
DeversiFi allows traders to exchange digital assets at high speed, directly from their private wallet whilst facing deeply liquid aggregated order books. DeversiFi offers a compromise-free solution for professional traders who care about maintaining custody of their digital assets.
In March 2020, DeversiFi will be upgrading, bringing high-throughout and private on-chain trading via the StarkWare layer two scaling technology. For the first time in the history of crypto, traders will have a completely trustless trading solution that offers the same high performance as a centralized exchange, but without the exchange or counterparty risk.
Join us on our journey by signing up to the DeversiFi mailing list or join our social channels below.
---
We work around the clock on the development of DeversiFi as the home of decentralised token trading, offering the most innovative solutions putting our users in control of their trading experience without sacrificing on speed, liquidity, choice or trust.
Get involved with, play your role and join us together as we fan the flames of the financial evolution.