Welcome to the December 2019 DeversiFi monthly community update. In order to maintain a high standard of transparency, we publish a monthly update about product development, KPIs and news from the DeversiFi ecosystem. Please reach out to the team if you would like to see anything else included.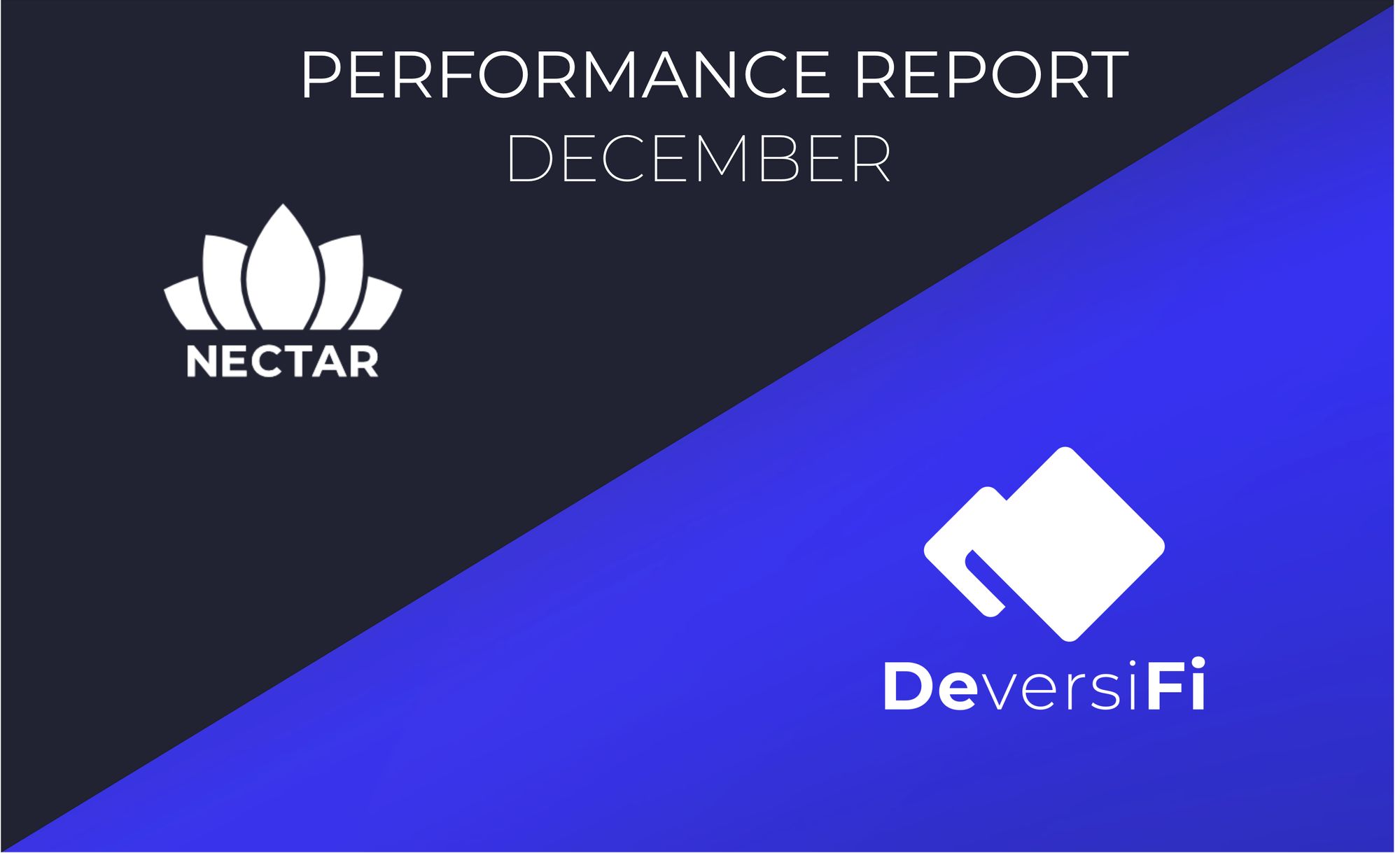 DeversiFi is driven by a mission to become the world's most complete decentralised trading experience. We want to bring traders the features and experience that they would expect from any large exchange, but with the added control and flexibility that decentralised custody brings.
For more information about the Nectar $NEC, including the DAO, whitepaper and DeversiFi fee discounts see the Nectar.Community website and the  Nectar ($NEC) 2.0 Whitepaper
KPIs
Our short term priority remains to increase our development capacity ahead of the Starkware integration and DeversiFi re-launch in February/March 2020. We have added one more developer to our team, bringing our total FTE workforce to 14 (not including agencies or external project teams)
Short Term Plans
Backend Migration Deployed
As of the 2nd January 2019, DeversiFi moved to a completely new backend codebase. The old codebase had evolved past its MVP and was long overdue an overhaul. As well as the new codebase giving an immediate 10x improvement in order management speed, partially filled orders now remain in the order book until 100% filled and DeversiFi now has a new dynamic fee schedule that gives discounts dependent on clip size and 30d trading volume.
More details in the full announcement post here
necDAO Launch
As promised in the NEC 2.0 Whitepaper back in October, DeversiFi is launching one of the world's largest DAOs where NEC holders will control 17k ETH (over $3m USD) in funds.
The necDAO launched officially two weeks ago and is now in its 'bootstrap' phase. If you held NEC in a private wallet on the 18th December 2019 then you can already claim your Reputation airdrop. However, never fear, you can also earn Reputation by staking your NEC or using GEN to bid for reputation in the ongoing auctions. More details and tutorials here or you can go straight to the Reputation claim DAPP here.
At the time of writing, 57 people have claimed Reputation via the airdrop. There are 16 days left to claim the Airdrop before it expires, so make sure you connect to the DAPP and claim your tokens if you haven't done so already. Currently, it is possible to connect and claim via MetaMask only, but due to popular demand we are also hoping to add Ledger support over the next two weeks.
The necDAO has a completely separate blog as it is a separate organisation to DeversiFi and is controlled by its NEC token holders. To stay up to date with all things necDAO, follow the necDAO blog, necDAO telegram group, reddit, DAOtalk and necDAO twitter.
Margin Trading
We have been working with BZX protocol over the past few months to integrate their pTokens (exposure tokens) into DeversiFi so that traders will be able to instantly execute orders against a pre-populated order book inventory of tokens.
This still remains a top priority, but due to our liquidity partners not being able to add the pTokens to their own exchanges we have had to start the search for a temporary third party matching engine service. This will allow us to list new tokens without a dependency on liquidity providers and serves as an interim step before we launch our own enterprise-grade matching engine shortly after the StarkWare upgrade. The first two sets of external matching engine providers that we explored were prohibitively expensive as they either charged large setup costs or instead wanted to provide full white-label exchanges. Over the holiday period we had initial conversations with a potential service provider who we hope will meet our requirements and are now working with them to obtain a detailed quote.
StarkWare Integration
StarkWare is a ZK scaling solution that batches transactions on the Ethereum blockchain, increasing throughput and privacy without compromising on security (the security model is linked to the Ethereum blockchain instead of using a separate side chain).
From a trading perspective, the StarkWare upgrade will bring the following benefits in addition to the zero counterparty risk & deep liquidity that DeversiFi already offers:
Instant deposit/withdrawals (locking/unlocking tokens)
No minimum order sizes
High throughput trading (tens of thousands of transactions per second)
Low fees
Private trading
No counter-party risk
No front running (a problem with on-chain DEXs)
Native private wallet support. Ie you can connect with your MetaMask without having to download yet another wallet
Instant trade finality (no danger of rollbacks – a problem with optimistic rollup based exchanges)
The StarkWare upgrade is on track and we will be announcing several closed trial days for large traders and funds prior to the main launch later this quarter. If you would like to take part in these trial days, please email [email protected]
Within the next month, we will have full API documentation to support traders who would like to interact with DeversiFi algorithmically and will be offering setup support and resources.
necBURN
As promised in the Nectar 2.0 Whitepaper, one of the final features of the new Nectar 2.0 token model is DeversiFi's commitment to use up to 50% of trading fee revenue to buy-back and burn NEC tokens from the open market. The percentage committed to buying back NEC tokens increases as the daily DeversiFi trading volume increases, meaning that NEC token holders share more and more in the success of the exchange as the exchange becomes more established.
Designing a mechanism that is both transparent and efficient has been a key challenge of the past several months. Because the exchange is exposed to gas fees every time it trades, a continuous market buying mechanism, similar to that of the LEO token, would not have been a suitable solution. Instead DeversiFi will hold an auction once per week where NEC holders will be able to sell their NEC tokens for ETH.
The first version of the necBurn page has now been built and is going through initial testing. A sneak peak can be seen below.
We are thrilled to bring back our monthly community updates. This serves as the second in a recurring series highlighting and deep-diving all DeversiFi happenings over the past month, so that you are always in the know as we build out the decentralised future, together. You are invited to join our community, the conversation and the dots (of DeFi!) over at Telegram, Twitter, LinkedIn, Reddit and Youtube.
---
We work around the ⏰ on the development of DeversiFi as the home of decentralised token trading, offering the most innovative solutions putting our users in control of their trading experience without sacrificing on speed, liquidity, choice or trust.
Get involved with, play your role and join us together as we fan the flames of the financial evolution.