As announced by our friends at Iden3, we have teamed up to host an exciting experiment — TrustCommunity – focused on exploring the future of Zero-knowledge Proof identity and the Ethereum conference of the year – Devcon5. Users will be able to connect with one another, play a prisoner's dilemma style game and collect a share of $50k in Nectar Tokens! Read on to learn more.
At DeversiFi, we are excited by everything decentralised technology has to offer to promote the growth of the DeFi ecosystem. Zero-knowledge proofs hold great potential for many businesses building out decentralised products that may require them to conduct conditional verifications on users, without ever seeing or sacrificing their sensitive information.
We are excited to work closely with Iden3 as they build out their self-sovereign identity solutions. And, as announced, we have joined forces to organise a fun, experimental app for attendees of Devcon5, where they will be able to connect with one another, play a prisoner's dilemma game and collect an airdrop reward at the end.
READ THE FULL TRUSTCOMMUNITY.IO PLAYBOOK.
How it works
Scan one of the QR codes in Devcon (these are on leaflets, banners, and other materials) and follow the app instructions to set-up your account
Find other attendees and 'connect' with one another. Before doing so, you will see a live calculation (larger if there are fewer people active in the ecosystem) indicating how much you stand to gain if you both cooperate post-connection.
Once connected, you will have 30 minutes to 'cooperate' with or 'betray' your connection (betraying means you steal tokens from your connection, cooperating means you don't). If you both cooperate, you'll earn the indicated rewards and if only one betrays and the other doesn't, the betrayer takes all. However, if both betray, then both lose a percentage of their overall rewards as seen below: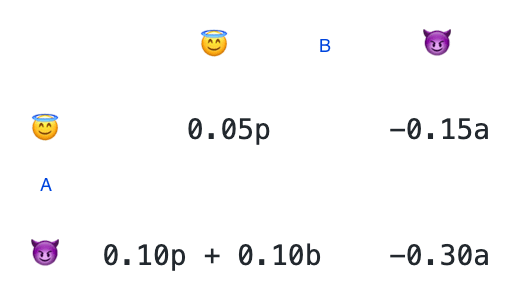 The experiment will begin when the doors open to Devcon5 at 09:00 JST, on 08th October 2019 and end when the doors close on the 11th. All earned earn NEC  tokens will be airdropped after the event with more precise details and reports on the experiment to follow.
Remember to ead the trustcommunity.io playbook for the finer details and let the games begin!
---
We're working hard to continue the development of DeversiFi as the home of token trading, offering the most innovative solutions to keep our users in full control of their trading experience.  
We'd love you to join us on our journey to decentralisation: