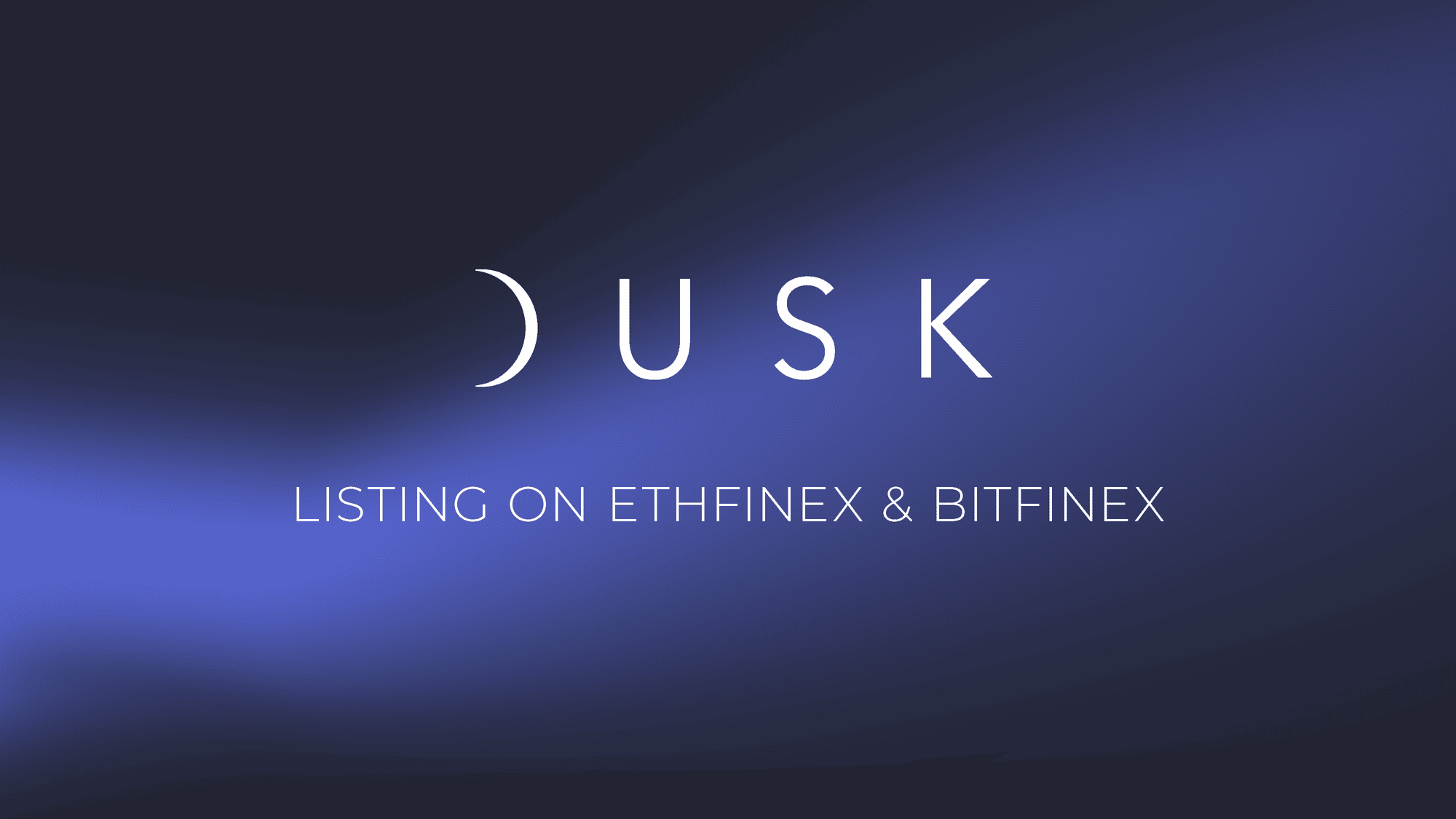 In November 2018, Dusk Network was the first project to make their tokens available on the Ethfinex & Bitfinex token sale platform. After successfully raising $8.1m in total fundraising (in the depths of the bear market) they secured enough funding for a multi-year runway. The Dusk team have been hard at work building the Dusk Network, culminating in the release of their testnet code this week and listing the DUSK token on Ethfinex & Bitfinex on Thursday.
The Dusk team will also host a dedicated AMA in the Ethfinex Telegram Channel tomorrow, Tuesday 12pm UTC, to give you an in-person update on everything they have been building since their token sale.
About Dusk
The Dusk Network is a privacy-oriented blockchain protocol, that anyone can use to create zero-knowledge dApps. By allowing Dusk to be openly accessible, Dusk Network aims to become the privacy infrastructure of choice for an entire ecosystem of solutions. Dusk Network is secured by Segregated Byzantine Agreement (SBA). SBA includes Proof of Blind Bid, a private proof-of-stake implementation, that enables block generators to stake anonymously. The team is focussed on delivering a blockchain that offers high-throughput, scalability and instant transaction finality. Due to their use of zero-knowledge proofs, companies and projects are able to create real-world applications that can adhere to strict compliance requirements, whilst still offering data privacy. Dusk's adoption strategy focuses on the security token market, which is in need of a purpose-built blockchain. To explore the Dusk Network technology in more detail, see the Dusk website and Telegram group
Recent Dusk Updates – MUST READS
Private sale participants show long-term support in the project by re-vesting their tokens. Dusk increases complete Team token lock-up by 3 months and 11 additional months of vesting.
Dusk releases its Confidential Security Contract (XSC) specification paper.
Announcing browser nodes – Dusk aims to provide the community with the tools needed to verify zero-knowledge proofs that are sent across the network and bring Dusk Network one step closer to a fully browser-based blockchain experience.
Dusk Network integrates with Binance Chain, for 10% of their Total Supply.
Released ZeroCaf – a Rust implementation of the Doppio Elliptic Curve using a Ristretto Mapping, an open-source library.
Dusk Re-Vesting Update
In an incredible show of support, this week existing Dusk private sale participants have unanimously agreed to lock up their DUSK tokens for longer durations. Thereby, decreasing the initial circulating supply. See the full announcement by Dusk Network here. See the new vesting schedule below.
Listing on Ethfinex & Bitfinex & AMA
Ethfinex and Bitfinex will list DUSK, the token of Dusk Network, on Thursday 11th of July 2019 at 12pm UTC. Deposits and withdrawals will open on Thursday morning am UTC
Trading pairs will be DUSK/USD and DUSK/BTC and will have zero percent maker fees for three months from the day of listing.
To supplement this exciting news, we welcomed the Dusk team to the Ethfinex Telegram for one of the most well attended Ethfinex AMAs that we have hosted. A transcript of the AMA can be found here as well as the catch up that we had with Jelle when he joined us for the Ethfinex TA day back in May.
Please follow Dusk on Twitter to stay up-to-date with their latest announcements.
---
We're working hard to continue the development of Ethfinex as the home of token trading, offering the most innovative solutions to keep our users in full control of their trading experience.  

We'd love you to join us on our journey to decentralisation: