At rhino.fi, we aim to provide users with an affordable and simplified trading experience. Because we are built on Layer 2, on top of the main Ethereum blockchain, our platform bypasses congestion and high gas fees during peak periods of traffic. 
However, rhino.fi still charges a small fee for each of its core functions, and we'll explain them to you in this post. 
Same-chain Swaps
For same-chain swaps, users will face a maximum fee of 0.3% per swap, charged on the output token. For multi-hop swaps, a 0.6% fee applies as two swaps are occurring behind the scenes. 
Being a Layer 2 built platform, our fees remain static, regardless of traffic. Additionally, we only submit transactions in batches, and our fees only apply once a batch of transactions is submitted. Best of all, the entire process is atomic, so there are no separate charges (another point of contention when it comes to crypto fees). 
Users can easily find fees displayed on both pages of the swap widget, both while entering swap details (tokens and values), and after clicking 'Review Swap'.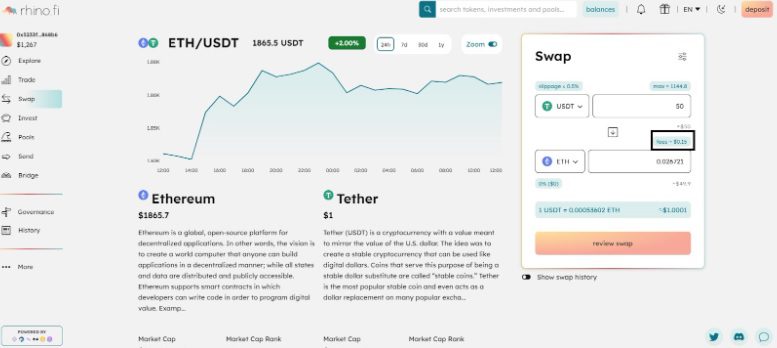 Cross-chain swaps and bridges
Cross-chain transactions (such as swaps or bridges) are subject to an additional fee for the gas costs we incur. 
We have created liquidity outposts on different chains to facilitate cross-chain swaps and allow users to transfer funds using collateralised bridges. Although this is an efficient way to move through the DeFi ecosystem, there is nonetheless a gas fee for interacting with Layer 1 blockchains. 
Gas fees in crypto can be complex; they vary by chain and depend on gas costs at the time of the transaction. Thankfully, there are several resources you can use to check the gas fees on specific chains, including the pages below.
It is important to note that, for cross-chain swaps, our smart contracts determine the fee. The contract takes the user input, swaps their selected amount for an equivalent output token, and charges a fee on that output. 
Remember, in addition to this cross-chain fee, we also charge a 0.3% Layer 2 fee.
Trading fees
At rhino.fi, users can also swap tokens and trade using conventional order books. 
To provide liquidity to the rhino.fi order book, users place limit orders, incurring Maker fees. On the other hand, executing trades against resting orders in the order book leads to the removal of liquidity, and incurs Taker fees. 
The table below gives a comprehensive outline of rhino.fi's Maker and Taker fees.
Deposits and withdrawals
At Rhino.fi, depositing funds is always free of fees: users simply pay gas to interact with Layer 1 chains.
When it comes to withdrawals, we offer four types with varying processing times and fees:
Regular withdrawals (available for Ethereum funds within our StarkEx vaults and takes around 24 hours).

Fast withdrawals (available for select Ethereum tokens within StarkEx).

Bridged withdrawals (available for a small number of Ethereum tokens within StarkEx, typically for stable and native tokens).

Cross-chain withdrawals (available for cross-chain token balances with withdrawals occurring only on the user's current chain).
Regular withdrawals carry no fees from rhino.fi, but users pay the ETH gas at the end of the withdrawal process. Fast withdrawal fees are floating and determined by global gas prices on each chain.
rhino.fi also offers bridge and cross-chain withdrawals, with fees determined accordingly.
Withdrawals under $1000 equivalent
Fixed fee
Withdrawals over $1000 equivalent
Fixed fee plus variable fee
Variable fee
For faster Ethereum withdrawals, please check the withdrawal quote as fees are determined by the gas price at the time of withdrawal. 
Note that withdrawal fees are paid from your rhino account in the form of the withdrawal token, and are always clearly displayed, as the following example shows.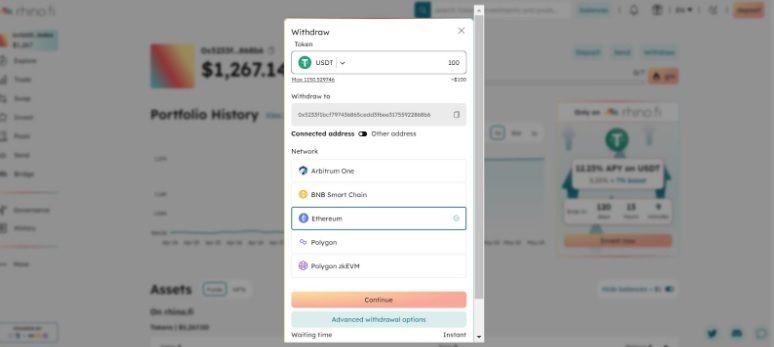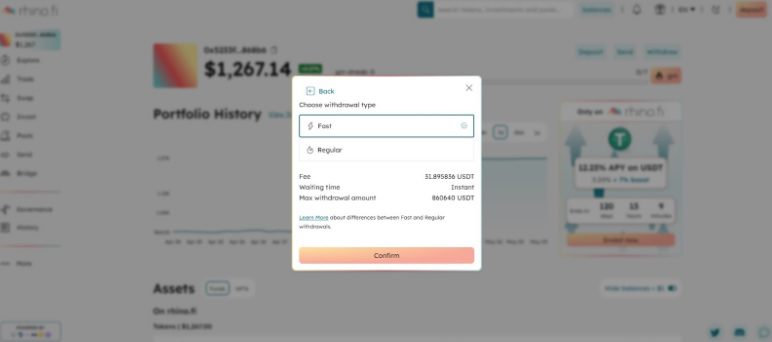 Yield
Yield fees vary based on whether the user is buying or selling.
Buying a yield opportunity incurs no fee, although cross-chain yield staking does carry a gas fee, which we charge a static USD-based fee for. The fee is displayed on the confirmation screen.
Unstaking also carries additional fees, and rhino.fi will charge additional fees on top, but this is usually very low.
rhino.fi's fee structure is trustless and we require users to sign each transaction, with fees clearly displayed for each transaction type.
Risks
The risks involved are those of any other contract that has control over users' funds, and we put rigorous checks in place to minimise these risks. To learn more about cross-chain swaps or any other aspect of rhino.fi's technology, please contact us via Twitter or Discord.