Regular rhino.fi power users can now mint a limited-edition Sismo Protocol Zero-Knowledge Badge and flex their proof-of-OG-rollup status to the world, without having to DOX their wallet. 
The rhino.fi ZK Badge is open to both new and existing rhino.fi users. Join the ranks of the select few ZK Badge holders and flex your OG ZK status – mint your badge now!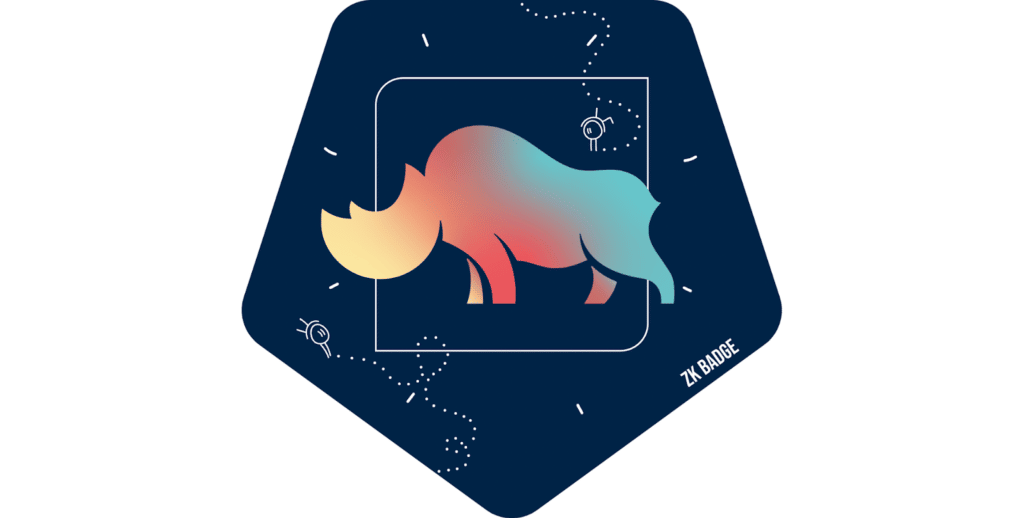 What is Sismo?
Sismo Protocol uses zero-knowledge proofs to generate ZK attestations in the form of non-transferable badge NFTs (a.k.a Soulbound Tokens). 
The protocol can be used to aggregate reputation from a number of different source wallets without publicly linking them to each other or a destination. Users can mint badges on completely separate destination wallets to avoid having to publicly DOX their wallet. 
(As an aside, Sismo threw a great zk masquerade party at EthCC this year 🎭).
Why is rhino.fi so excited about ZK rollup technology?
As the first rollup to be deployed on the Ethereum mainnet in 2021, rhino.fi is passionate about all things ZK. 
rhino.fi is a Validium rollup, which means user data is held off-chain, and activity on the platform is known only to the rhino.fi operator and the individual users. 
As activity is not published on-chain, users of rhino.fi benefit from casual privacy, but have no easy way to show the world that they are early adopters of ZK rollups. 
Until now… 
The rhino.fi Power User ZK Badge is the first Sismo ZK Badge to be approved by the Sismo DAO governance process. Only a handful of other prestigious projects have zk badges, including POAP, GitCoin and ENS. 
It's time to flex your OG status, and prove you were among the first in the space to use ZK. We hope that other projects will utilize the rhino.fi badge for new and exciting use cases going forward. 
Power user badge criteria
Regular rhino.fi users are already eligible to mint the Power User badge. Regular usage constitutes swapping or trading on the rhino.fi platform over a period of several weeks. 
The exact criteria is top secret, but if you have swapped or traded on rhino.fi over a period of several weeks then you will likely be eligible. You can check the list of the initial c.5000 list of eligible users here.
Anti-farming measures
rhino.fi will disqualify and exclude any addresses that are suspected of attempted badge farming or sybil attacking from the list of eligible claimant addresses.
How to mint your rhino.fi ZK badge
Before you can mint the rhino.fi Power user badge, you first need to setup your Sismo Vault. 
Your Sismo vault is your badge minting control centre on the Sismo Protocol. Your vault connects any number of your source addresses (different addresses that may be eligible for badges based on a set of criteria) to the destination address (an address to which you wish to eventually mint badges). Don't worry, you can change all of your source and destination wallets at any time 
Go to app.sismo.io/rhinofi-power-user and connect your wallet using the 'Sign in to Sismo' button in the top right-hand corner of the screen.
Supported Wallets: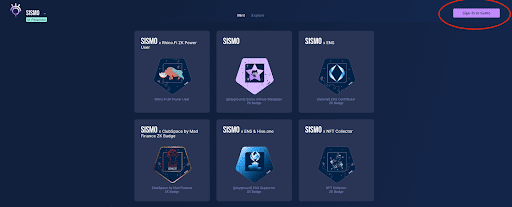 Follow the vault creation flow and sign with your wallet to create your vault.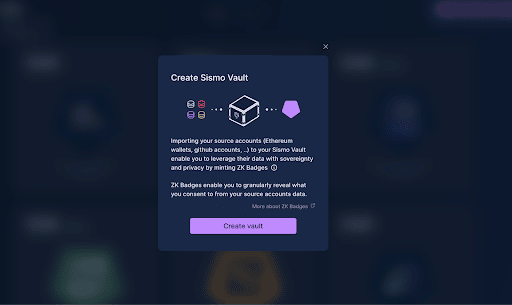 Specify any number of source addresses that you think may be eligible for a rhino.fi badge by adding them to your Sismo vault using the top right-hand corner menu.
Specify the destination address where you wish to mint your rhino.fi badge. This can be the same as one of your source addresses or a completely new address that you have just created.
Once your vault is deployed and set up with source addresses, you can now check your eligibility for a badge. Click the rhino.fi Sismo badge link here.
If you are eligible then you will be allowed to mint your badge. If you are not eligible, then keep trading and swapping on rhino.fi and check back monthly to see if you are eligible. 
Follow the steps to mint your badge, by specifying a destination address.
Your badge will be minted on the Polygon network and should be visible in your rhino.fi portfolio as well as your Sismo Protocol vault within a few minutes. 
You can also view your badges on Opensea, but you may have to unhide them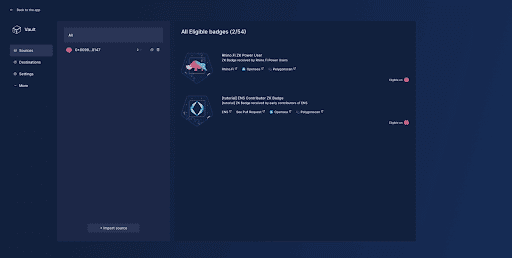 What is a source account?
A source account is the account that must meet the badge requirements. If eligible, a source account will be used to generate an eligibility proof used in the Badge minting process.
Remember: your sources are private
When minting a ZK Badge, you will NOT reveal your source account. You will generate a ZK Proof of ownership of an eligible source account without revealing its address!
Who can access my vault?
Only you can access your vault, and it's encrypted thanks to your owners' accounts. You can go to your settings to manage your owners.
What does 'Importing a source' mean?
Importing a source into Sismo's vault just means signing two messages. These are necessary to generate the ZK proofs required for minting ZK badges.
The signatures are stored in your encrypted vault so you do not have to sign messages each time you want to mint a new badge.
What if I am not eligible?
Never fear, you can earn the right to mint the rhino.fi Power User badge by swapping and trading on rhino.fi over the coming weeks and months. The list of eligible addresses will be updated once per month, so keep swapping, trading and checking back to see if you are eligible!
I have more questions – where can I go?
Please ask any questions on the rhino.fi Discord.
If you like what you see and would like more badges, then let us know on Discord. We love to hear your feedback!
The only thing left to say is, CONGRATULATIONS, and welcome to the future of Ethereum!