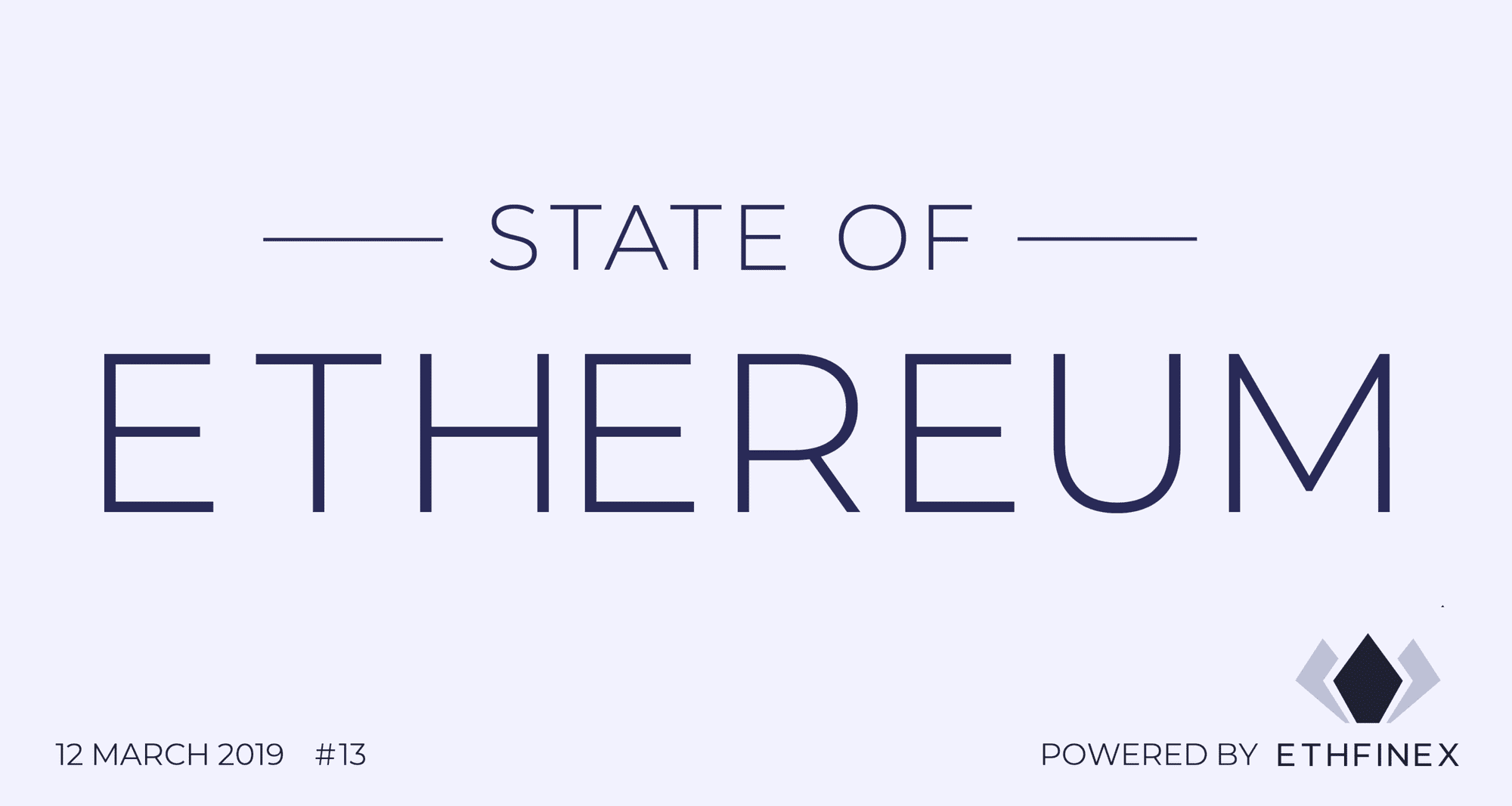 Welcome to your weekly newsletter, delivering top stories, must-reads, expert analyses and guest contributions from leading figures in the blockchain space… Enter the ether below and let your friends know where they can subscribe.

"Crypto's not seeing mainstream user traction, but it is seeing mainstream developer traction, and the developers are the precursors to the users."—  Chris Burniske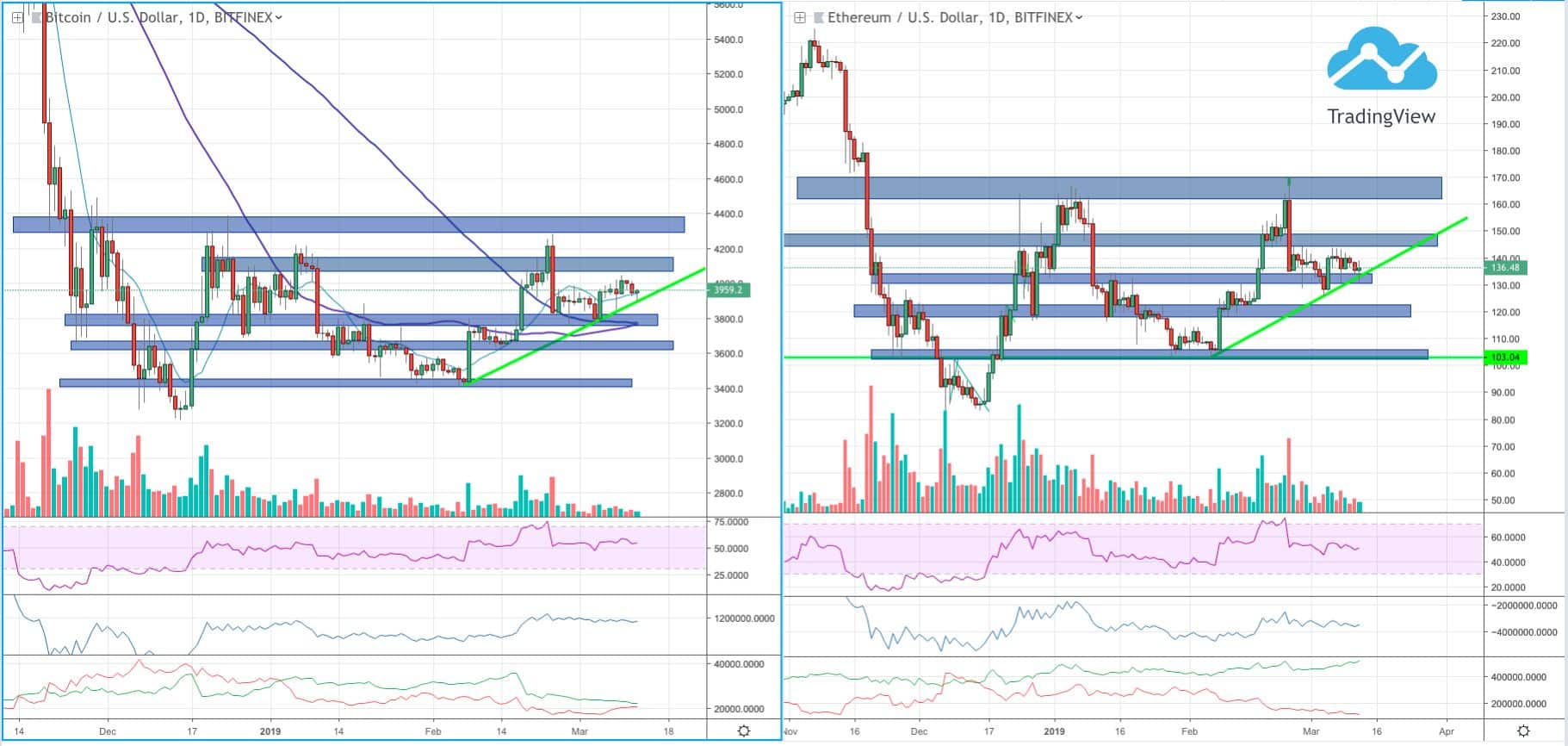 Most of the interesting price action this week has been constrained to alt-coins, as bitcoin has drifted sidewards, giving traders the comfort to deploy into riskier assets.Zooming out, Bitcoin continues to be stuck almost directly in the middle of the $3.4k – $4.4k range (Bitfinex price feeds), with several thick bands of support and resistance either side which are becoming increasingly messy to identify.
Low volume coupled with low leverage usually means that gravity takes over and price continues to drift off, but $3.8k support has repeatedly held, as has $4k resistance – until one of these levels fails, there isn't an overwhelming signal. With rising support for both BTC/USD and ETH/USD (diagonal line in the charts) holding for now, I have a slight bullish skew.
For intra-week updates on BTC, ETH and alt coins, follow Ross's twitter.
Left Chart – BTC/USD. Indicators: RSI, OBV, BFX Longs & Shorts.Right Chart – ETH/USD. Indicators: RSI, OBV, BFX Longs & Shorts.


The Top News 📌
According to Market Watch, Starbucks will soon accept crypto as a form of payment as a result of its equity share in Bakkt. Whilst bullish, this does come with some friction points worth considering (tax accounting!). Source.
Connecticut seeks to legalise blockchain smart-contracts – good news for entrepreneurs. Source.
The Must Reads 💭
Delphi Digital have provided a detailed 'long term analysis of Economics' related to the Ethereum ecosystem. It's a long read, but we promise it's worth it. Source.
The Nitty Gritty ⚙️
Zepplin OS discuss an elegant solution to the common friction point faced by new users of dApps – the need to understand and pay gas costs. This article breaks it all down. Well worth a read. Source.
On the subject of gas, here's a post by Eric Conner on how the mechanism behind fee calculation could be improved to avoid overpaying whilst making the system more reliable overall. Source.

What?
Last Thursday, Denver, Colorado, announced they will be piloting a new, blockchain app (by Voatz and Tusk Philanthropes) that allows eligible overseas citizens to vote on municipal elections from afar.
Why?
The start-up, funded by Overstock, has so far completed over 30 pilots with around 15,000 votes cast, proving the technology to initially be a technically viable option.  "We believe this technology has the potential to make voting easier and more secure not only for our active duty military and overseas citizens, but also for voters with disabilities, who could potentially vote independently and privately using their phones' assistive technology." Jocelyn Bucaro of the Denver Office of Clerk Furthermore,  the use of  blockchain technology applications in voting will allow for a more secure, transparent and auditable process, adding to the integrity of the overall electoral system.
What Now?
In order to participate, citizens will need to file an absentee ballot request followed by a registration and authentication process within the Voatz app. Once done, they will be able to complete their vote on the upcoming Denver municipal election day.
What we think…  
It seems every week there is a new instance of adoption for fundamental blockchain use-cases. In a previous edition we discussed the power of blockchain to change the way we vote, to make it more transparent and trackable. At the time Thailand announced their pilot (Russia are also toying with the idea) and now we are seeing innovative apps like Voatz trialing in the US. Whilst some institutions remain hostile to aspects of this technology, others are grabbing the bull by the horns and experimenting with ways to improve society for the better. If successful, we may see the US begin to role this out on a wider scale.  


This past week saw some significant updates from Ethfinex:
We relaunched our community token vote process. This time, we  have included a decentralised curation layer (with Kleros.io), an incentive scheme rewarding voters of the winning token with a share of its trading fees, and other key features conducive to heightened fairness and transparency.
We announced our migration to 0x v2.0 protocol, bringing with it a host of exciting new benefits to Ethfinex users, whilst improving the scope of the platform in the fast approaching future.
We attended the incredible EthCC event in Paris where Will Harborne discussed our approach to building a DEX and where we're going next.
And, along with Bitfinex, we removed the 7day 'Small Withdrawal' limit as well as reduced the minimum withdrawal amount to $20USD.
Take a second to let us know what you liked, or would like to see added, to your weekly newsletter. *no wei's are distributed in the making of this newsletter… we just love a good pun!
---
Subscribe to our newsletter here.
Start trading on Ethfinex or Ethfinex Trustless.
Stay up to date with Ethfinex on Twitter, Telegram, Linkedin, Facebook and Youtube.