Exploring models of distributed governance
September 29–1 October 2018
The Ethfinex Governance Summit is an event dedicated to the exploration of models of decentralised governance.
Featuring academics, innovators, thought leaders and more, this 3-day event will bring together contrasting minds from a wide array of disciplines to discuss the past, present and future of distributed governance.
As a community-focused platform, we are working towards ultimately distributing all decision making power amongst users of Ethfinex. In line with this, an overarching goal of the summit will be to design and fine-tune the decision-making process specific to Ethfinex and our Nectar community. As an exchange we hope to act as a meeting place, in more ways than one, bringing those with different approaches to solving the challenges of decentralised governance into one space.
Technological transformations have proven themselves to have a fundamental impact on the way governments, entities and individuals function. Despite this, and despite our reliance on these technologies to lead us through our lives, serious discussion on these topics is often limited.
---
The What
The Ethfinex Governance Summit will host presentations, demonstrations & workshops designed to further discussion surrounding a variety of governance methods. From internationally renowned thought-leaders to a carefully curated selection of innovators, the summit is designed to demonstrate first-hand the innovation taking place within the space of decentralised governance models.
Day 1 will revolve around introductions and guest speeches from innovators and thought leaders inside and outside of the crypto-space.
A selection of speakers include:
Alex Gladstein — CSO @ Human Rights Foundation
Griff Green — Founder @ Giveth.io
Luis Cuende — Founder @ Aragon
Paolo Ardoino — CTO @ Bitfinex & Ethfinex
Jenna Zenk — CTO @ Melonport
Clement Lesaege — CTO @ Kleros
Jordi Baylina — Founder @ Giveth.io
Sarah Compani — Legal Counsel @ Bitfinex
Jake Yocom-Piatt — Project Lead @ Decred
Day 2 is designed to revolve around workshops and project demonstrations from innovators throughout the space.
Day 3 will take the form of a distributed Nectar NEC 'board meeting', designed to shape the long-term path and governance structure of Ethfinex. This 'unconference' style meeting will discuss future plans and improvements for Ethfinex and the Nectar token governance and economics, and take into consideration learnings from throughout the previous two days, as well as your views as stakeholders.
Please visit summit.ethfinex.com for a full overview of activities.
---
The Why
We wanted to create a platform for our largest stakeholders, the Nectar community, to meet, discuss and carefully design the way that Ethfinex will be governed. Events such as this are instrumental in developing the processes required to build a user-run trading platform and we are thrilled to be hosting this event for Nectar holders.
The amazing potential for crossover with associated projects throughout the blockchain and cryptocurrency space, and outside of it, led to us using this event as an opportunity to bring together different minds to exchange knowledge and lay the groundwork for an increasingly decentralised future.
By broadcasting this event to Ethereum enthusiasts around the world, the Ethfinex Governance Summit aims to bring together individuals from all corners of the world to discuss innovation within governance.
---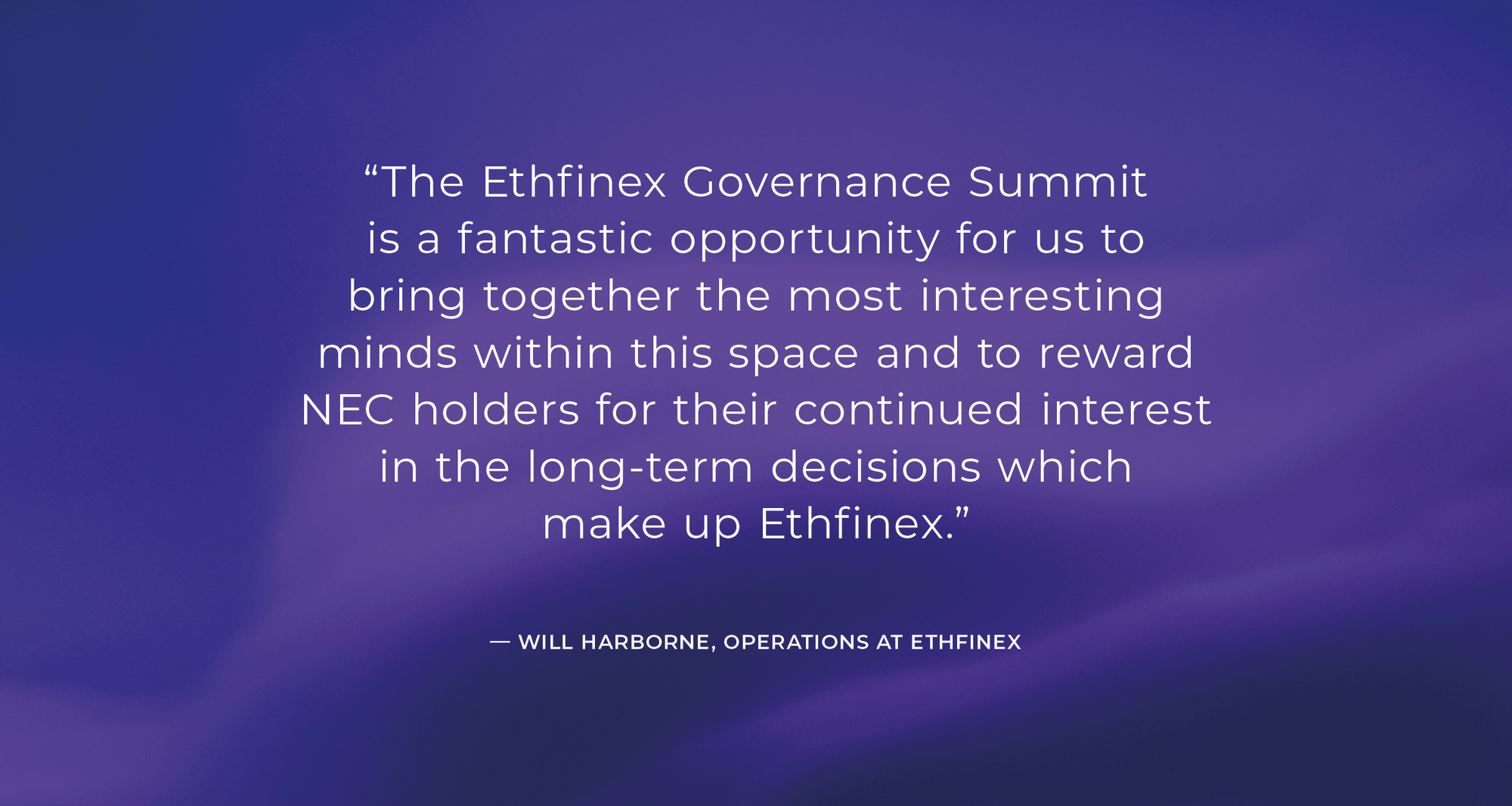 The Where & The When
With a rich history combined with a Swiss inclination towards decentralised governance and participatory democracy, we have chosen Lugano as the ideal location for the Ethfinex Governance Summit. The summit will take place over a 3-day period between September 29th and October 1st, 2018
The Conclusion
Experiments in the blockchain space have a tendency to closely resemble events in real world in a number of innovative, often unexpected ways. The blockchain space has so far provided the space for transparent, rapid and community-focused innovation, with significant carryover effects to real world governance decisions. Events such as (but not limited to!) this, allow us to come together and consolidate our ideas whilst strategising far-reaching implementation of these ideas.
Our hope is to give dedicated, passionate individuals the chance to meet, collaborate and develop the governance methods, models and protocols of the future.Learn more on summit.ethfinex.com.
---
For press inquiries, please contact [email protected].
If you're interested in attending, speaking, sponsoring or finding out more, please contact [email protected].