We used to support five different wallets on DeversiFi. Now, we support over 100.
This is the top-line benefit of our new integration with WalletConnect, a tool that enables all kinds of wallets to access decentralised applications (dApps) simply by clicking a link or scanning a QR code.
Previously, these wallets would have to go through a lengthy connection process with the dApps they wanted to use. Now, however, the connection process is as simple as logging into a new WiFi network or scanning a menu in a restaurant.
By integrating with WalletConnect ourselves, we are opening up DeversiFi to a vast pool of new users, and removing another major barrier to the global adoption of DeFi.
How does Wallet Connect work?
WalletConnect provides a bridge between a wallet and web3 applications — the dApps that run on blockchains like Ethereum.
In other words, the wallet no longer connects directly with the desired dApps. Instead it links up to WalletConnect, which then establishes a connection to the blockchain.
Messages are sent back and forth through this connection, but WalletConnect doesn't have access. If, let's say, a wallet-holder requests a certain transaction and the dApp confirms it, WalletConnect cannot see either part of the communication. All messages are protected by secure, end-to-end encryption.
WalletConnect supports all major types of wallet – such as Etherscan, Uniswap and Binance – and all the major blockchains including Ethereum, Cosmos and Polkadot.
Why is this important?
Decentralised finance is the '2.0' of blockchain possibilities. 
At the outset, most people used blockchains to buy tokens and make simple trades. But since then a universe of financial services has sprung up, from lending money to taking out insurance.
Blockchains are ideally suited to host these services. They are open to everyone, they can't be tampered with and they can't be taken down. Above all, they can operate independently without the need of a middleman, which means cheaper, more accessible services.
Everyone should have access to these services, all the time: blockchains are constantly online and they can be accessed anywhere in the world. Until now, however, dApps have been limited to the wallets that can interact with their particular chain.
For example, DeversiFi has been limited to MetaMask and a small number of other wallets. This is a limitation that should not, and cannot, be there.
However, WalletConnect removes this limitation at a stroke. Effectively, it means that:
A huge number of wallets can connect to a single decentralised service.

A single wallet-holder can connect to loads of different services simultaneously.
Which means global connectivity and universal choice. Finally, everyone can access everything.
How to use WalletConnect on DeversiFi
First of all, you need to check that your wallet supports the WalletConnect protocol. Click here for a full registry of all supported wallets.
If your wallet is supported, you can connect to DeversiFi using these simple steps.
For desktop
Open the DeversiFi app and select the WalletConnect option.
2. Now you'll see a pop-up window with a QR code. Scan this with your wallet.
3. Congrats, you're ready to use DeversiFi! Whenever you're required to perform an action (for example, to sign or authorise a transaction) you'll receive a prompt, similar to an authenticator app. 
For mobile
Just like on desktop, you need to open the DeversiFi app and select WalletConnect.
2. Now, instead of scanning a QR code, you need to press a button. On iOS, you'll see a list of all the wallets that are supported, so you can choose the one to connect to. On Android, you'll simply see a button that's marked 'Connect'.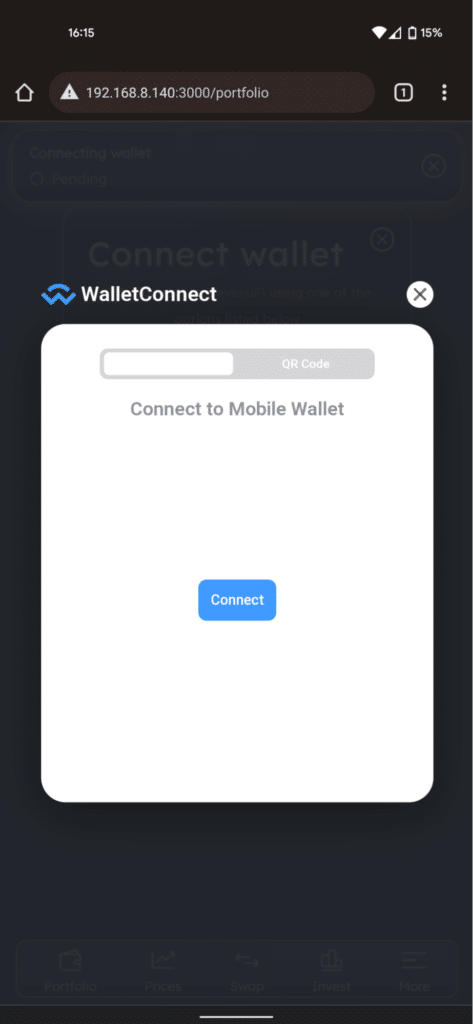 3. Once you've selected your wallet and/or pressed connect, you'll be redirected to the wallet via deep link. You can perform all your actions (like signing or authorising transactions) there.