The launch will aid the speedy movement of assets between layer 2s and sidechains, enabling users to seamlessly and quickly transfer funds between ecosystems without paying gas!  
We're excited to announce today that we've launched the first L2 bridge between Ethereum scaling project Polygon. The bridge will enable fast, gas-free and frictionless deposits and withdrawals between the two platforms while increasing liquidity across chains. By significantly reducing the costs of depositing between different blockchains, it marks a major step on the road to making decentralised finance more accessible.
"Polygon has on-boarded a whole new wave of users into DeFi on its low-cost sidechain. With the launch of this new bridge, for the first time the Polygon and DeversiFi communities can move seamlessly between the two DeFi ecosystems without ever touching layer 1 Ethereum, all for free," said Will Harborne, CEO and Co-Founder of DeversiFi.‌‌
Why build the Polygon bridge?
At the beginning of summer 2020, DeversiFi launched one of the first layer 2 decentralised exchanges with the goal of giving traders all the benefits of a centralised exchange (speed, ease of use, liquidity, privacy) whilst always staying in complete control of their funds. It was our belief that the market would congregate around one layer 2 solution on Ethereum.
Fast forward 18 months and there has been an explosion in DeFi adoption. Several other Ethereum layer 2 systems have launched, as well as various competing and specialist blockchains. Polygon has become the go-to for cheap and fast trading, so we feel that building a bridge where Polygon and DeversiFi users can seamlessly and quickly transfer their assets between ecosystems, without paying gas, is a much-needed missing piece of the DeFi ecosystem.
How will the Polygon bridge work?
To help make DeFi and the costs of depositing between different blockchains more accessible, the Polygon bridge will initially be gas-free. ‌‌The layer 2 bridge will allow Polygon users to instantly transfer their USDC, DAI and USDt to their DeversiFi wallet on the Polygon network. ‌‌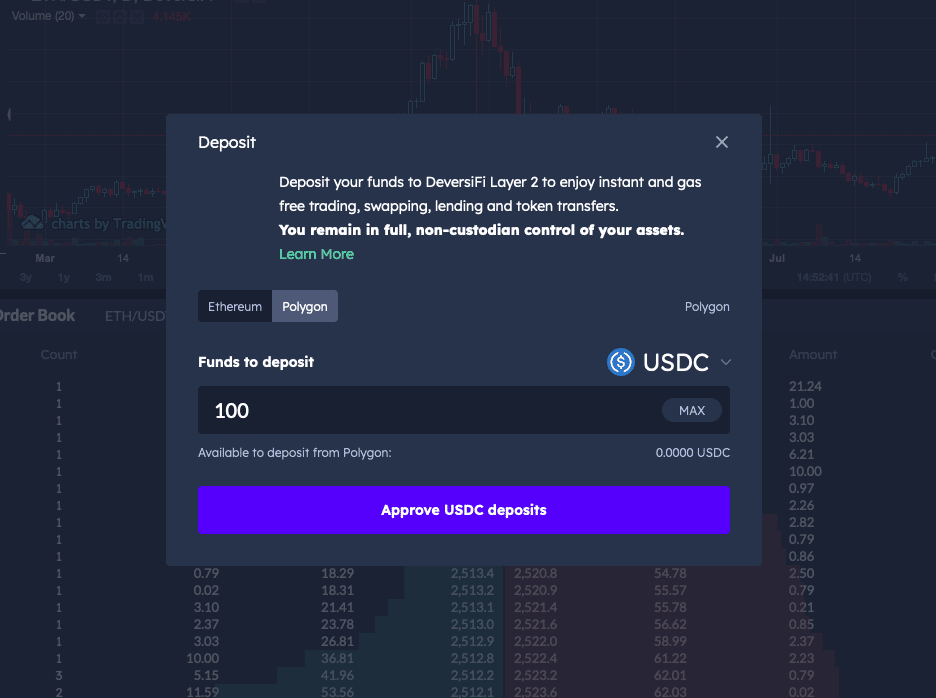 Within minutes the funds will be available in the users' DeversiFi exchange account on Ethereum, and withdrawals back to Polygon will occur even faster. ‌‌
Here's a quick guide on how to use the bridge:
"The DeversiFi team was the first one to launch a DEX on the StarkWare ZK-Rollup (Validium) technology and is already launching an AMM and ways to earn yield," says Sandeep Nailwal, co-founder of Polygon.
"The bridge to Polygon is another first. We are aligned in that we both have a mission to make DeFi easy for everyone."
Polygon (MATIC) was first created in 2019 and has more than 125,000 active daily users, who'll now be able to benefit from this seamless, frictionless bridge to L2 on DeversiFi.‌‌
Once on DeversiFi, users can send their tokens between accounts, withdraw quickly to layer 1, participate in fair token launches or swap and trade with the deepest liquidity on any layer 2 exchange.‌‌
With plans to decentralise the bridge further as its capacity scales up, we hope to make it fully trustless in the next few months. In the meantime, users looking for a completely trustless experience can always deposit and withdraw from and to DeversiFi via Ethereum layer 1. ‌‌
The layer 2 Polygon bridge is initially launching with USDC, DAI, and USDt, but we have plans to expand the assets it supports over the next few months. ‌‌
Click here to try it out today!
---
About DeversiFi
DeversiFi makes DeFi easy. Swap, Invest and Send without paying Ethereum network fees.
Website: https://rhino.fi/
Twitter: https://twitter.com/deversifi
Discord: https://discord.gg/bfNDxZqPSvf