The Hermez Network token ($HEZ) is now available for trading against USDt on the high-speed, professional-grade DeversiFi exchange.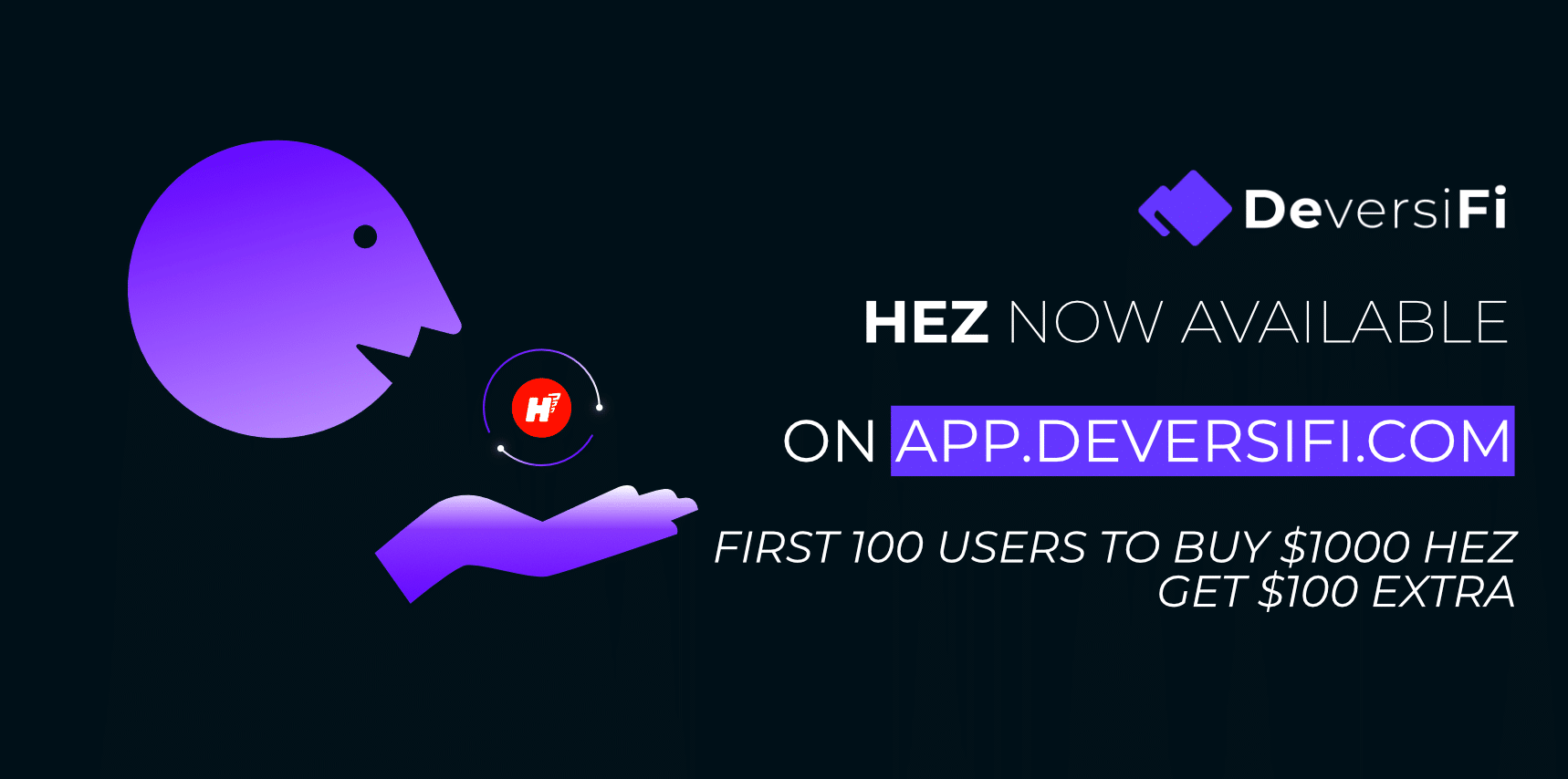 Hermez is a decentralized zk-rollup focused on scaling payments and token transfers on top of Ethereum. Hermez underpins the Iden3 self-sovereign identity toolkit, which will form the basis of the upcoming opt-in DeversFi Zero-Knowledge KYC service – the first time that reusable KYC credentials and self-sovereign identities have been used to power regulated DeFi products 🚀🚀🚀
DeversiFi and Iden3 have been working towards powering self-sovereign identities and zero-knowledge KYC for the past two years, with the first proof-of-concept demonstrated at Devcon 5 in Osaka with the infamous prisoners dilemma game.
$10,000 in HEZ Rewards
To celebrate our HEZ listing and the Hermez Network launch, the first 100 new DeversiFi traders who buy over $1000 of HEZ tokens will each receive a bonus $100 in HEZ.
How to enter:
Register to DeversiFi with new wallet address
Buy a minimum cumulative $1000 of HEZ
Kerching! Receive $100 HEZ reward! 🤑
Important points:
🟣 New DeversiFi wallet registrations only
🟣 Make sure that you enter your email address shown in the screenshot below
🟣 HEZ rewards will be distributed once the 100 qualifying trader limit is reached
🟣 One entry per trader only.
🟣 DeversiFi reserves the right to disqualify any account
🟣 We will be checking on-chain activity to check that there are 100 unique entrants

Qualifying traders will be automatically recorded and announced in our Discord channel and on our Twitter after the 100 trader limit is reached.
Happy trading!!!!
---
About DeversiFi
DeversiFi gives traders the edge in fast moving decentralised finance (DeFi) markets by allowing them to trade at lightning speed and with deep aggregated liquidity, directly from their privately owned cryptocurrency wallet.
Traders can take advantage of more trading opportunities while always preserving control of their assets for when they need to move fast. DeversiFi's order-books are off-chain, but settlement occurs on the Ethereum blockchain. This means that traders benefit from fast moving order books and instant execution, without having to trust the exchange and whilst always maintaining control of their assets at all times.
For the first time, traders can enjoy all the benefits that they would expect from a legacy large centralised exchange, but with no exchange or counter-party risk.