As recently announced by our friends at MakerDAO, Multi Collateral DAI is on the horizon! At DeversiFi, we are always ready to embrace new developments in the DeFi ecosphere and as such, are updating DAI pairs on DeversiFi to reflect these new developments. Read on for important details.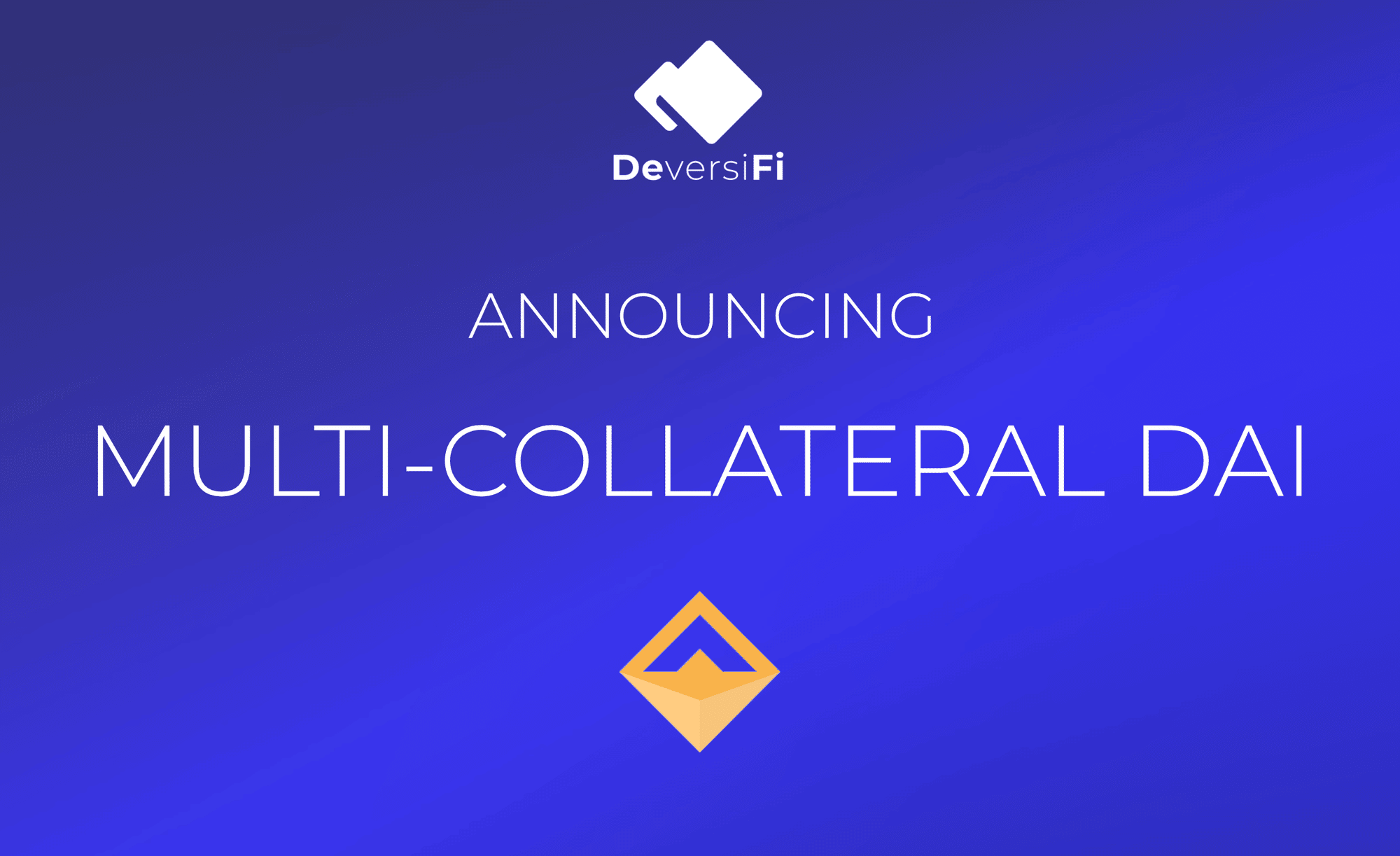 For a primer and more information on the deeper reasoning and technicalities behind multi-collateral DAI head over to the MakerDAO timeline page here. In summary, DAI will be upgraded from a single collateral mechanism to multi-collateral. This will result in some fundamental changes to how DAI is listed and displayed on DeversiFi.
Renaming
Single collateral DAI (old) will be renamed from DAI to SAI (single-collateral DAI). This will be a universal change and occurs on Monday the 18th of November 2019. Concurrently, the new, multi collateral DAI (MCD) will be launched and will then assume the original name of DAI.
Timelines
As mentioned above, existing, old DAI pairs will be renamed as SAI on the 18th of November 2019. Users will be able to continue trading SAI up until the listing of the new multi collateral DAI (DAI) which will occur on 02 December 2019. Once the new DAI has been added, SAI will no longer be available for trading.
Migrating
There will be a number of options for users to migrate their SAI tokens which will be provided in the coming days. Stay tuned with us at the links below for more information.
DeversiFi aims to capitalise on Maker's proactive steps towards seamless migration from SAI to DAI. We will keep UI changes on our side to a bare minimum, notifying users about the upcoming changes and pointing them to additional resources for further learning.
For any questions in the meantime, reach out to us on Telegram, Twitter or Reddit.
---
We work around the ⏰ on the development of DeversiFi as the home of decentralised token trading, offering the most innovative solutions putting our users in control of their trading experience without sacrificing on speed, liquidity, choice or trust.
Get involved with, play your role and join us together as we fan the flames of the financial evolution.