Note: This article when rhino.fi was still called DeversiFi. We changed our name in July 2022.
Our first-ever airdrop is here! Starting today (2nd December 2021) many users will be able to claim DVF tokens and start shaping the future of the protocol!
DeversiFi Labs is carrying out the airdrop on behalf of the DVF DAO, and making a total of up to 7,224,450 DVF tokens available to be claimed by:
 – Active users of the DeversiFi protocol
 – Wallets that held NEC in March 2021
All recipients will have three months from 2nd December to claim their tokens: any unclaimed amounts will be returned to the DAO treasury on 2nd March 2022.
By claiming your DVF tokens, you will be able to vote on key decisions regarding our future, and even propose your own changes. This is a giant step towards making DeFi accessible to everyone and placing power in the hands of our loyal community.
CLICK HERE TO SEE WHETHER YOU'RE ELIGIBLE
This airdrop follows the launch of phase 1 of our AMM pools and the start of the trader rewards programme. Whilst our inaugural airdrop allows us to recognise those who have helped build rhino.fi to this point, there are going to be even bigger opportunities for Defi fanatics in the form of incentive programmes and follow-up drops. Whether you've previously used our platform or not, you'll be able to earn DVF and join the community!
Why we're launching our airdrop
We launched in June 2020 as one of the first zk-rollup (Validium) decentralised exchanges in the industry, with a mission to make DeFi accessible for everyone – allowing users to swap, trade, invest and transfer, all without paying gas and from the security of their own wallet.
The DVF token is an essential part of our protocol, giving holders direct control over token and protocol governance.
Over 29,000 addresses have interacted with us over the past 15 months and have helped the protocol and user interface to scale. We could not be more grateful to the community which has evolved with a single purpose – to make DeFi accessible for everyone, without compromising on security.
Active User Airdrop
A portion of the DVF supply was allocated for 'active' users who, in being early adopters of Layer 2 technology, have helped to provide valuable feedback and have already been an important part of shaping our protocol.
The airdrop is designed to encourage those early users to take an active role in future governance of the protocol and token!
The following section describes how active users were identified and segmented for this first active user airdrop, as well as the methods used to filter out 'airdrop hunters'.
How did we identify active users?
Like all good data-sets, it started with a snapshot. This snapshot included all accounts that had made at least one transaction, along with USD equivalent trading volume (excluding staking volume on cUSDT or xDVF), and detailed the number of weeks in which they had made at least one swap, trade or transfer via the protocol.
The snapshot date-time was 16th November 2021,12:00 pm UTC, and included all user data since the mainnet launch in July 2020.
A blog post detailing the word 'active' as being the main criteria for airdrop eligibility was published in March 2021 and has been referred to regularly in our Discord as well as various other channels. "Wen Airdrop" has probably been the most common two words posted to our discord (we joke).
We believe there are two specific types of users who should receive tokens in this first DVF airdrop:
Loyal users that have been regularly active over a long time period, even if they have a relatively small balance or trading volume.
Traders with a relatively large trading volume.
Our mission is to make DeFi accessible to everyone, and both small and large users are integral to our community. Both sets of users are essential to our growth and the governance of DVF, whether they're liquidity providers, traders, or active DeFi users.
The final user groups took into account both activity and volume:

Group A had the lowest barrier to entry, with activity on just two separate weeks and at least $150 in total volume. This equates to just four gas-free swaps at the minimum swap size. In theory, a user could have deposited via the Polygon <> DeversiFi Bridge for free and then swapped with a small amount of tokens.
In contrast, group E was limited to accounts that had traded at least $100k of total volume in the 15 months since our launch. In reality, most accounts that fell into this group were actually very active accounts that had been active for six weeks or more, which was great to see.
In order to see whether you are eligible for this first airdrop as an active user, you can connect your Metamask, Ledger or Trust Wallet to our platform to check and claim your tokens – all gas-free of course!
How we've avoided airdrop farmers
It's long been public knowledge that we were going to distribute tokens to active users, and there have been various attempts at gaming this by creating multiple addresses to take advantage of the airdrop, at the expense of the rest of the DVF community.
This phenomenon is not unique to our project. In fact it has been widely commented on by community members following notable aidrops such as Ribbon, dYdX, ENS and ParaSwap.
The problem is this: how should a project distribute tokens to real community members who have meaningfully contributed, whilst ensuring that those who are trying to elicit more than their fair share are excluded?
Since Divergence Ventures were caught gaming the Ribbon airdrop to the tune of 702 ETH (over $3,000,000 at current ETH prices), blanket airdrops have disappeared. ParaSwap recently whittled down a whopping 1 million addresses that interacted with their protocol into just 20,000.
The 'active' filter provides a good initial way to remove those airdrop hunters who deposit a very small amount on a platform and either don't trade, trade a very small amount, or trade a small amount one day and then withdraw, never to be seen again.
Now that there is an expectation and culture of airdrops in DeFi, teams that continue to do blanket airdrops, without making an effort to filter those who are gaming the system, are willfully perpetuating a system with misaligned incentives and are doing their community a huge disservice.
Creating a naughty list (and checking it twice)
The naughty list was created using both manual and automated techniques to identify strings of accounts that were linked together and trying to simulate real activity. We identified several similar patterns including tiny deposits, loss-making trades, internal L2 transfers and traders that de-funded their account and transferred to another address, where the pattern would repeat.
In the process, we discovered several chains of accounts that had made millions of dollars by successfully exploiting the airdrops of other protocols in a systematic and professional manner!
Finally, we double-checked all the filtered accounts to make sure that we hadn't been too harsh. To put the level of suspected airdrop hunting into perspective, the overall proportion of naughty-listed accounts ranged from 3% in one group to an incredible 31% in another category.
The final set
If you are a community member who has made it through the filtering process then we thank you for being an early adopter and valuable community member. We look forward to you helping drive DVF governance forward over the coming years!
To claim your DVF airdrop and start taking part in governance, connect your Ethereum address to app.rhino.fi
2. Click on the "Claim DVF airdrop" button
3. Connect the wallet you use with DeversiFi or paste an address to check
4. Check your eligibility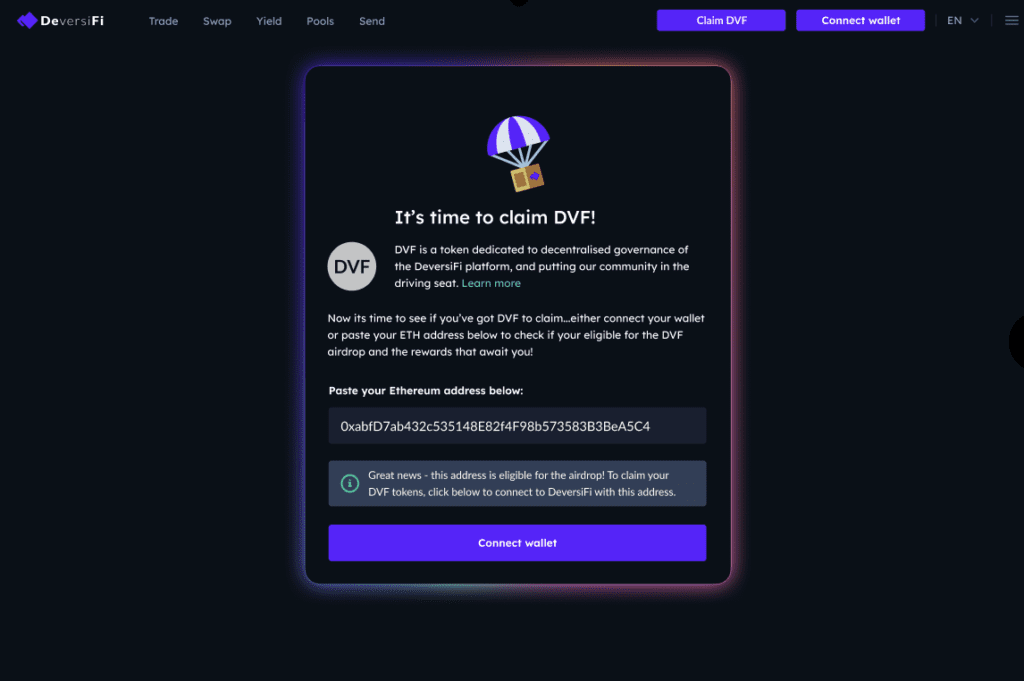 5. Claim your DVF - if you are eligible and click 'Claim' then your DVF will appear in your DeversiFi account on L2 (check on Portfolio screen)
6. Then you can stake your DVF on our governance module and get voting!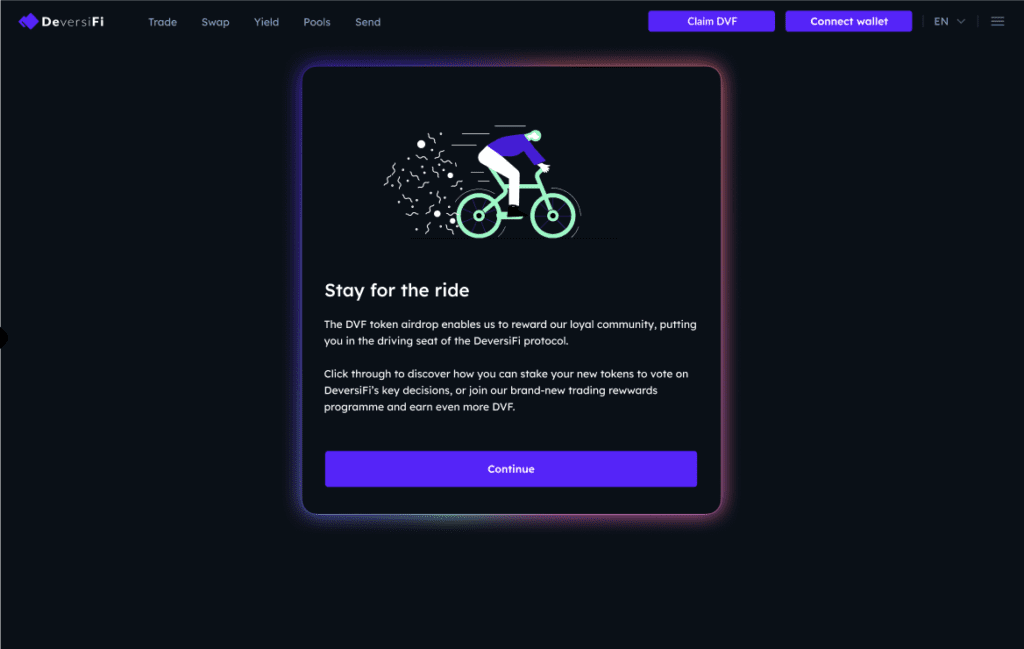 NEC Holder Airdrop
If you were holding NEC tokens on the 25th March 2021 then you should carefully read the following sections to understand the opportunity and role that you can now claim as a participant in DeversiFi governance, as well as the details of claiming DVF.
Why we have rewarded NEC holders
Building DeversiFi has been the work of several long years of research & development. The DeversiFi founding team have been working with StarkWare since 2018 to launch one of the first layer 2 platforms on mainnet and have had significant support along the way from various teams, ecosystem partners and communities.
As detailed in this blog post from March 2021, 7% of the DVF supply has been allocated to NEC holders who were holding their tokens when a snapshot was taken on 25th March at block number 12107360. This allocation recognises their long-standing support via the necDAO.
Over the past six months the crypto community has aligned behind layer 2 solutions as one of the main avenues for scaling Ethereum and DeFi and allowing millions more people around the world to interact with the best that our industry has to offer without compromising on security or control. Even the Ethereum 2.0 scaling roadmap has changed to support layer 2 rollup technology to a greater degree, ahead of the roll-out of sharding for execution in 2022/2023.
The external industry factors mentioned above have led to a huge amount of interest in DeversiFi, with the number of holders of the fledgling DVF governance token growing rapidly. At the time of writing there are over 23,000 registered DeversiFi accounts.
A maximum of 7% of the DVF supply was allocated to NEC holders, with 2% to be distributed pro-rata based on token holdings, and another 5% being distributed conditionally to those who are most aligned with DeversiFi's mission. This distribution is based on a points system as per the original blog post and we have established the following rules relating to the claim process:
The claimable DVF will be split into two parts, with 50% claimable as soon as the airdrop begins, and another 50% claimable after 3 months.
In order to receive the second claim after 3 months, a recipient must have a) already claimed the first part of the airdrop, b) not yet have sold any of their claimed tokens, and c) not have deposited their DVF in a centralised exchange or transferred to an address that is different to the claim address.
Permitted actions with the claimed airdrop are as follows (this list may be updated as the DVF ecosystem matures):

Withdrawing from DeversiFi to the same on-chain Ethereum or Polygon address that is associated with the airdrop claim.
Passively providing two-sided liquidity on a 50:50 AMM pool with any portion (including the full amount) of the claimed DVF on any of the following DEXs – DeversiFi AMMs, Uniswap on Ethereum, Uniswap on Arbitrum, Sushi on Ethereum, Sushi on Arbitrum, QuickSwap on Polygon.
Staking DVF for xDVF.

Claimable DVF amounts for both parts of the airdrop will be reduced by 20% every two weeks if unclaimed, and become unclaimable permanently after 3 months. The reclaimed tokens will return to the DVF DAO treasury.
To claim your DVF airdrop and start taking part in governance, connect your Ethereum address to app.rhino.fi
N.B. The following NEC holders will not be able to claim automatically. Both groups should reach out to the DeversiFi Labs team via

[email protected]

.
Those who held NEC on Bitfinex but have not yet provided an Ethereum address from which to claim.
The largest wallets that held NEC on-chain. Due to the size of the claim you will not be able to receive all of your potential DVF rewards in the normal flow, but should first get in contact to discuss. Note that if this includes you, you will see a notification when connecting your wallet in the DeversiFi app. We can't wait to meet you!
Airdrop FAQ
Are you able to make the airdrop eligible address list public?
The dataset will not be published as DeversiFi is built on Validum (off-chain data) which is a semi-privacy-preserving Layer 2 scaling solution. The naughty list may be published, however, in order to help other projects that are conducting airdrops.
I cannot access DeversiFi using my Ethereum address, what should I do?
You can connect to DeversiFi using one of the following wallets:
Metamask
Ledger
Metamask + Ledger
Metamask Mobile
Trust Wallet (mobile)
Other wallets are not yet compatible with DeversiFi.
If the Ethereum address that you have associated with your airdrop claim cannot be used with any of the above wallets, then please reach out to the customer support team using the chatbox in the bottom-right hand corner of app.rhino.fi in order to arrange a transfer to a new address.
My Address is eligible for a combined DVF airdrop because I'm both an NEC holder and an active user. Can I sell any tokens without losing my remaining 50% in three months' time?
Congratulations on your airdrops! However, if you claim a combined airdrop then selling any amount of your initial claim will result in you losing the remaining 50%. Hodl ser!
Where can I find out more about DeversiFi's roadmap and future plans?
Make sure you join the 4,000-strong community on the DeversiFi Discord. We're very friendly! Join now!
How Can I See If I am Eligible For A DVF Airdrop?
Go to app.rhino.fi.
Connect your wallet (making sure that the correct Ethereum address is connected).
Click the DVF claim button in the top right hand corner of the screen.
Claim (gas-free!)
Your DVF tokens will now be in your DeversiFi account that is associated with your Ethereum address.