DeFi Legends will pit eight teams against one another (on EUW servers) to claim victory and ultimate bragging rights of who has the best League of Legends (LoL) team in the DeFi realm.
The projects that have been locked into this fierce battle are:
DeversiFi
Sushi
Ampleforth
Polygon
EntropyFi
Footium
Cryptonovae
Pocket Network
The tournament will last eight weeks in total as the team's clash in a head-to-head tournament. These courageous warriors will face a gruelling group stage, before progressing to the semi-finals and finals, where the ultimate champion will be crowned.
For DeversiFi, this is a chance to bring our entire community together. Esports play a huge role in many of our community members' lives, and we want to do all we can to reward this passion. We wouldn't be here without our community's support, so this is a chance to say thanks.
Whether you are eager to take part in the tournament, or are simply happy to watch and support your team, we are sure that this will be THE event of the year.
DeFi Legends Gaming Tournament
Group stages
The tournament will begin with group stages with the 8 teams divided into two groups – A + B.
The groups are arranged as follows.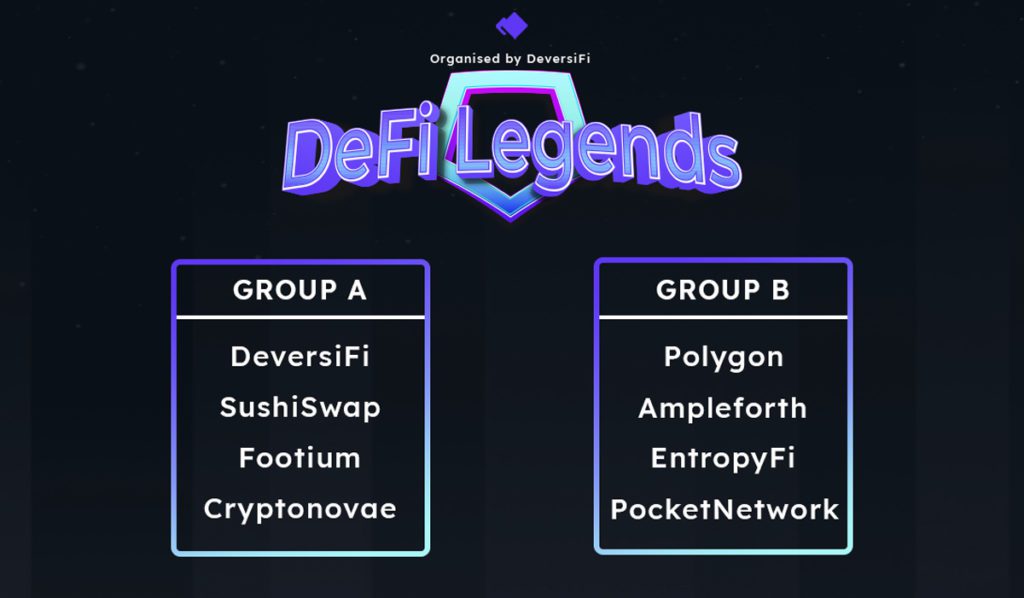 The games will take place over eight weeks, with the group stages taking up the first six weeks.
Every team will play every other team in their group twice, with winners awarded two points and losers one point. Failure to attend the game results in zero points.
When the group stage is complete, the top two teams in each group will be chosen to play in the semi-finals.
Semi-finals and finals
Teams in the semi-finals will play a best-of-three series. The winners will progress to the final while the losers will be left to fight for third place.
Again, the final and third-place play-off will be best-of-three.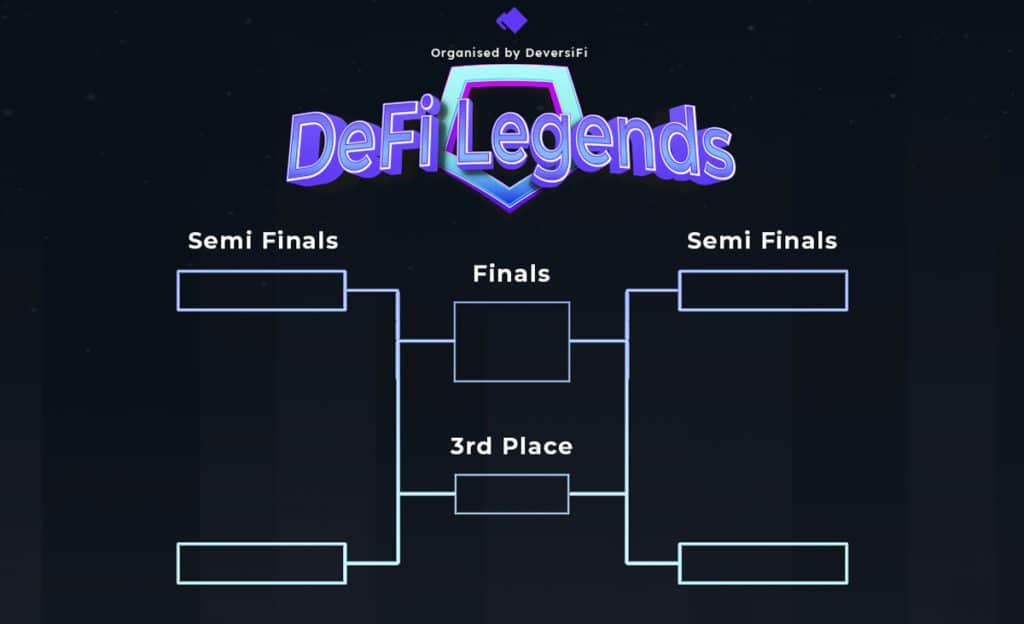 The prize pools
At the start of the tournament, all participating teams will contribute $5000 in their own project's tokens, creating a total prize pool of $40,000. The prize pool will be held in the DeversiFi Labs MultiSig wallet.
The team that comes in first place will be awarded 30% of the prize pool, second place will be awarded 15% of the prize pool, and third place will be awarded 5% of the prize pool.
The remaining 50% will be distributed in raffles to community members that get involved from the sidelines by watching and voting on the teams that they believe will win, as explained below.
Taking part in the tournament
Whether you are an Esports fanatic and love playing LoL, or just want to support your team from the sidelines, we have made it exciting for all communities to get involved!
There are 3 key ways you can be involved:
Join a team – Play LoL, represent your project, and take part in the tournament. But how can you sign up to join a team?
First, make sure you join the DeversiFi discord.
You will then have access to the "DeFi Legends" Discord channel where you will be able to speak to the team captains of all the projects involved and voice your interest in participating for their team.
You can express interest in joining a team by filling out this form.
Team captains will be hosting internal trials in order to pick team members and will message you if you are successful.
Teams will be made up of five players and up to five substitutes.
Watch the tournament
The games will be hosted on DeversiFis Twitch channel. which you can watch here. The main conversation of the tournament will be taking place within our discord channels, so this is THE place you will want to be.
Vote and win prizes
A portion of the prize pool will be allocated to community members who are actively watching from the sidelines. So what do you need to do to be in with a chance of winning?
At the start of every game, all viewers will be given the chance to vote on who they think will be victorious in the DeversiFi Discord. The viewers that guess correctly will be automatically entered into a raffle to win a portion of the prize pool, which will be distributed at the end of every week within the DeversiFi app.
We understand that people may try to game the system by deploying hundreds of bots to vote, and so we will incorporate collab.land to ensure only real community members are eligible for the raffles.
In order to vote for your team, you will need to hold $50 in your team's equivalent tokens in your wallet and connect this to your Discord account.
You can do this by typing " !join " in the "connect wallet" channel within the discord. Follow the instructions on the screen and you will automatically be assigned roles depending on which particular coins you are holding in your wallet.
For example, user A is holding 100 DVF & SUSHI tokens within their Metamask wallet. After typing " !join " in the connect wallet channel and following the instructions, they will be given the roles:
DVF HODLer
SUSHI HODLer
Winners from each game will be picked at random by the DeversiFi team. If picked as a winner, you will be notified via Discord and will be able to claim your tokens from within the DeversiFi app, completely gas-free!
Don't worry, if you are unsure how to connect your wallet to DeversiFi's Discord, we will shortly publish a walkthrough video here.
T&C
Claiming winnings from raffles.
You are able to claim all winnings through DeversFi gas-free on Layer 2 Ethereum.
You will need to have an activated account on DeversiFi in order to claim your winnings
Whilst there are no fees to claim your winnings, you will have to pay gas fees in order to withdraw your winnings from layer-2 to layer-1 Ethereum.
If selected as a winner, you will be notified via email and Discord.
Winnings will be available to claim at the end of every week.
You will have up to two weeks after the final game of the tournament to claim your winnings. If you have not claimed your winnings by then they will be given to the winning team of the tournament.
Voting
Whilst voting is free, you will need to own at least $50 of the partaking team's token to take part. Eg if Sushiswap and DeversiFi are playing, you will need to own $50 of equivalent tokens in either Sushi or DVF in your Layer 1 wallet in order to vote.
Voting will not use or burn any up of your tokens, nor will it use any of your tokens as collateral.
If you meet the requirements to vote, a special discord channel will open up 12 hours before the games begin. You will automatically have access.
To further prevent people from gaming the system, a Typeform link will be shared among eligible voters, which they will need to fill out to vote. Required information includes:
The team they wish to vote for.
Email address to be contacted if they win.
Discord Handle.
Eth address to claim winnings.
Participants will only be allowed to vote once per game. Multiple entries will automatically disqualify the user.
Prize pool distribution
Project team members will not be eligible to win any of the prize pools. The prize pool will only be available for partaking community members and spectators
At the time of creation, all partaking projects will be contributing the equivalent amount of $5,000 of their token. All prizes and rewards will be distributed as a fixed % of the total number of tokens contributed and not the dollar equivalent.
For example, Team X donates 10,000 of their token. Prizes that will be distributed for raffle winners will be a fixed amount of tokens (e.g. 100 tokens per person) irrespective of the $ value equivalent of the token.