The DeversiFi team flew to Germany for the bustling Berlin Blockchain Week, where we touched-base with a number of Ethereum's leading brands, presented DeversiFi to engaged audiences and hosted The Governance Games with Aragon, Zero Knowledge Podcast, DAOstack and others. Read on for the overview, takeaways and more.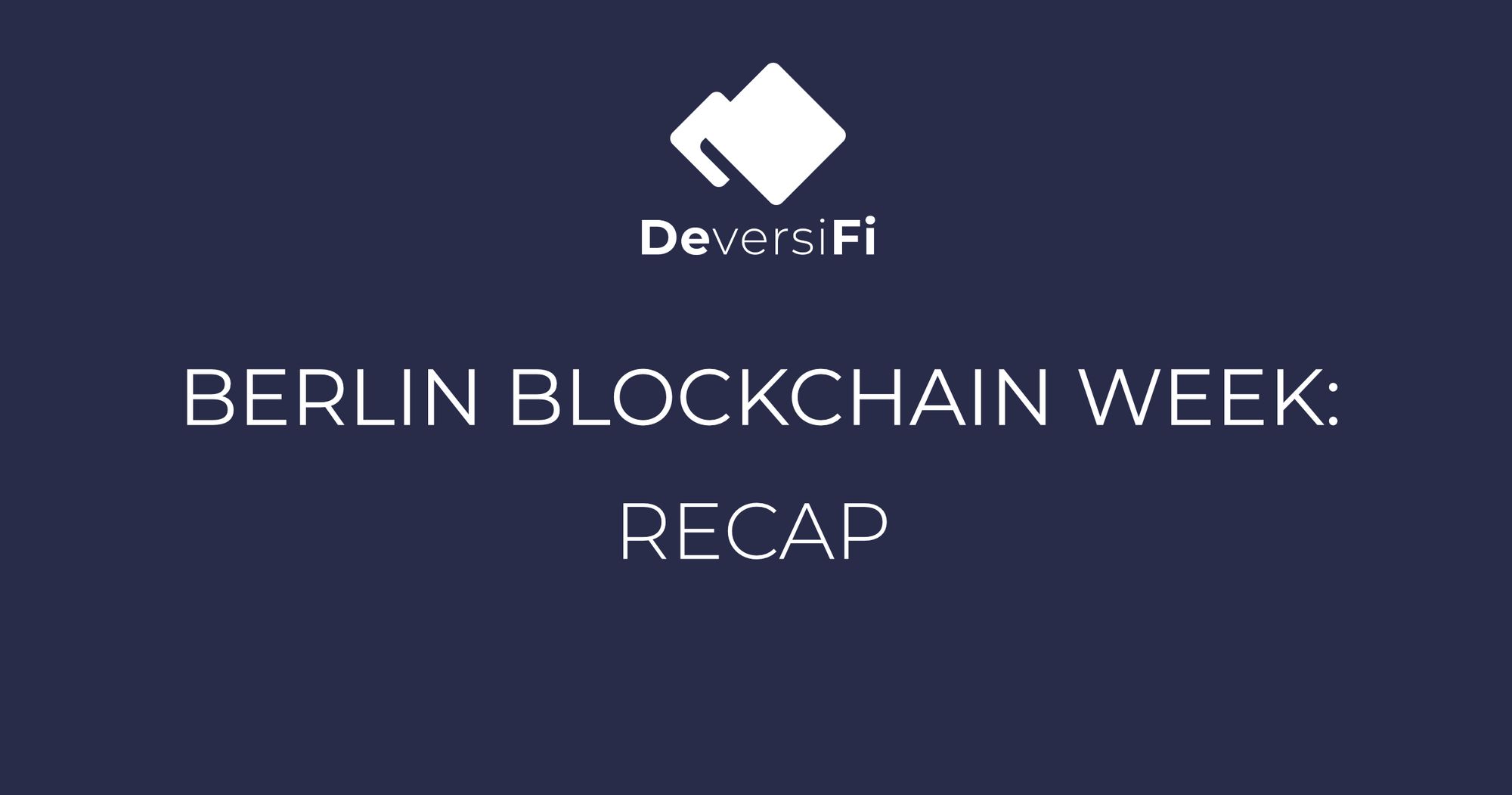 This year, like last, the community-organised Berlin Blockchain Week was jam-packed with a wide array (100s) of decentralised events, predominantly focused on the thought-provoking discussions, brain-teasing hackathons, tail-wagging announcements and well-earned developments from the seemingly tireless Ethereum ecosystem. This year around, there were some definite trends and hot topics emerging, mostly around the burgeoning DeFi movement and the resurgent interest in Decentralised Autonomous Organisation – something close to our hearts as we build out the largest DexDAO in the industry – necDAO.
From the DeversiFi team, we had CEO Will Harborne, CFO Ross Middleton, COO Dan Yaniv, Product Lead Steph Fau and myself. We respectively stopped by Web3, Dappcon, Metacartel, Misfit Economy, DAOfest, CodeDAO and many more. And we enjoyed catching up with friends from DAOstack, Aragon, Dusk, Ethereum Foundation, MakerDAO, Zero Knowledge, Summa, The Reserve, POA Network, Parity, Gnosis, Portis, Kleros, MEW, Moloch DAO, Iden3, MetaCartel and Digix, to but a handful – all whilst getting into the Ethereum spirit over a bottomless well of complimentary drinks (Bier & Fritz Cola!).
The Governance Games
One of our overriding beliefs at DeversiFi is that one, if not the main, revolution to emerge from Blockchain is the ability to completely change the way we organise and make decisions as a distributed collective. And we never turn down the opportunity to host an event! That's why we teamed up with Aragon and Zero Knowledge Podcast to host The Governance Games – an event that went to the heart of decentralised governance, what stands in the way of progress, how it can be gamed and how to fix it.
It was imperative that we invited the leading projects and people in the DAO space, to share their experiential insights and wisdom. But it was just as important to carefully cherry-pick the line-up, to ensure – disagreement! Healthy disagreement. As such, we were honoured to have Pat Rawson of DAOstack, Yalda Mousavinia of Autark, James Preswhich of Summa (DAO maximalist) and Lane Rettig (minimalist) to engage in a panel discussion hosted by Anna Rose.
To ensure maximum audience input, we included a fun and thrilling park bench panel whereby anyone in the audience who made a statement and not a question (or a statement dressed as a question as judged by Anna) would be dragged onto the panel themselves to replace the 'incumbent panellist' being addressed. Not only was this fun but it drew out some incredible participation along with intriguing talking points. The fluid panel included, among many, the incredible Grace Rachmany of DAO Leadership, Jonathan Waldenfels of Energy Web, Eylon Aviv of dHack, Peter Mauric of Parity and many others who stepped up from the audience.
Despite a long day of Dappcon, preceding talks and panels, and the inevitable conference fatigue, nobody wanted it to end. Check it out for yourself.
We also had an inspiring talk from John Light, representing the sponsors of the event – Aragon – where he spoke to the power of collaboration and joining forces to make DAOs successful, impactful and reach the right audiences.
Speaking at DAOfest
CEO Will Harborne presented at DAOstack's DAOfest – a day-long DAO bonanza with a series of talks and discussions followed by an afterparty in the crypto hub – Full Node.
As pioneers in the space, DAOstack are leading the charge on bringing Decentralised Autonomous Organisation to a wider audience not only by developing the underlying technology but more crucially through hands-on awareness and education campaigns.
Kicking things off, DeversiFi CEO, Will Harborne, took the stage providing a fascinating history on the development of autonomous organisation for financial exchange, going as far back as the Button Wood Agreement (distinct from Bretton Woods!) where a handful of traders sought to organise themselves for a common objective. With this setting the stage, examples of our development of systems for community-driven decision making were given, elaborating on our use of the Kleros Dispute Resolution layer for token listings on the exchange, segueing into our plans to build the necDAO using DAOStack.
Takeaways
Despite the temporary 2016 set-back, interest in DAO's is now growing fast, with a new trend in DexDAOs (examples to soon include necDAO). Coindesk even reported on a 'DAO Renaissance' inspired by Berlin Blockchain Week.
DAOs are early in their growth and areas like dispute resolution and identity are still areas in need of development. We're looking at you, Kleros!
To best promote adoption and bootstrap growth, DAO organisations need to band together to collaboratively educate people on this new technology. (Education initiatives were a topic for other areas as well, with MEW making strides towards this).
In line with the second point, DAOstack's Ezra Wella recently released a long-form article covering key areas. Here it is
Tweets & Other Bits
An event isn't complete without at least one funny meme:
Moving forward
Over the past few weeks, we have unveiled some important milestones. We announced our evolution to DeversiFi, allowing us to fully dedicate our attention on the DeFi and DAO space. We nodded to the fast-approaching closing of Ethfinex.com and most relevantly, we have highlighted the radical revamping of the NEC token, including its use in the upcoming necDAO.
With everything we've learnt during Berlin Blockchain Week, we are left stimulated and excited to incorporate features and prepare initiatives to address key issues whilst playing our role in bringing DAO and DeFi technology to the wider crowds.
It was an incredible week and we are delighted to have caught up with friends and fellow DAO, DeFi and DEX developers. We will be in Japan and are looking forward to doing it all again among the neon lights of Osaka city. Until then!
---