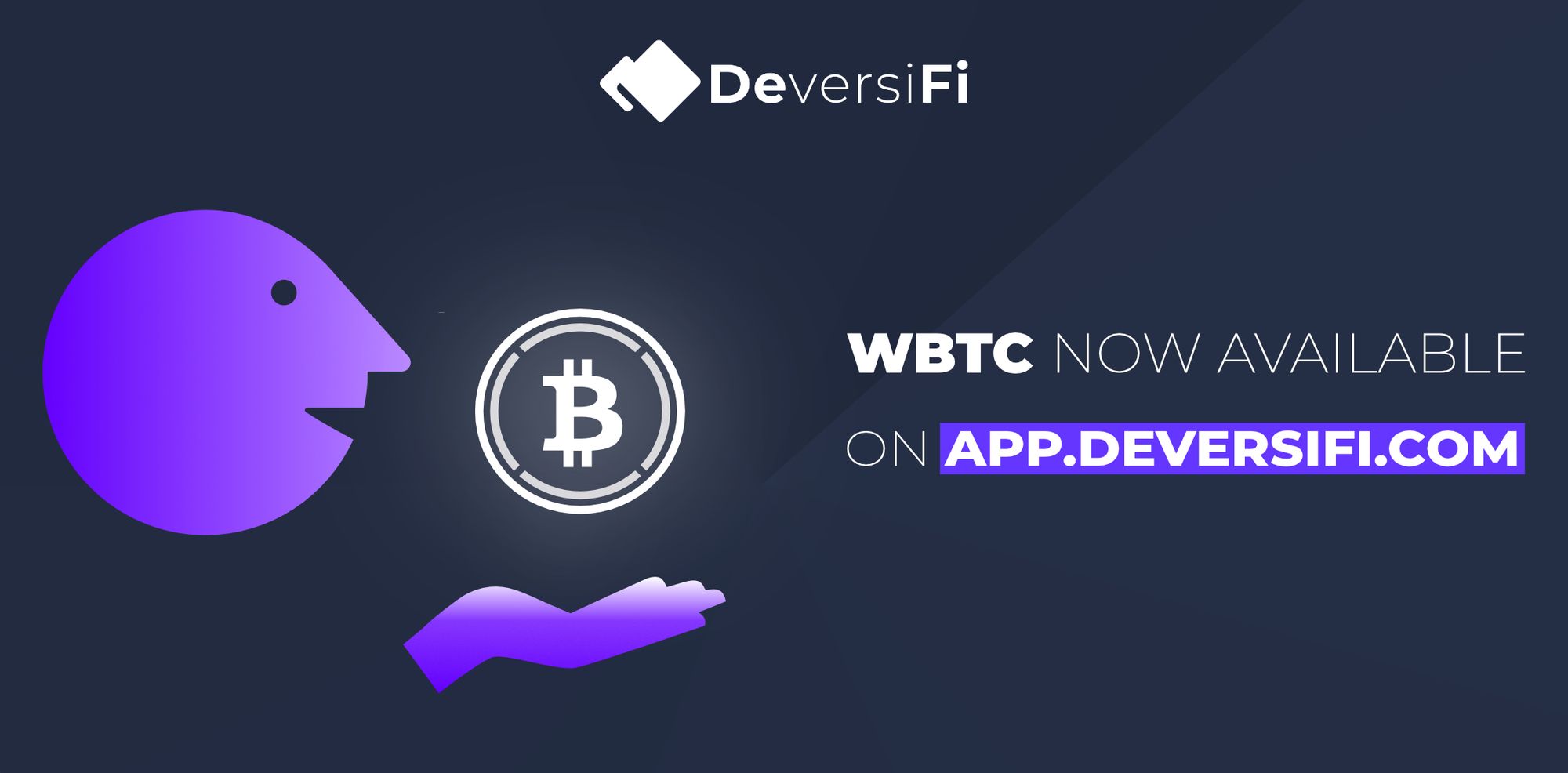 You can now trade wBTC tokens directly from the security of your private Ethereum wallets, against USDt and without any compromises on speed or liquidity. Simply lock wBTC or USDt in the DeversiFi smart contract and start trading!
What is special about the wBTC listing on DeversiFi?
DeversiFi has mapped the wBTC order book at a 1:1 ratio against some of the deepest centralised and decentralised Bitcoin markets in the industry. This means that traders can now use wBTC to synthetically gain exposure to physical Bitcoin markets with a tight bid/offer spread.
As well as deep liquidity and a tight bid/offer spread, traders can benefit from a fee schedule that starts at only 0.25% (25 BPS) on every trade and can reduced by up to 30%. The DeversiFi fee schedule can be found by navigating to the 'Fees and Discounts' section in the menu on https://app.rhino.fi/
When a trader purchases wBTC on DeversiFi they receive the wBTC token in their private wallet. In the background, DeversiFi takes care of the minting and burning of wBTC.
"We have seen a large amount of interest in synthetic bitcoin trading over the past several months and will be supporting more synthetic bitcoin tokens going forward as new models evolve. The 1:1 mapping of DeversiFi orders vs sources of Bitcoin liquidity, combined with relatively low trading fees, is an important step forward for making synthetic bitcoin token trading appeal to professional traders and DeFi alike" Said Ross Middleton, CFO of DeversiFi
About wBTC
Developed by the teams behind Kyber Network, Bitgo and Republic Protocol, WBTC (Wrapped Bitcoin) is a Bitcoin backed ERC20 token on Ethereum, with the goal of bringing BTC liquidity to Ethereum-based DEXs and Dapps. The WBTC framework is controlled and governed by the WBTC DAO consisting of participating merchants, custodians and other relevant organisations. Learn more about WBTC.
About DeversiFi and DeversiFi 2.0
DeversiFi aims to be the most complete non-custodial trading platform. The current DeversiFi 1.0 platform allows traders to trade directly from the security of their private wallets, whilst facing deep aggregated liquidity. Traders are always in control of their crypto assets as each trade is settled on-chain, removing exchange and counterparty risk.
Launching in April 2020 in conjunction with StarkWare ZK-Rollups, DeversiFi 2.0 will offer traders all the benefits of DeversiFi 1.0, but also allowing for 9000+ trades-per-second, completely private trading and low fees, all whilst ensuring they stay in control of their assets at all times. DeversiFi 2.0 will be the first complete and compromise-free non-custodial trading platform for professional traders.
More Information
For more information, see the DeversiFi wBTC Knowledge Base Article or head to our Telegram community to share your questions,
---
We work around the clock on the development of DeversiFi as the home of decentralised token trading, offering the most innovative solutions putting our users in control of their trading experience without sacrificing on speed, liquidity, choice or trust.
Get involved with, play your role and join us together as we fan the flames of the financial evolution.