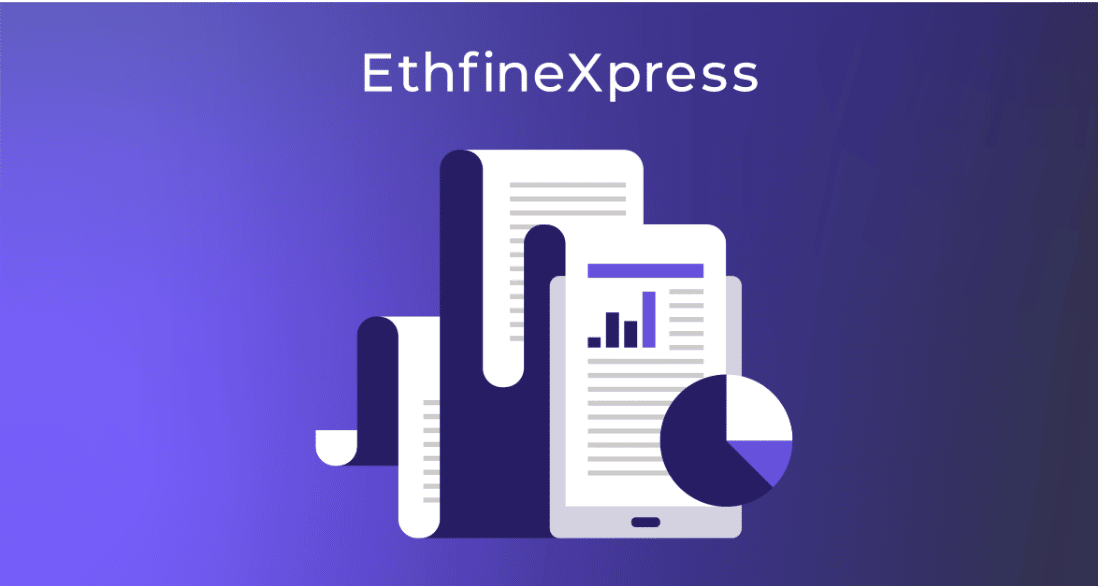 Happy Monday!
So, we are officially a week into the new year and already a lot has happened in the crypto-verse… Bitcoin enjoyed it's 10th anniversary since the very first genesis block, the price of ETH has finally started moving in the right direction (NOT financial advice) and projects across the spectrum gear up for another productive week. As always, we've compiled a handy snapshot of it all below, making it easy for you to stay in-the-know!
Got a friend who'd love this newsletter? Let them know they can sign-up at the click of a button by heading to our blog.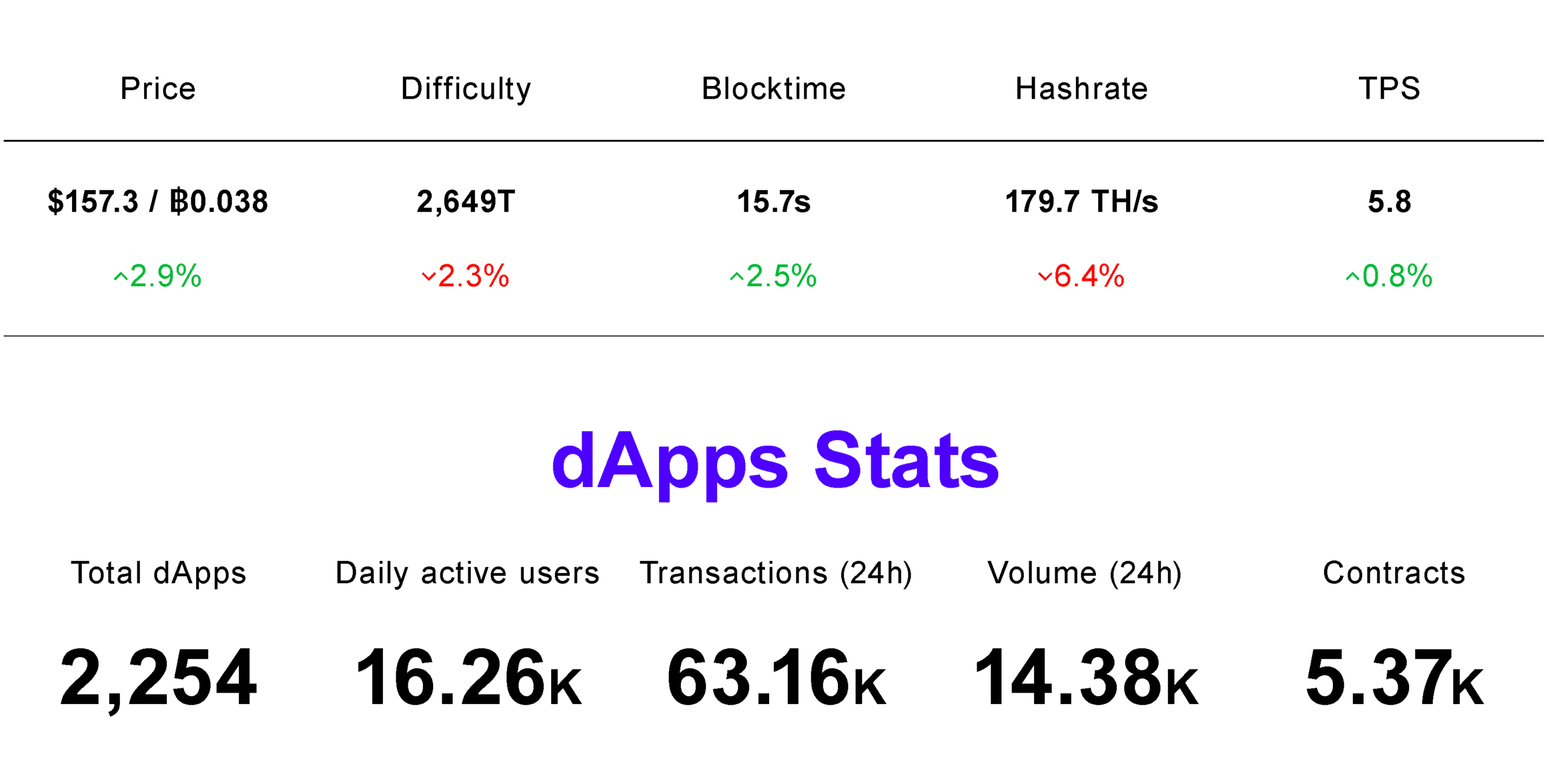 Extra: We recently integrated the Portis Wallet on Ethfinex Trustless, meaning you have yet another option to trade seamlessly from your private wallet.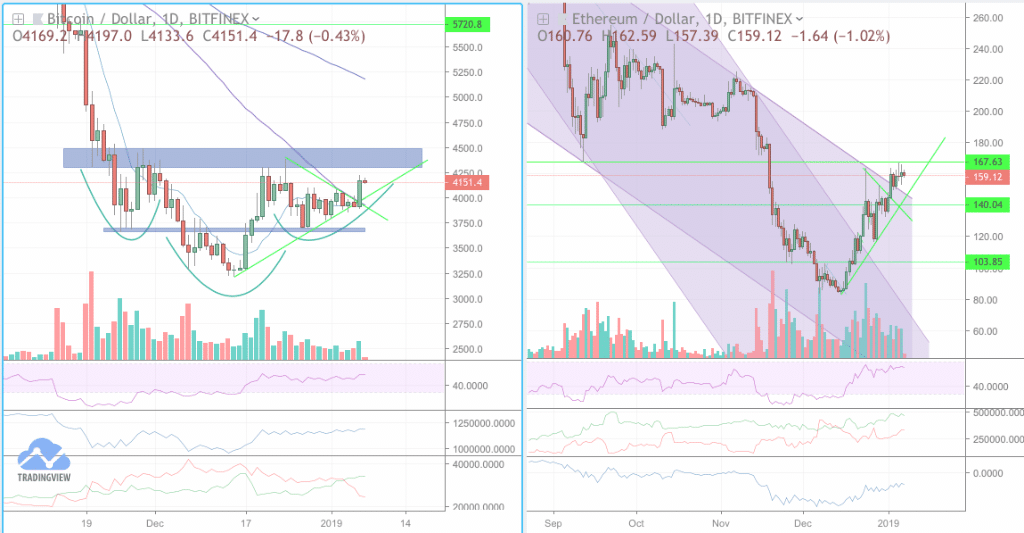 A relatively quiet week for BTC ended abruptly yesterday with a significant ~$175 short squeeze, keeping BTC/USD in its up-trend and bringing it closer to completing its inverse H&S (a widely publicised/watched pattern). A break of the inverse H&S neckline at $4.4-4.5K could signal another ~$1k upside if the distance between the neckline and head is used as an extension price target. Until BTC breaks both the diagonal support and $3.7k horizontal support it is difficult to argue against the short term bullish picture, with neckline resistance being the next significant level of interest.
ETH/USD had another bumper week, perhaps related to the Constantinople hard fork that is scheduled for the 16th January. Although price has failed to hold on to new highs over the past five days, daily lows are moving higher, channel resistance has been broken and the uptrend from December still looks to be intact. $168 is both local and medium term resistance (September) that needs to fail in order to signal a continuation higher. There is also a clear resistance level at 0.04197 on the ETH/BTC chart.
Left Chart – BTC/USD. Indicators: RSI, OBV, BFX Longs & Shorts.
Right Chart – ETH/USD. Indicators: BFX Longs & Shorts. RSI, OBV


Technical
Enjin launches EnjinX, an ad-free, user-friendly explorer with ENS arriving within 2019. Source.
The latest version of MyCrypto (1.5.3) is now live and has integrated 0x Instant. Source.
General
Ethereum plans to reduce energy footprint by 99% in the coming years with the migration from POW to POS. Source.
Researchers discover vulnerabilities in Trezor and Ledger Nano S, gaining remote access to key functionalities. Source.
Enterprise
Saudi Arabia completes pilot for blockchain-based cross-border trade system. Source.  
Nasdaq-backed exchange set to launch an EU-supported, tokenised stock trading platform. Source.

Can a Blockchain help Charities?
What?
Transparency has been a core value in the crypto community from the very offset. And among the variety of sectors that transparency has a obvious use case, charity is certainly one of them. In the past year we have seen a number of projects arise in the space, Aidcoin, Giveth and Alice to name just three, all promising to harness to the benefits of blockchain technology.
Why?
Charities are the cornerstone of an ethical and conscious society and serve to ultimately make the world a better place. Yet trust in charity has been slowly eroding with the influx of news stories that expose inefficiencies and corruption. The application of blockchain technology will make for greater transparency with the ability to track the journey and life cycle of a donation, from it's very beginning all the way to how it's being put to use on the frontline.
What now?
Uptake, whilst still slow, is happening. Charitable foundations are being set up using cryptocurrency, and there is particular interest from commercial organisations wanting to use crypto projects to handle their donations. Moreover, ways of using mining to fund charities (UNICEF has tried this) are also being explored. We hope that the wider world continue to see tangible benefits of blockchain in this sector, and Ethfinex is a proud supporter of some of these.
What we think…
As believers on blockchain's ability to make the world a more efficient place, we are thrilled to see the Charity industry evolving with blockchain. That said, we are aware that cryptocurrencies can be extremely volatile. Your donation could be worth half (or double) by the time it reaches the end user. It is hoped that stable coins such as DAI or Tether can be used to prevent these occurrences and assist in the promising evolution of the Charity Industry.


Wallet Integrated with Ethfinex Trustless We recently add another string to the Trustless bow by integrating the super user-friendly and convenient Portis wallet to the Ethfinex Trustless interface. Portis are on a mission to make decentralised technology accessible to everyone, not matter their level of blockchain know-how.
Check out the Full breakdown or read through the AMA here.
New Trustless UX ChangesAs well as the Portis integration, we have been hard at work improving user on-boarding for Ethfinex Trustless, making the journey into decentralised, non-custodial trading a smoother, and more encouraging experience.
Click here to read up on the full change-log.  

As you know, we at Ethfinex believe in the wisdom of the crowd and play our role in building a decentralised, community-driven world. This ethos extends to each and every facet of the Ethfinex operation and as such we don't just value your feedback but rely on it. So please take a second to let us know what you liked, or would like to see added, to your weekly Ethfinex newsletter.
*no wei's are distributed in the making of this newsletter… we just love a good pun!
---
Start trading on Ethfinex now.
Stay up to date with Ethfinex on Twitter, Telegram, Linkedin, Facebook and Youtube.