Welcome to our November performance report
With an aim to provide Nectar (NEC) token holders with a clearer view of the inner-workings of the exchange, we publish monthly reports reflecting the trends and financial results of each 30-day period.
We hope that everyone is holding in there after what has been a torrid past 7 days in the market. Let's hope that December is a better month for everyone, but in the meantime, we have lots to update you on.
November was a busy month for Ethfinex – we officially dropped our 'Beta' status!
Although trading volumes declined in line with the fall in wider market volatility and volume, we launched our new token sale platform, spent significant time at developer events demonstrating Ethfinex Trustless, and made several major platform updates, including our new landing page.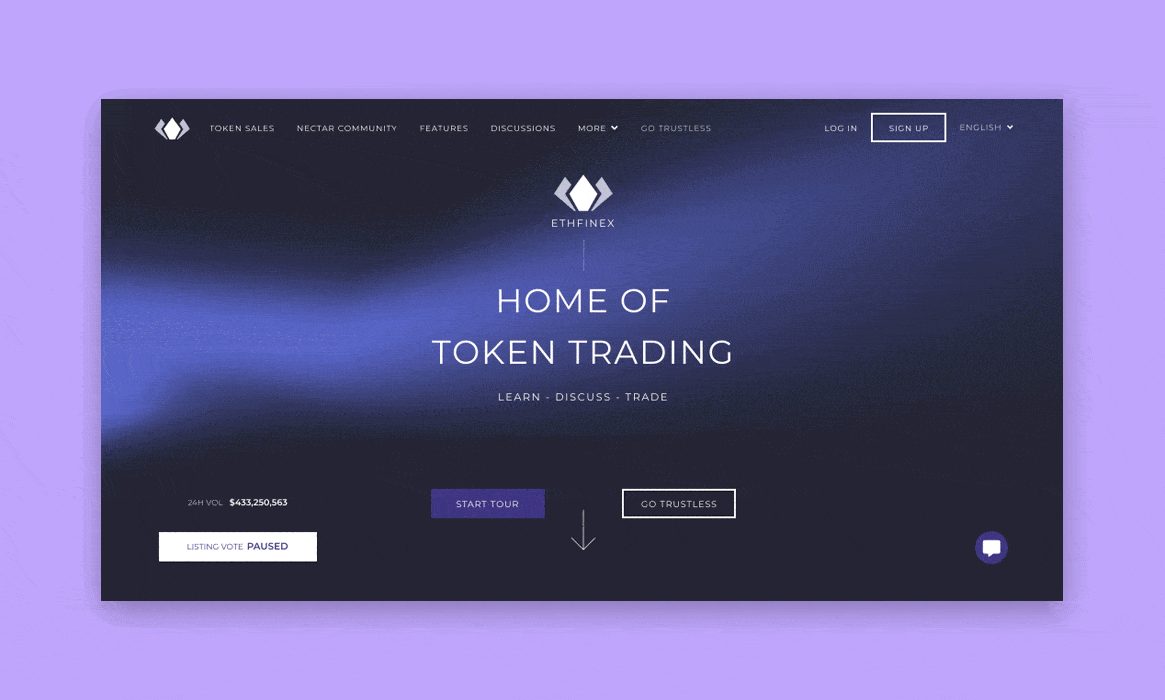 Ethfinex user numbers and engagement metrics have held up very well compared to reports from other exchanges – something that we are very proud of and believe puts us in good stead for when the market recovers.
Executive Summary
The performance period covered in this report is 11th October  2018 – 10th November 2018.
Total trading volume for the period equalled $523m, a simple average of $16.3 million per day, a decrease of 38% from the previous period.
Ethfinex Trustless volume for the period totalled ~$520k, an increase of nearly 600% from the previous period.
Total trading fees of ~$434,391 (average ETH/USD collected rate) were collected through trading over the period, a decrease of 12% from the previous period.
In line with this, 1052 ETH have been contributed to the Nectar token contract, pledged to NEC holders.
1,029,131 NEC tokens were distributed to reward market marking active on Ethfinex in the past month. Statistics can now be viewed on Nectar.community.
Month in Review —  November
Revenue & Activity Reports
1. Trading fee revenues
All fees were converted as they were collected into ETH to provide an averaged conversion cost across the month and average out the effects of price volatility during the period.
Fee currencies in the table are ranked in order of most collected. Quick note — fees cannot be extrapolated directly to trading volume as users can set their preferred fee currency (hence the popularity of USDT and BTC).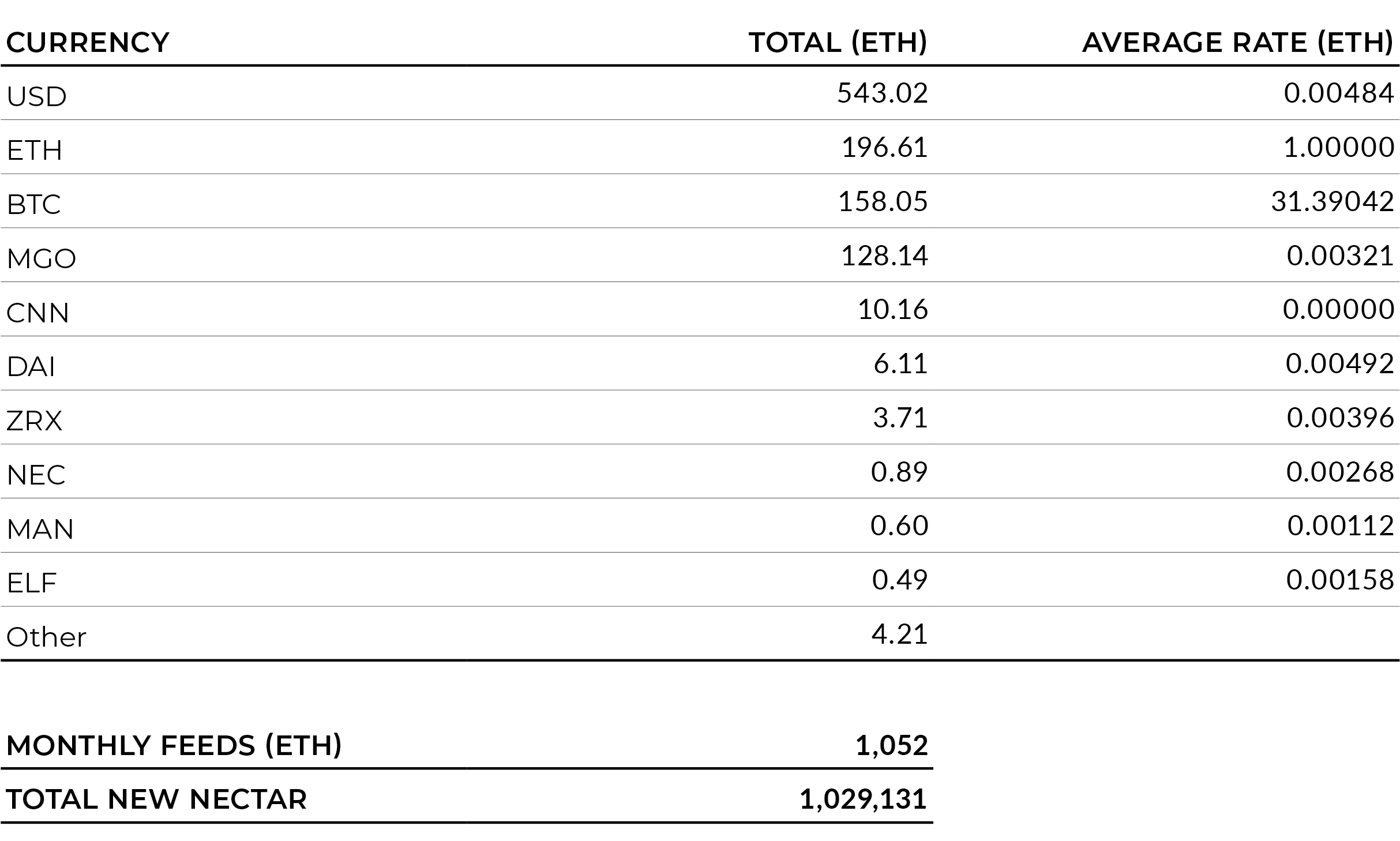 The above chart shows 50% of fees in all currencies collected. 1,052 ETH were collected during the month and pledged to NEC token holders. NEC, MAN, EVT and DAI again all performed relatively well again. After it's addition to Ethfinex following the community vote, MGO (Mobile G0) went on to trade in significant volume and provided significant trading fee revenues over the period.
Total trading fees of ~$434,391 (average ETH/USD collected rate) were collected through the period, a decline of 12%. The key message is that although trading volume declined vs the previous period (see more details below), trading fee income was relatively static. Our initial analysis suggests that this was because taker fees made up a higher % of the fee income compared to previous months – perhaps because lower volatility means there are less market making (maker fee) opportunities as a percentage of overall trading volume.
2. Trading Volume
Ethfinex total 30-day trading volume decreased 38% from the previous period in USD terms to $523m, with a drop in the overall ETH/USD volatility and ETH/USD trading volume across all exchanges being the main driver.

ETH/USD volatility dropped 58% (as measured by standard deviation across the month) as price was relatively static around the average monthly price. Intraday volatility (as measured by the intraday range as a percentage of the open price) also dropped 60% to 2.7% from 6.41% the month before. Volatility by all measures hit the lowest levels observed in 2018.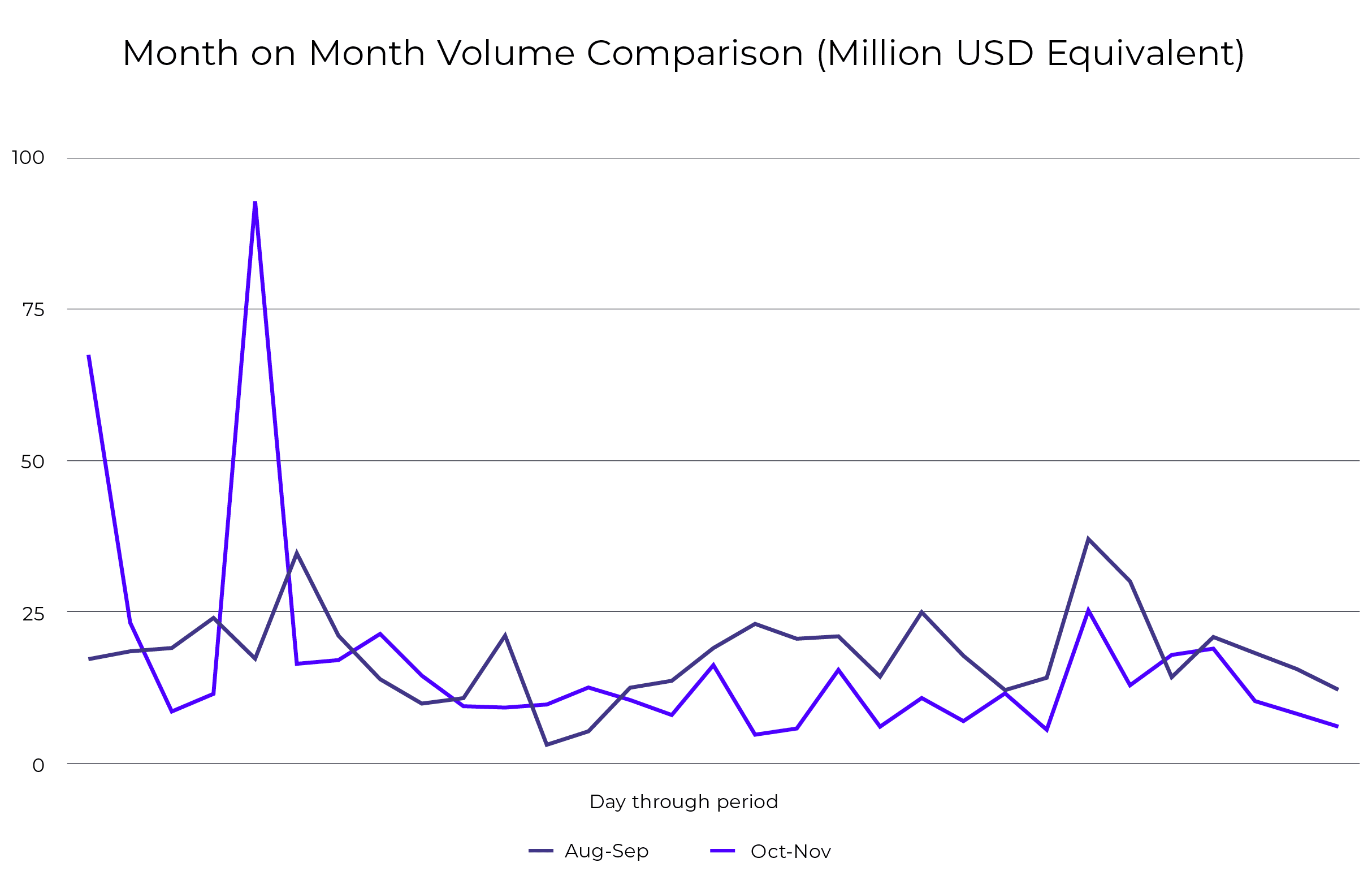 ETH/USD volume across a sample of exchanges dropped 20% from the previous period, slightly less than Ethfinex's total volume drop. One thing to remember here is that Ethfinex trading volume is real volume, and therefore is correlated to volatility. This is in contrast to an array of other exchanges who's ETH/USD volume's magically manage to stay consistent, even when volatility drops off. As a reminder, every trader on Ethfinex is subject to the same fee schedule – no sweetheart or special deals for anyone.
Trading volume was relatively consistent across the month, with the exception of the 15th of October, when Bitfinex and Tether insolvency FUD caused a large volume of ETH to be traded.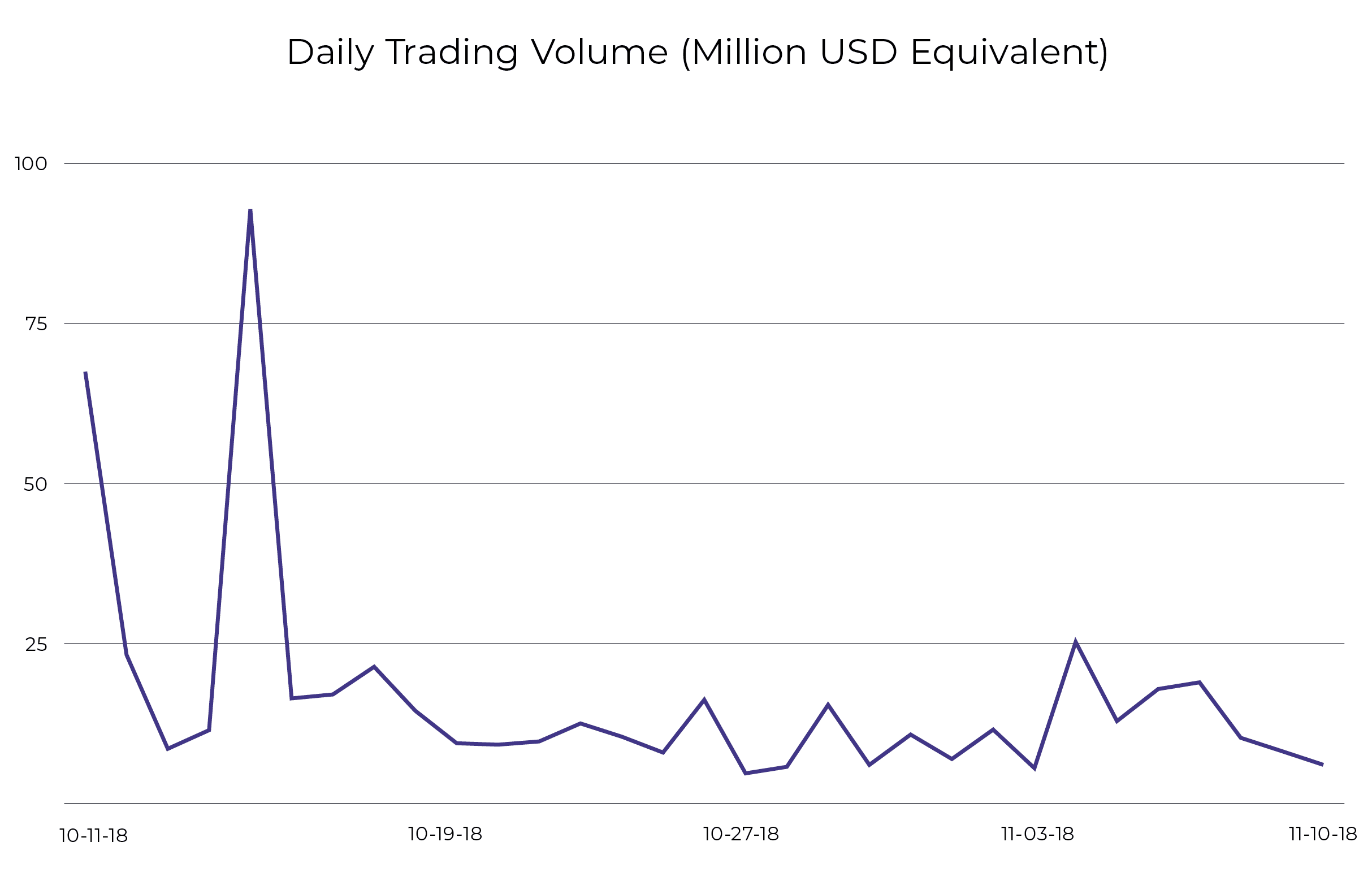 Unique user numbers, website session duration, bounce rate total sessions were all broadly similar compared to the previous month, with unique user numbers posting a small 5% decline. We believe this continues to buck the trend compared to user numbers on other exchanges and reflects our strong community and growing product offering.
Peak daily trading volume was 92.3m (15th October), an increase of 38% compared to the peak trading day in the previous period.
3. Ethfinex Trustless
Ethfinex Trustless volume for the period totalled ~$520k, an increase of nearly 600% from the previous period, with ETH/USDT, ETH/DAI and USDT/DAI taking the lions share of the volume.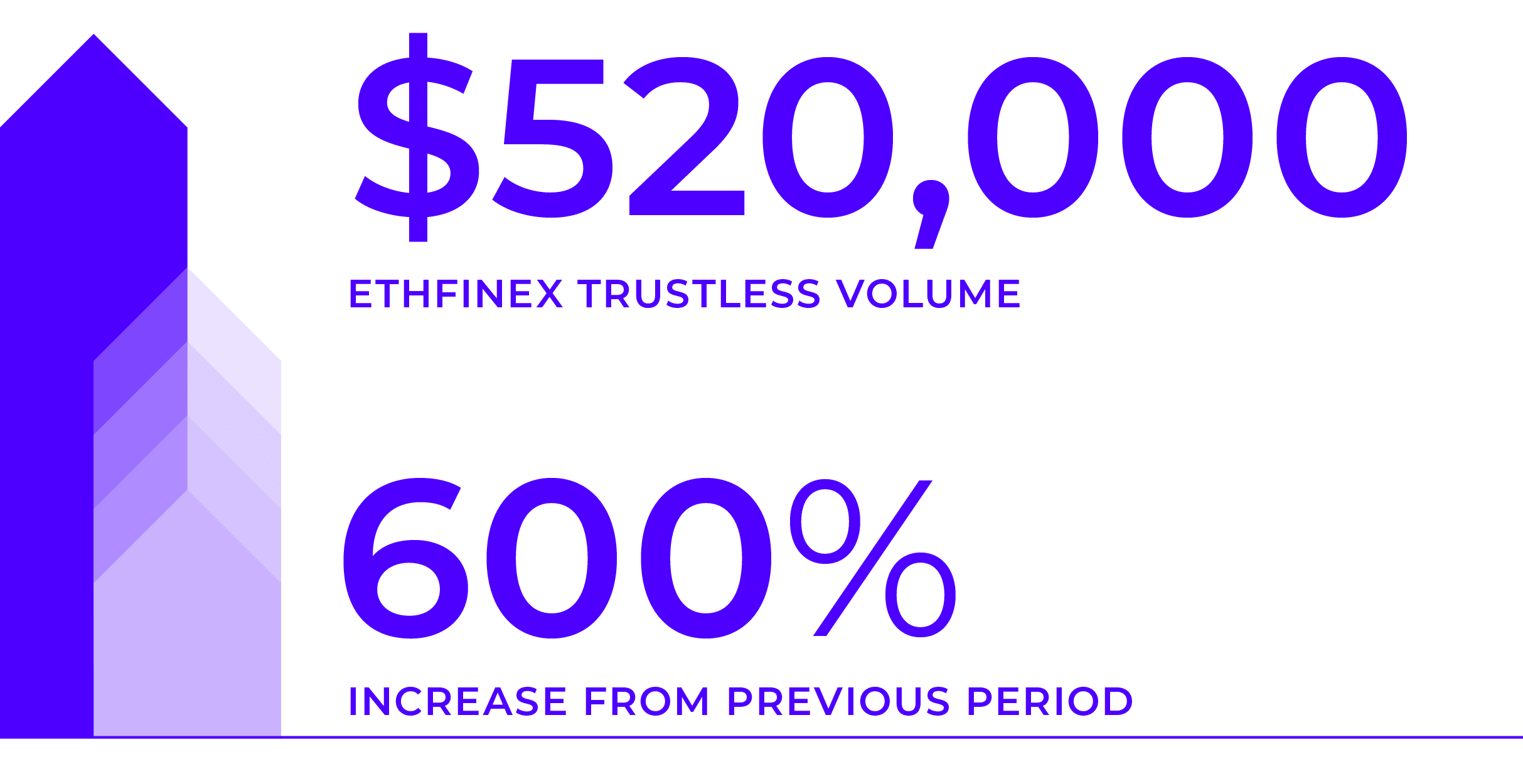 With a fee rate of 0.25% (higher than the fees on the centralised version of Ethfinex), Trustless has the potential to become a serious fee generator for Nectar token holders. This was the first full month of operations for Trustless, and whilst there are still only 13 tokens on it, it generated ~7 ETH in fees. This was a tiny 0.3% of the total revenues, however we look forward to slowly growing this into a significant proportion over the next few months.
This past month saw our first rounds of Trustless user feedback and interviews. Lack of liquidity is frequently sited as being the main barrier holding back decentralised exchanges. However, after solving this problem through our ability to share liquidity, the low number of users suggests there are other issues to tackle. We believe user experience design to be the most important focus, and we have been generating valuable feedback which we can now use to improve the Trustless trading experience.
Some improvements in the last month:
Our first DAI pairs at the request of the community!
Trustless is now available in both simplified and traditional Chinese language editions!
Faster trading, with ability to store favourite pairs and shortcut buttons when placing an order.
Monitor market movements with an improved depth chart.
Improved wallet connection security by adding support for the recent MetaMask EIP-1102 update, redesigned status bars for better overview of the current transaction status, and many more.
4. Token Sales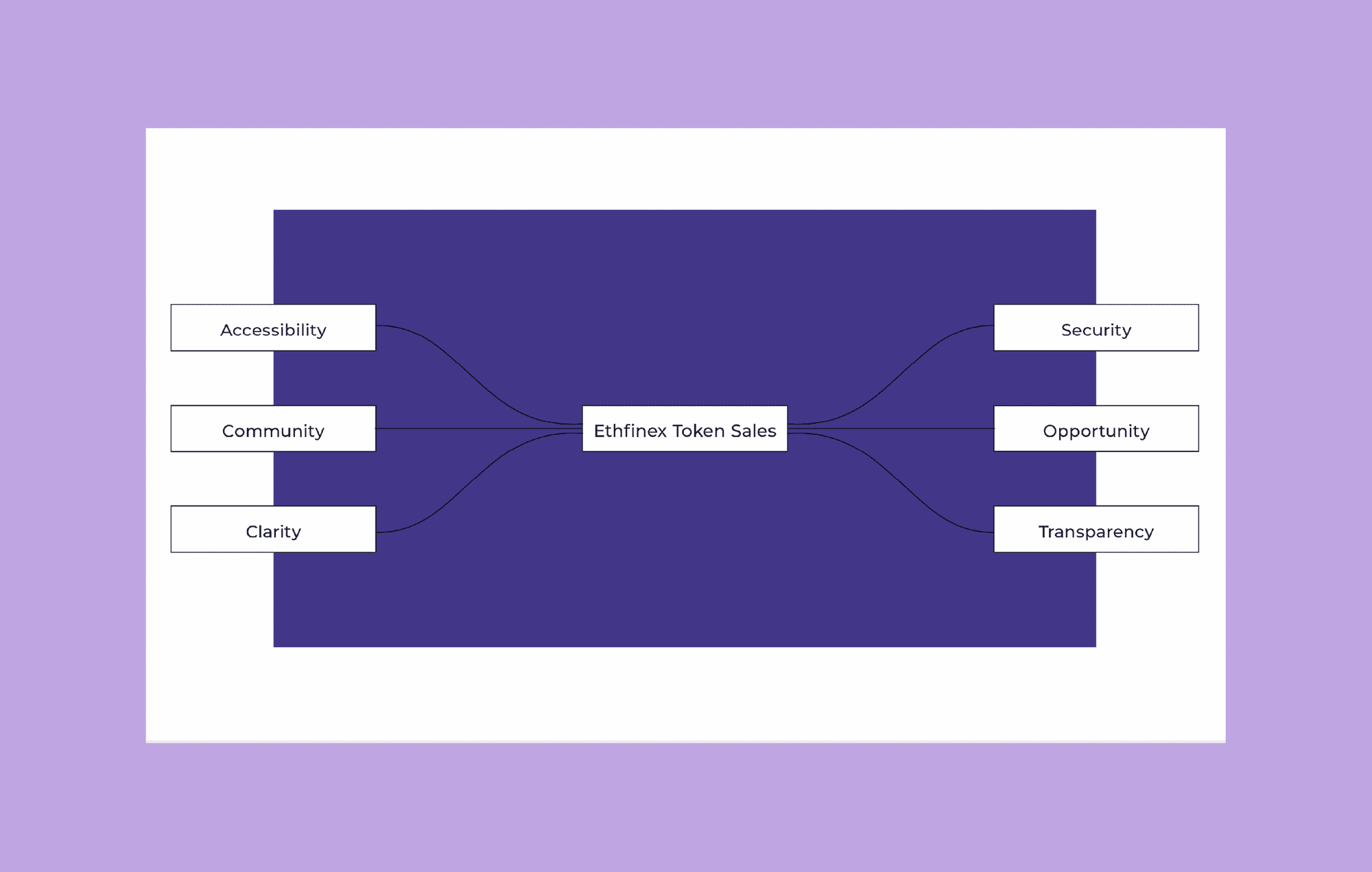 We launched the new Ethfinex token sale platform, with Dusk Network being the first ICO company to offer Ethfinex users ~$1m allocation out of their $14.4m total fundraise. Both the Dusk Network team and The Reserve team (the Dusk fundraising partners) have been an absolute pleasure to work with over the past several months and we will be following them closely after they close their token sale.
For anyone who isn't familiar with the token sale platform, users who pass KYC requirements via the third party BlockPass app (in line with the ICO company's KYC requirements) are then entered into a draw, of which the winners are then given the option to participate in the token sale.
Link – Bringing Dusk Network to Ethfinex
Link – Dusk token sale FAQ
The Month Ahead – December
1. The Ethfinex 'Un-board' meeting feedback
At the Ethfinex Governance Summit in Lugano two months ago, NEC community members provided recommendations to help drive forward Ethfinex on key items such as volume, customer acquisition, strategy and new products. We have now arrived at a set of preferred proposals that we hope to be able to share soon. We are already drawing up designs for a new and improved token listing process – one of the key discussion points from the summit.
2. Ethfinex Community Meetup No.5
On the 4th December we will be hosting our fifth Ethfinex Meetup event in The Nordic Bar, Fitzrovia, London.
We will have presentations from BlockPass, Fetch.Ai and ourselves, leaving plenty of time for networking. As always, a limited free bar will be provided.
3. Ethfinex Token Sales

We have learned a lot from the first token sale in terms of user journey, and a significant amount of resource has been put into ensuring that we can scale both the amount of token sales hosted on Ethfinex and the corresponding KYC process and operations. We plan on making some key changes to the token sale platform over the next month, including UX changes and the ability to contribute between a min and maximum individual allocation (instead of the current fixed amount).
Although the public sale funding environment for token sales is tough at the moment, we firmly believe that the best projects will still thrive. We are currently working with several projects to bring a portion of their tokens to Ethfinex users and look forward to introducing them to the Ethfinex community.
4. Trustless Portal Expansion
We are currently working on UX improvements, the first of which will be a redesigned on-boarding procedure. If you have any suggestions or general Trustless feedback then please contact @SteveFau on Telegram to schedule a quick call.
In the short term, we also plan on adding more tools for traders in the form of an improved chart and charting tools as well as adding additional pairs.
---
Trading is now live on Ethfinex — get started here.
Sign up to our weekly newsletter and stop by our Telegram to learn more about the vision for Ethfinex.
Visit our Twitter to stay up to date with announcements, token additions and more.