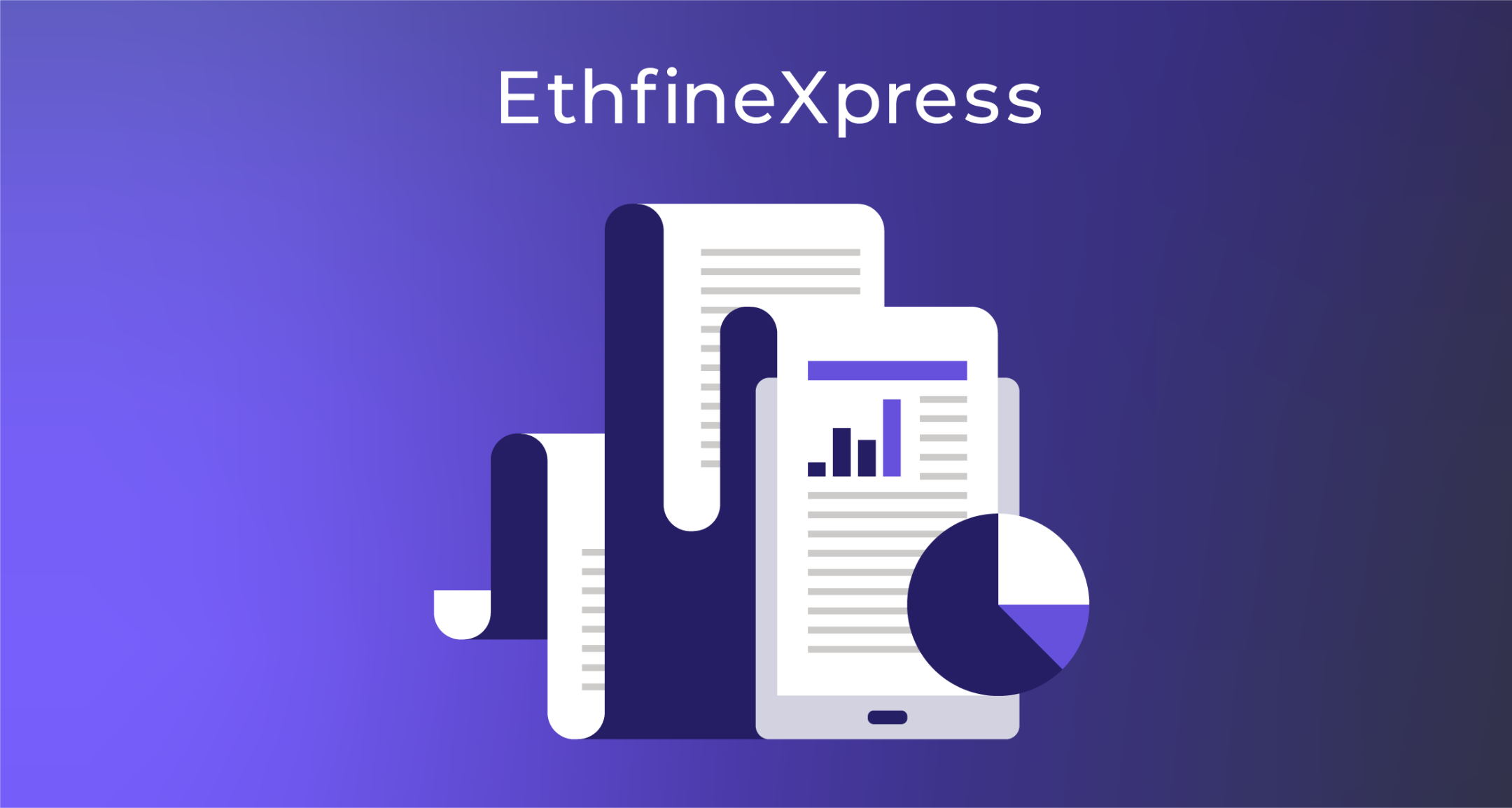 🎉 Happy New Year! 🎉
What can we say? The last year has been an interesting one for Blockchain. As the markets weathered a frosty crypto-winter, the misfits, the rebels, the round-pegs-in-square-holes – The BUIDLers – of this passionate community had their noses to the grindstone, materialising their vision and constructing our collective blockchain future.
This is not financial advice but we have high hopes for the new year and want to take a second to wish you all a prosperous, bullish and crypto-happy 2019!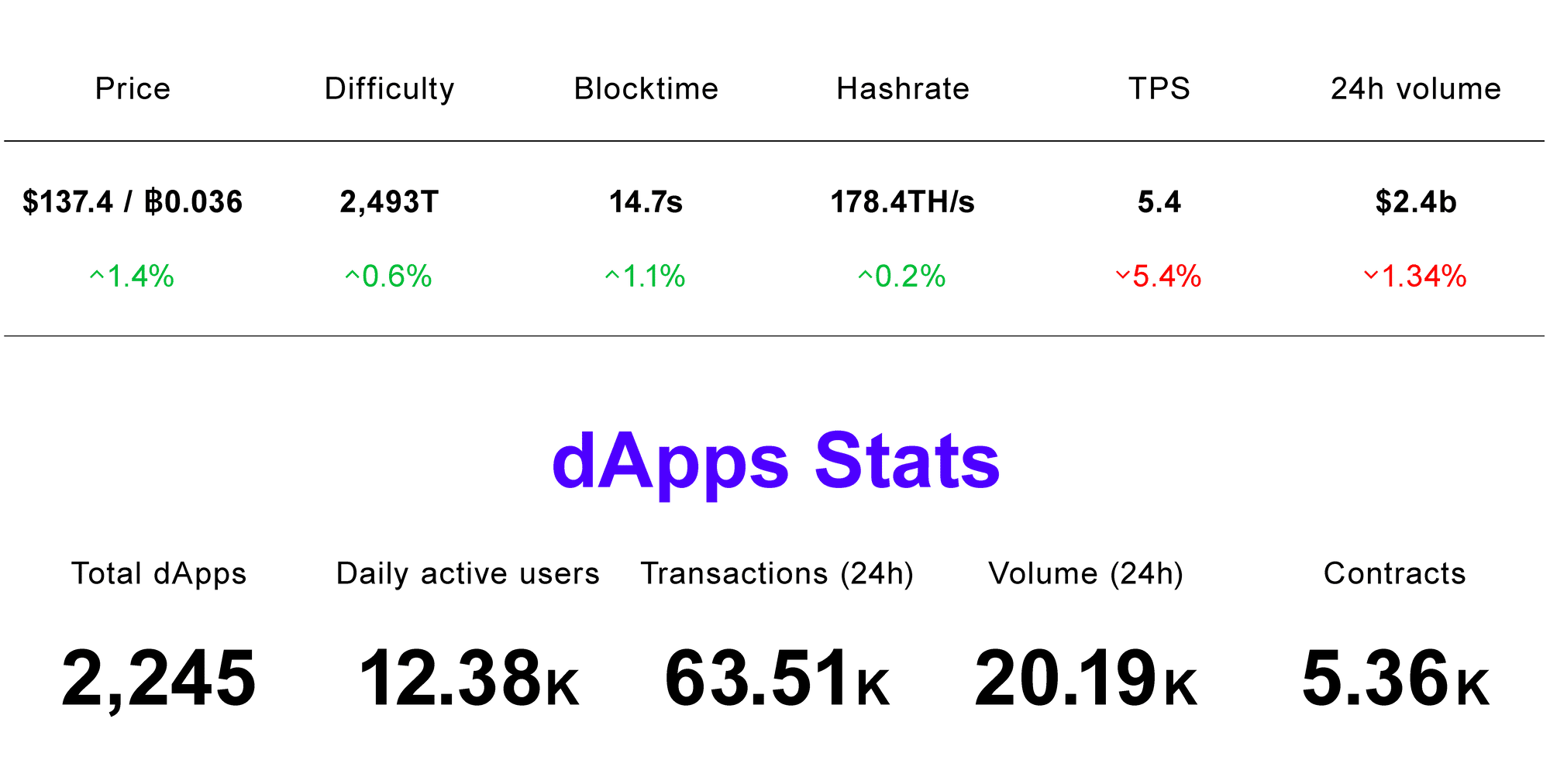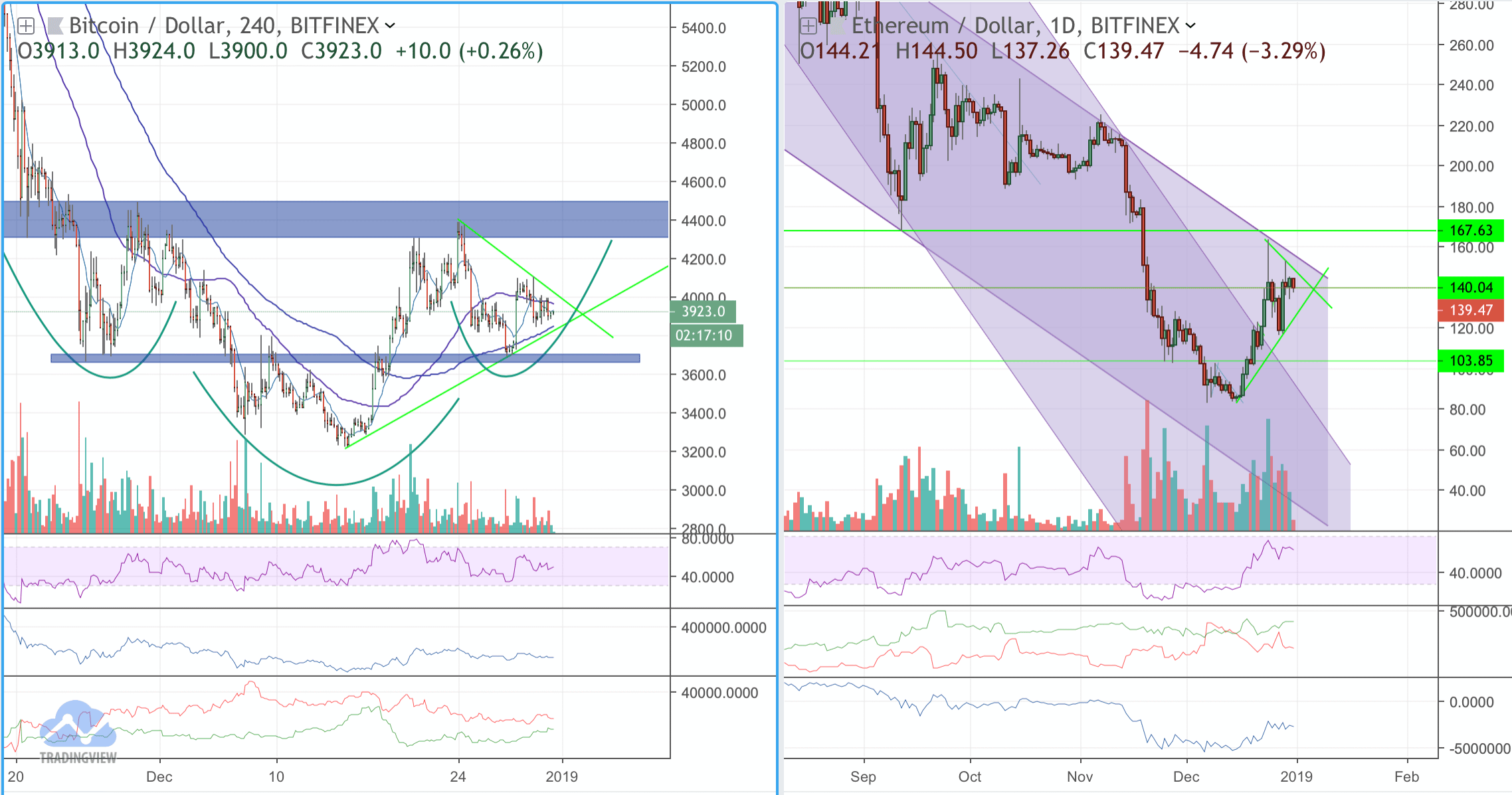 After a choppy period of holiday season trading, both BTC/USD and ETH/USD overheated and promptly fell back. The bull story that started in mid-december looks to be still in tact but a series of inside candle days indicates that the market is looking for direction.
BTC: A break of diagonal resistance could open up room for a move to ~$4.3k (BFX data). This would also setup an inverse head and shoulders pattern that has been forming since the start of December. Based on H&S price target rules a break through $4.5k could signal a $5.5-$5.7k price target. A failure of both diagonal support (over the next few days) and horizontal support in the ~$3.6K area would probably negate the bull story for now.
ETH: Ethereum has been volatile but has essentially magnified BTC/USD moves on most days. Channel resistance of $165 held last week and this is the channel that needs to be broken in order to open up room for a larger move upwards.Momentum, BFX shorts/longs and volume all remain fairly neutral on the 4h charts and don't provide any significant clues.


Technical
The Ethereum network takes a step towards achieving 1m TPS, using Raiden Network.Source.
Dune Analytics deep dives on dApp usage and adoption across 2018. Source.
General
The UK Government has announced it is ready to allow the FCA to regulate cryptocurrencies. Source.  
A court has acquitted Bithumb in the recent hack case, ruling it is not a financial firm. Source.
Enterprise
Bank of England Twitter poll finds that 70%+ people prefer digital currency as a cash gift. Source.
Civil-backed news publisher stores a world-first immutable article on the Ethereum blockchain. Source.

What?
On December 17th MakerDao decreased the 'stability fee' on issuances of Dai (an Ethereum collateralised stablecoin) from 2.5% to 0.5% p.a through a token holder vote. The supply of Dai has been growing throughout the year with over $68 million in issue.
Why?
In the future a set of oracles and algorithms will be responsible for balancing supply and demand to ensure Dai remains at its price target of $1 USD. Currently a Maker Foundation Risk team makes recommendations for adjustments if needed.
"Demand for Dai has increased dramatically in this market and general inventory levels are low, so a decrease in the Dai Stability Fee is proposed. "
In the Dai system of smart-contracts, Ethereum is locked as collateral into a 'Collateralised Debt Position', and Dai can then be 'borrowed' on that collateral. Reducing the effective interest rate, which must be paid to 'borrow' that Dai, makes it cheaper to create new Dai, and should increase the supply to balance demand.
What Now?
The reduction in the fee will likely increase supply for Dai, as more people choose to 'borrow' at a 0.5% rate. Dai is often used to take speculative leveraged positions on Ethereum, and the successful vote to reduce the stability fee was followed very closely by a rally in both Ethereum and Maker (MKR).
What we think
Dai is fast becoming a dominant force in the Ethereum ecosystem, and with 1.7% of all Ethereum now involved in the MakerDao smart contracts as collateral, it is an immense demonstration of the potential for decentralised credit and finance systems. Once Dai moves to accept other collateral (for example wrapped Bitcoin, gold-backed tokens, or any assets issued on Ethereum) this will become even more powerful. Source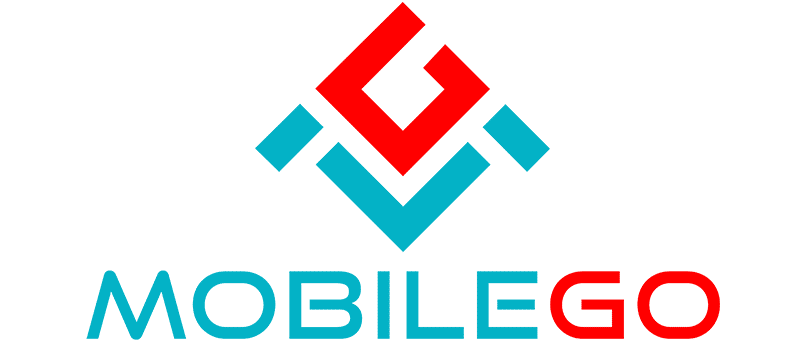 The global e-sports industry is growing fast and is estimated to reach $1.2 billion in 2019. Yet, there still remains some major issues standing in the way of progress. Whilst the invention of the internet enabled e-sports to grow, it has still not been able to overcome the issues of centralisation, transparency, accessibility of funds, cheating and fraud.
Harnessing the power of Blockchain technology, MobileGo are building a decentralised gaming ecosystem that removes the once useful but problematic intermediaries by directly connecting developers with participants. Coupled with this, by utilising smart-contracts, they are able to ensure transparency, reduce cheating, false payouts and a host of other issues.
We can't wait to watch as MobileGo unravel their vision for a fairer, blockchain enabled gaming community in line with the monumental growth of this exciting new industry.
For more information, check out their website here.

Ethfinex Upgrades to Dedicated Datacentre At 10:00 AM UTC on the 7th of January 2019, Ethfinex will be performing a data migration procedure, moving from AWS to our private, custom-built and self-hosted servers, improving platform speed, performance and security.
As a hybrid Ethereum exchange platform, Ethfinex capitalises on Bitfinex's trading engine to deliver the most highly liquid and advanced trading platform available.To ensure we are providing the very best in market, iFinex is now switching from AWS cloud to a self-designed infrastructure.
From January 7th, we will have our own dedicated servers with carefully selected premium hardware that is the best suited to high volume trading.

As you know, we at Ethfinex believe in the wisdom of the crowd and play our role in building a decentralised, community-driven world. This ethos extends to each and every facet of the Ethfinex operation and as such we don't just value your feedback but rely on it. So please take a second to let us know what you liked, or would like to see added, to your weekly Ethfinex newsletter.
*no wei's are distributed in the making of this newsletter… we just love a good pun!