Good Morning!
Much has happen in the blockchain space over the last week. We've seen major moves towards adoption with the Thailand Government announcing plans for blockchain-based voting. We've seen technical developments take shape with the Ethereum community gearing up for Constantinopole. And to balance out the good, we've seen some bad, with Ethereum Classic suffering a 51% attack.
Needless to say, it's been an interesting week and we've put it all together for you below, so check it out and remember, sharing is caring! Let your friends know where they can subscribe.  

Extra: We recently brought USDT pairs back to Ethfinex Trustless, and with it, something we call the Tether Market Shift Mechanism – an industry first that allows for unique triangular arbitrage. Read more.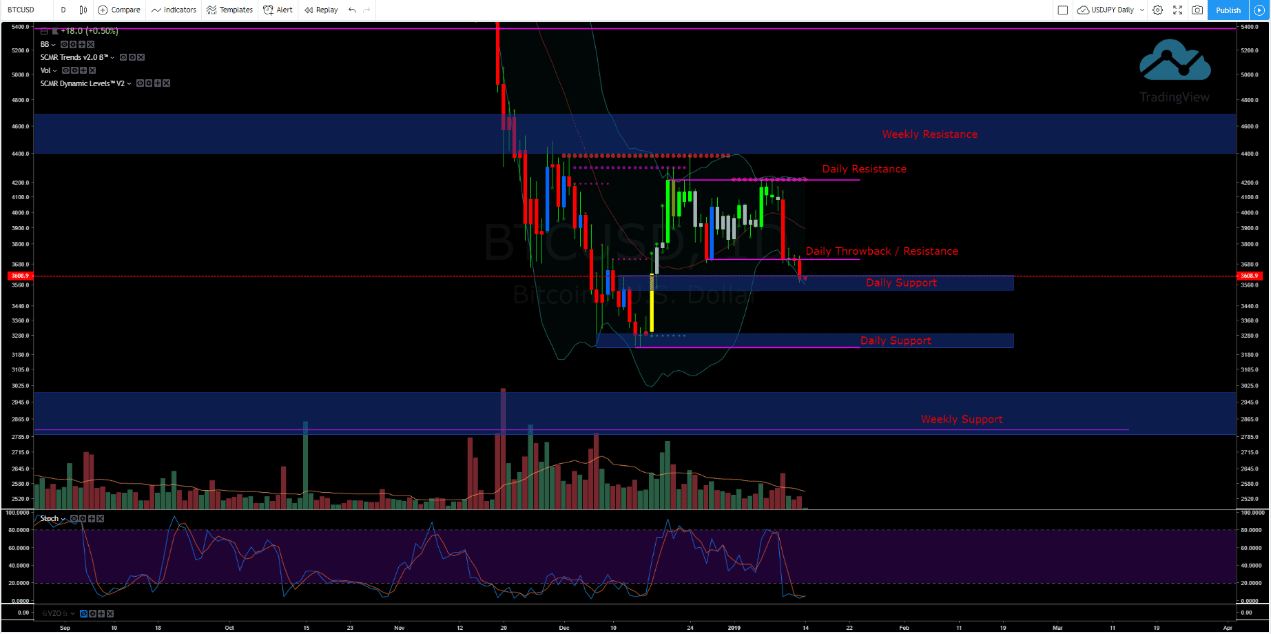 Price action in a bear market often takes people's attention away from the fundamental development and growth that has been developing around the Bitcoin ecosystem in particular. Institutions interest and infrastructure development and acquisitions have been some of the biggest influxes this year, and the volume in the OTC markets continues to increase, despite the fall in the spot price. The older cashflow rich companies can weather the storm, while the newer, quickly set up, inexperienced teams are quickly washed away with economic realities hitting home as many modelled for an increasing price, not the opposite. Patience will always pay out for those with experience in crypto's market cycles.
On the macro level, Bitcoin remains bearish below the major support that it broke down from at the $5,750 region, and coming off the recent failure to break the daily resistance at $4,200, we are now entering the second block of support at $3,530. A throwback target on intraday would bring price to $3,680, where I'd expect sellers to step in. Above the daily resistance at $4,200, I'd expect a run up to the major support at $5,750, anything below, I'm treating intraday price moves with bearish bias with the next major support level at the $3,250 region.
It's clear that a lot of market makers took their bags and went home when you monitor the open interest data across Bitfinex and Bitmex. One reason for this move is due to the increased requirements of KYC across exchanges and services dealing with crypto, and I consider a lot of the legal action we saw taken from various authorities in 2018 to serve as a shot across the bow for many of the larger, widely used exchanges and services. The result of this exodus has been very choppy moves and the 'bart' formations that the crypto community has memed into existence. For this reason, do not enter positions in between liquidity blocks, as price naturally will gravitate to those in time and you will be shooting yourself in the foot from a risk / reward perspective. As always, patience is a trader's most valuable tool.
Summary:
BTC / USD remains bearish on a macro level below the major support it broke down from at $5,750
Price will be bullish again above daly resistance at $4,200 with a target of the previous major breakdown level
Open interest has decreased due to multiple reasons, but one of its immediate consequences has been choppy market conditions
People focus on spot price too much. People should be looking at the underlying development and OTC markets for better signalling on the overall health of the ecosystem.
Bio: I've been involved in the space since late 2012, and trading crypto specifically for that past six years. I'm currently serving as CIO at Redact Capital and VP of sales at Square Mining. Get in touch with me on Twitter.

Technical
ConsenSys breakdown what they call 'The Thirdening' – the reduction of minig rewards from 3 to 2ETH. Source.
Here's a super useful breakdown of everything you need to know about the upcoming Constantinopole upgrade.Source.
General
Ethereum Classic is hit by 51%. Exchanges vow to return money, with Gate.io promising $200k. Source.
In an exciting move towards adotion, Thailand sets-up a Blockchain-based voting system. Source.
Enterprise
New York City take a step towards adoption, setting up a Blockchain dedicated education centre. Source.
Technical Director of Samsung believes 'decentralisation' is more important than 'blockchain'. Source.

What?
Blockchain stands for transparency, trustlessness and ultimately a more efficient way of doing things. One immediate area where this has a real-world use-case is voting.
Why?
The concept of voting dates back to the earliest civilisations, and yet the process has evolved little. It is opaque, relying implicitly on trust, and also time-consuming for voters and vote counters alike. As such, the system as it stands is capable of fraudulent manipulation.Distributed ledger technology can add transparency, fraud-resistance and ease, with voters able to participate at the click of a button, from the comfort of their homes.
What Now?
Changing institutionally ingrained processes takes time, patience and trust with such high stakes. There are a number of projects experimenting with ways to reliably ensure a vote is cast only once, is secure and cannot be tampered with by any official. Computer scientists from Ontario developed CommitCoin but there is also FollowMyVote, Bitcongress and even the government of Thailand all working towards this goal."There is a common misconception that voting cannot be done online in a secure way. However, the introduction of blockchain technology is changing the conversation" Adam Ernest CEO FollowMyVote.
What we think…
Voting lies at the beating heart of a healthy, sustainable and fair democratic nation. Over the past decade it has become evident that technology is able to solve real-world problems and improve many aspects of our lives. We believe it is only a matter of time before DLT / Blockchain Technology changes the way we vote, and are excited about what this means, not just politically, but also in a wider array of decision making processes.


Ethfinex Hires New Commercial Strategist
We are thrilled to welcome Henry Child, our newest member, to the Ethfinex family.
 "I'm really excited to be joining one of the most exciting projects in the space and I'm looking forward to contributing to Ethfinex's future success. Crypto has the potential to transform the global economy whilst making the world a fairer, more equitable place – the opportunity to create this future is too compelling to ignore. In the immediate future, I will be focusing on our bringing in new, high-quality projects to our Token Sale platform and increasing the number of in-demand tokens listed on Ethfinex." Henry

As you know, we at Ethfinex believe in the wisdom of the crowd and play our role in building a decentralised, community-driven world. This ethos extends to each and every facet of the Ethfinex operation and as such we don't just value your feedback but rely on it. So please take a second to let us know what you liked, or would like to see added, to your weekly Ethfinex newsletter.
*no wei's are distributed in the making of this newsletter… we just love a good pun!
Disclaimer: The technical analysis in this newsletter does not constitute trading advice. You are responsible for your own trading decisions. Ethfinex takes no responsibility for any losses you make when using the trading platform.
---
Subscribe to our newsletter here.
Start trading on Ethfinex or Ethfinex Trustless.  
Stay up to date with Ethfinex on Twitter, Telegram, Linkedin, Facebook and Youtube.