We recently released pivotal news surrounding the evolution of Ethfinex to DeversiFi, the closing of Ethfinex.com and our exciting plans for the fast-approaching future. We are now pleased to announce that, in line with this news, NEC has been listed on Bitfinex against USD & ETH. Read on to learn more.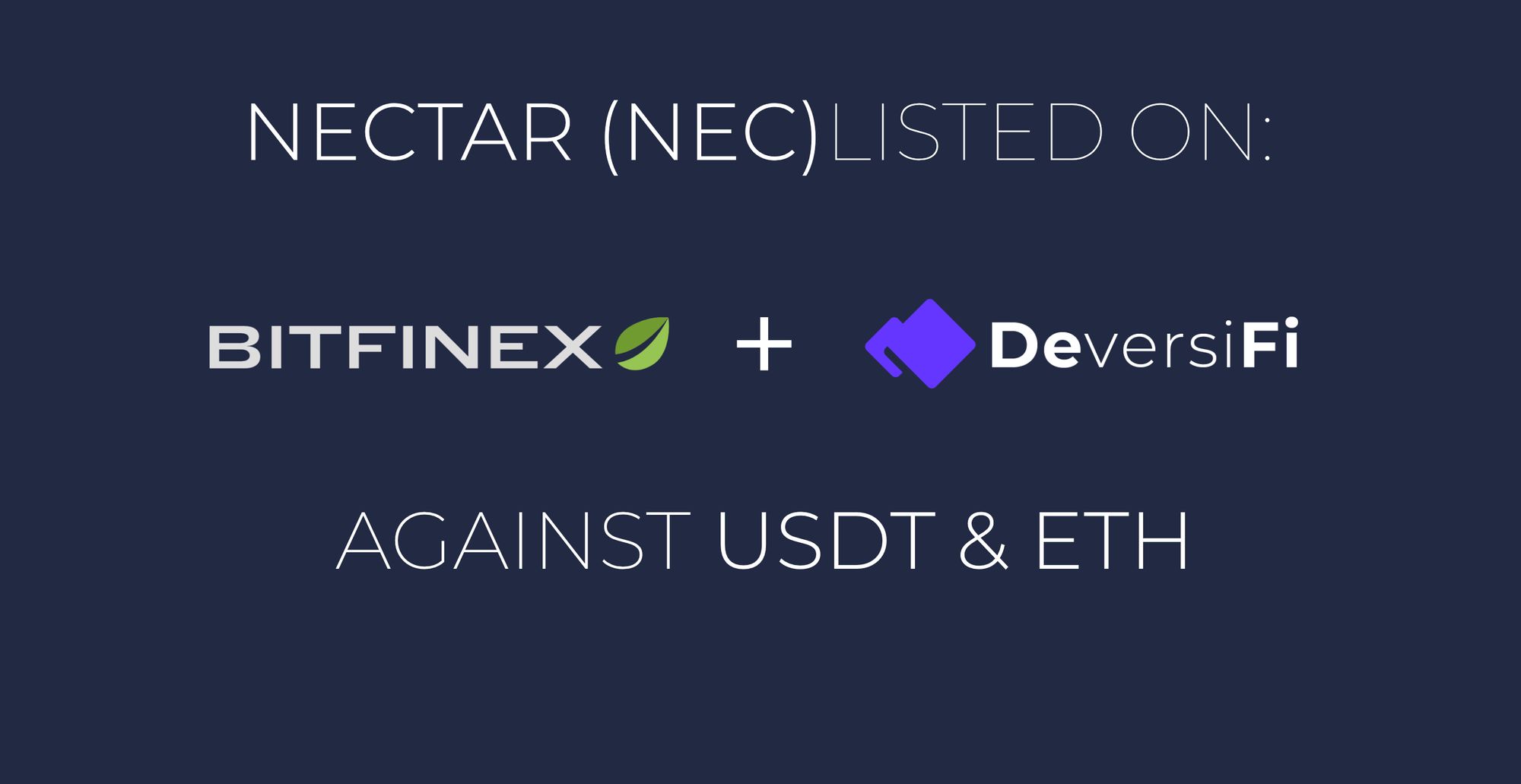 Up until now, NEC has served as the exchange token for Ethfinex, providing traders with a number of Ethfinex-exclusive incentives, ranging from market-making and loyalty rewards to voting power and a stake in the direction of the exchange.
With our latest news beaconing the closing of Ethfinex on 12th October 2019 and our transition into a fully decentralised ecosystem, the role and tokenomics of NEC will take on a new form, bringing about a number of exciting new functionalities, use-cases and utility. The finer details of which will be revealed in the coming weeks.
One example of this will be expanding NEC's horizons, allowing tokens to be transferred freely between addresses, with the wider Defi/Ethereum ecosystem and allowing NEC to be traded more freely on other exchanges.
The first step towards this new open ethos is the listing of NEC on two additional exchanges:
Bitfinex: NEC pairs are available for trading against USD and ETH
DeversiFi: NEC pairs are available for trading directly from your private wallet against USDT and ETH
In-line with the move towards the new NEC 2.0 model, the previous whitelist for NEC has now been removed. This means that traders are now freely available to transfer NEC tokens between wallets and Bitfinex account verification is no longer needed to be able to withdraw NEC tokens from Bitifnex.
Please note, that whilst NEC is now listed on Bitfinex, LEO is the Bitfinex exchange token. Holding NEC tokens on the Bitifnex exchange does not entitle traders to any benefits on Bitfinex.
These initial early steps represent an important milestone in the NEC and DeversiFi evolution and we are thrilled to be one step closer to full decentralisation. For any question or queries, reach out to us on telegram or stay updated with us on twitter.
---
We're working hard to continue the development of DeversiFi as the home of token trading, offering the most innovative solutions to keep our users in full control of their trading experience.  
We'd love you to join us on our journey to decentralisation: