Today sees the launch of the weekly necBurn auctions where the DeversiFi exchange uses up to 50% of trading fee revenue to buy back and burn Nectar tokens. This marks an important value-creating shift in Nectar tokenomics, taking it from an inflationary to a deflationary model,  through the weekly reduction of supply. Read on to learn about the finer details, mechanics and more of necBurn.
* NEC tokenomics are highly experimental. DeversiFi reserves the right to change its policy around buying NEC using its trading fees, or any other benefit DeversiFi provides to NEC holders, at any time in the future.
We originally detailed our exciting plans for Nectar 2.0 in the release of the new Nectar whitepaper visible here. Along with the successful launch of Nectar DAO (now open for proposals and governance), we are excited to introduce another crucial cornerstone of the new Nectar ecosystem — Nectar Burn.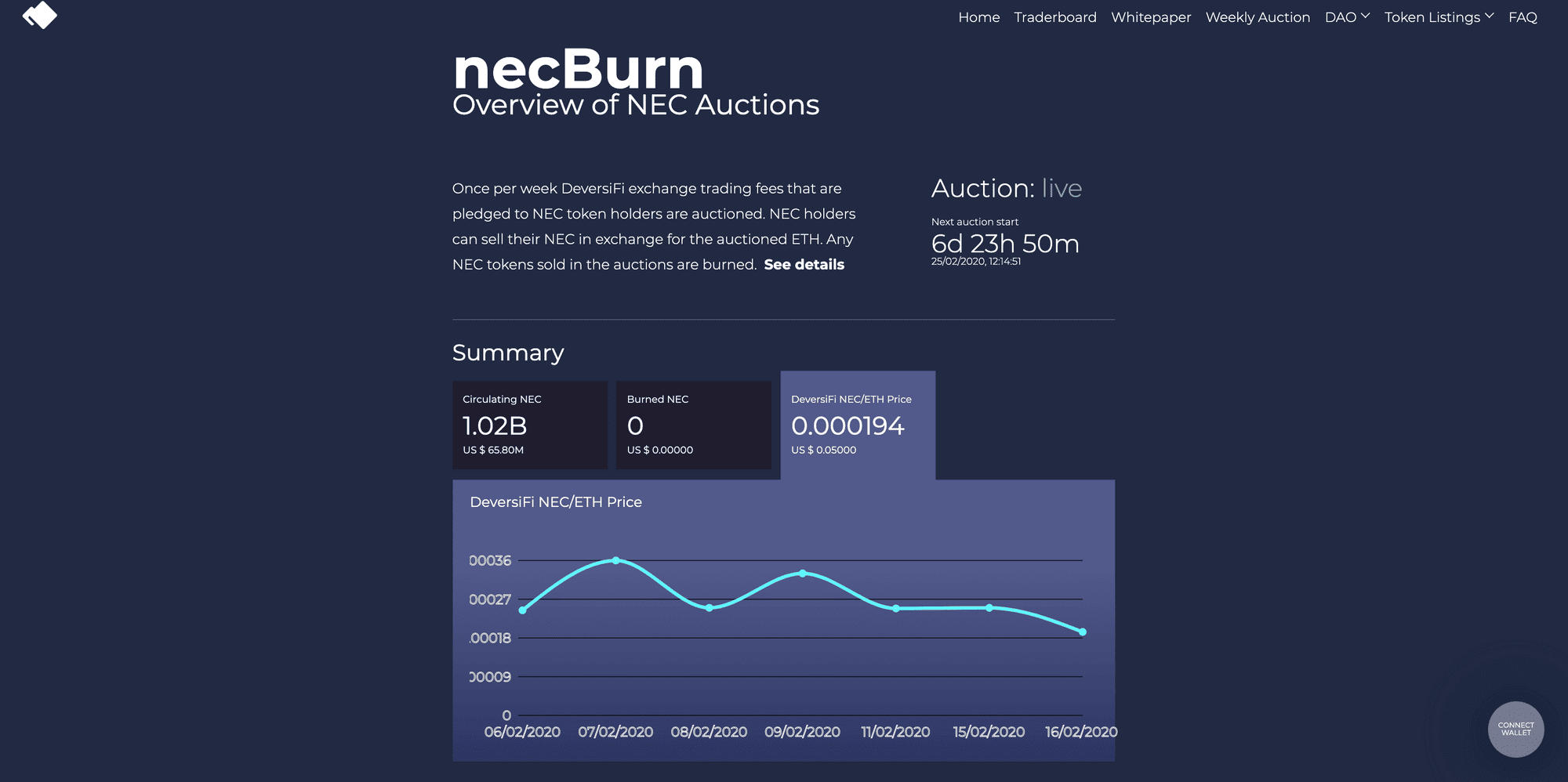 Nectar Burn will add another layer of utility to Nectar by giving holders an additional way to sell their holdings at a specified price whilst also serving to increase value by reducing supply on a weekly basis, coupled with increased demand from Nectar's other utilities (fee discounts, voting rights).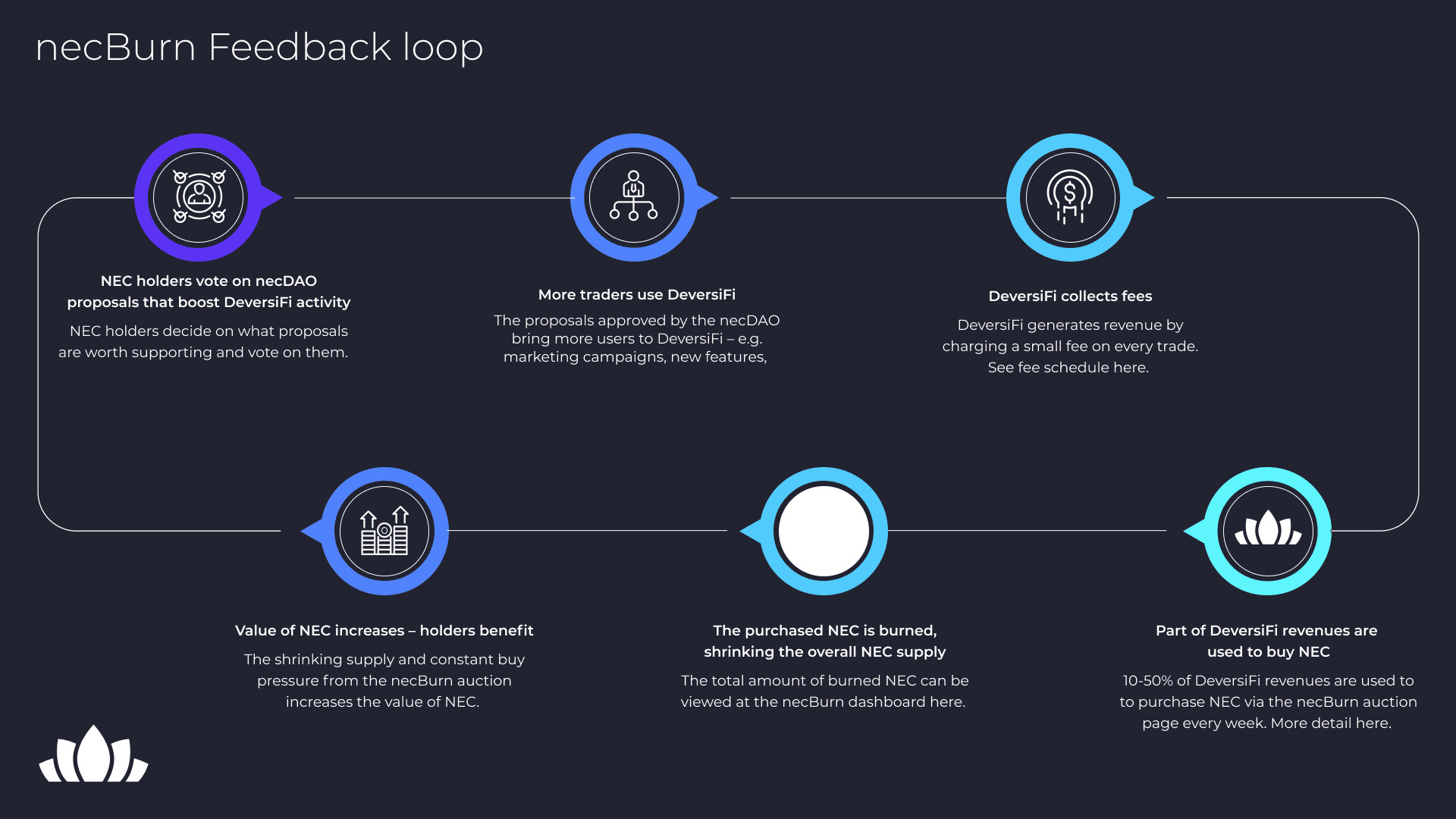 How Does necBurn Work?
Once a week, up 50% of trading fee revenues collected by DeversiFi will be used to purchase Nectar tokens via an open and transparent on-chain auction mechanism. Purchased NEC will then be burnt (permanently destroyed).
The rate at which NEC is burnt and the amount of trading fee revenue used will be calculated based on the breakdown below:
Put in words, DeversiFi will use 10% of trading fee revenue to buy NEC during periods where weekly volume is between 100k USD and 1m USD, 20% when between 1m USD and 10m USD and so on until the maximum 50% is used when the weekly volume is between 100m USD and 1b USD.
Although initial burnings are likely to be small, over time as DeversiFi exchange trading volumes grow, a higher and higher percentage of revenues will be pledged to the weekly auctions.
How to burn Nectar tokens?
Interacting with necBurn is 1-2-3 simple:  
Head to nectar.community/burn
Proceed to Connect a MetaMask, Keystore wallet (Ledger support coming soon)
Navigate to the bottom of the page and submit your sell bid
See your executed transaction in the list at the bottom of the page
How to read the UI?
The necBurn UI displays statistics covering the current auction, auction history and future auctions. In addition, it shows useful price data.
From the nectar.community/burn interface, you can view:
NEC circulating supply
Total NEC  burnt over a given time period
Current price of NEC on DeversiFi
Current auction statistics including amount bought/burnt, next price change and how much ETH remains
Your transaction history within the necBurn interface
EXPLORE FOR YOURSELF AT NECTAR.COMMUNITY/BURN
For any questions or queries reach out to us on Telegram and join our Twitter and email list for important maintenance, news and updates.
---
We work around the clock on the development of DeversiFi as the home of decentralised token trading, offering the most innovative solutions putting our users in control of their trading experience without sacrificing on speed, liquidity, choice or trust.
Get involved with, play your role and join us together as we fan the flames of the financial evolution.