Last week was a big week for DeversiFi, not only did we finally deploy our fully redesigned app… we also launched DVF (the governance token of DeversiFi) via our brand new DeversiFi Launch Mechanism (DLM), all in the space of a few short days.
That's a lot to go over, so this post will focus on the DLM and our token launch.
TL;DR
DVF token successfully launched on first Layer 2 launch platform
1,604,780 DVF tokens sold
$3.92m USDT raised for the community treasury
More than 520 new holders of DVF token
Approximately 500 community members joined Discord
The Auction
We've been incredibly excited internally about launching the DLM for some time now, having first taken inspiration in the flexibility and fairness of Balancer Liquidity Bootstrapping Pools. However, we also wanted to simplify the experience and make it as friction-less (and gas free) as possible.
DeversiFi's mission (along with promoting ZKP based scaling) is democratising access to DeFi opportunities. As such, it was important to us that we included our token launch in that philosophy. DLM was the result and you can read more about how it works on the support page.
In the days leading up to the launch, we ran a variety of simulations to broadly test user behaviours and model auction outcomes. Whilst a few of the more orderly simulations made it in to the price evolution examples on the guide, we verified that the price logic wouldn't encourage or reward undesirable participant activity.
Having verified the correct incentivisations were in place and the core pricing logic was working as expected, we took the plunge and lifted the curtain on our inaugural launch market for DVF on Thursday 8th July 2021 at 3pm.
And then we manned Discord, our support portal and our dashboards to monitor the process of the auction…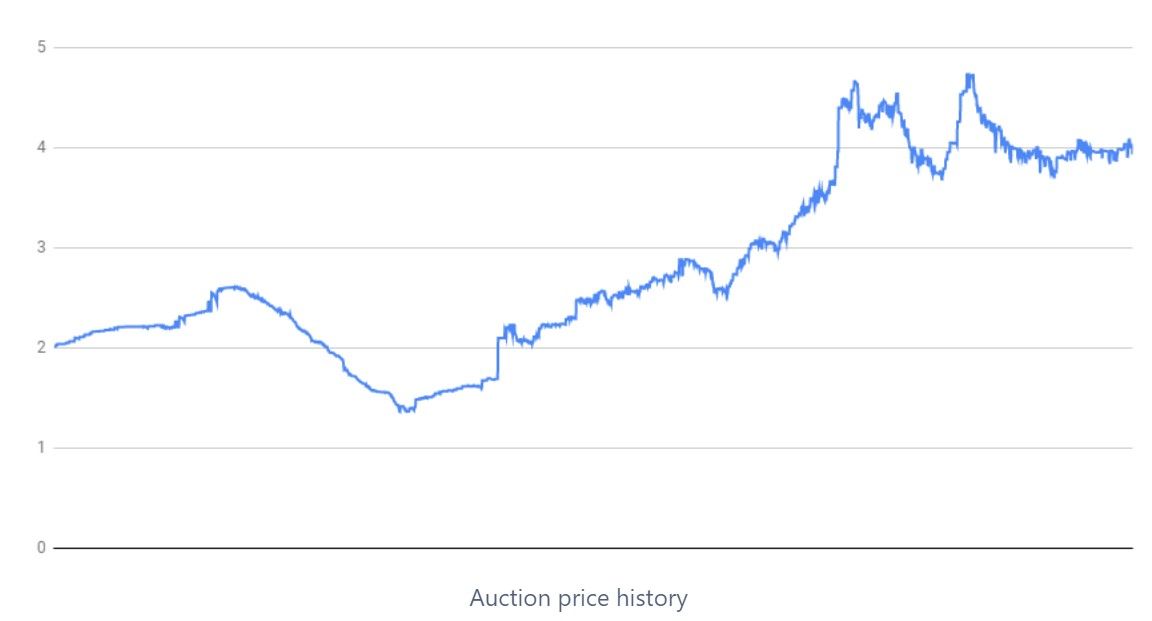 Auction price history
48 intense hours later we lowered the curtain again, having sold around 80% of our 2 million DVF tokens for between $1.3626 and $4.7332.
Of particular note are the final hours of the auction where the price oscillated around and then settled on the finishing price of ~$4. Since the time decay was progressively weaker later in the auction, we anticipated these final hours would be the key time for the market to coalesce at a certain price point.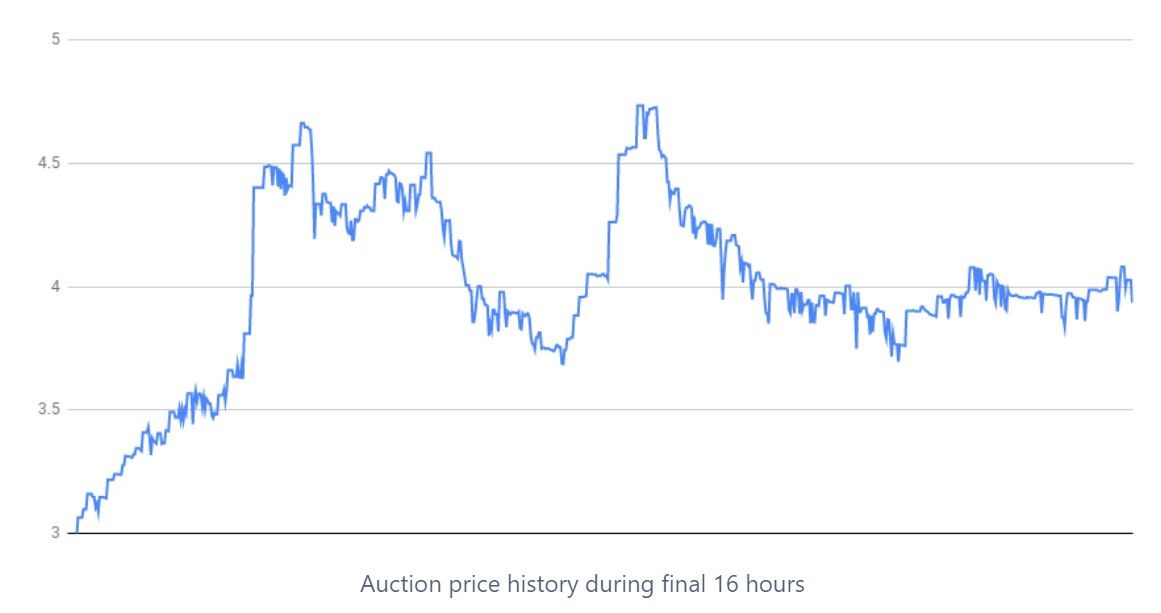 Despite some late large buys, the auction participants broadly had a target price in mind and this was reflected in buying during the final hours.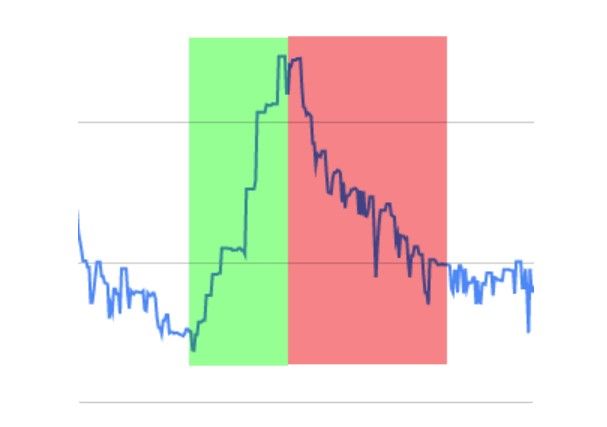 Especially when looking at a very short time period, the difference between exceeding and falling short of the time decay function was easy to see.
It's interesting to note that a late price discovery often limits the final amount of tokens sold. In the case of the auction, the price stabilised higher and later than expected.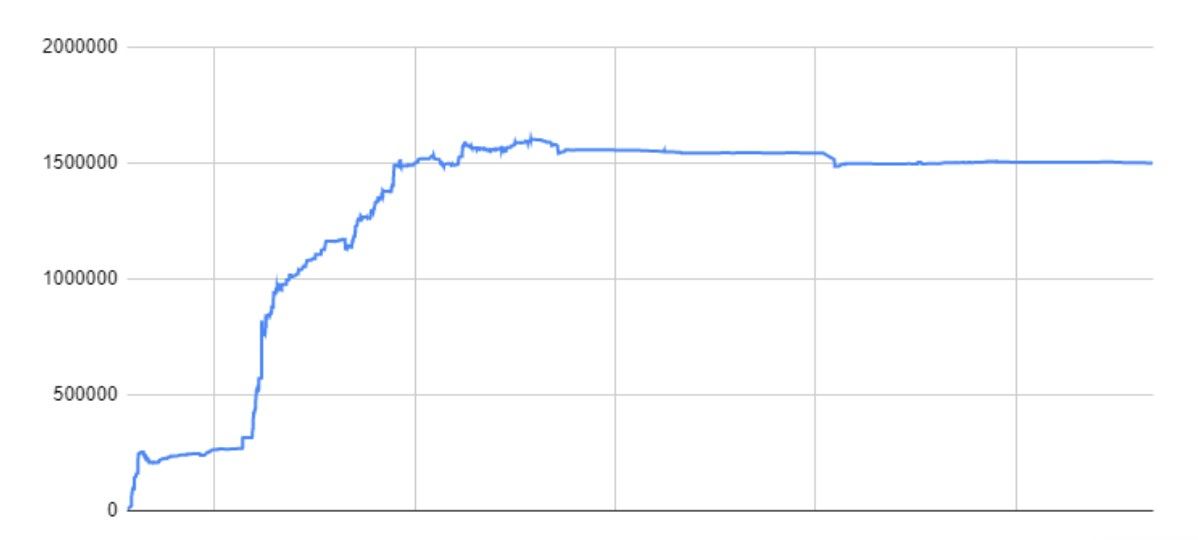 This resulted in the rate of token purchasing tailing off as the price equilibrated and is potentially something that can be tweaked in any future DLM.
The statistics
2m DVF were available for the first time publicly
2% of the total DVF supply
~80% of the DVF was sold
$3.92m USDT raised
Peak of 2 fills per second on the Matching Engine
528 token holders
Smallest holding 0.0152 DVF
Largest holding 604,705.9 DVF
Average holding 2,841.86 DVF
Vast majority of addresses performed 4 or fewer buys / sells
Most active address traded 222 (on average more that 4.6x per hour!)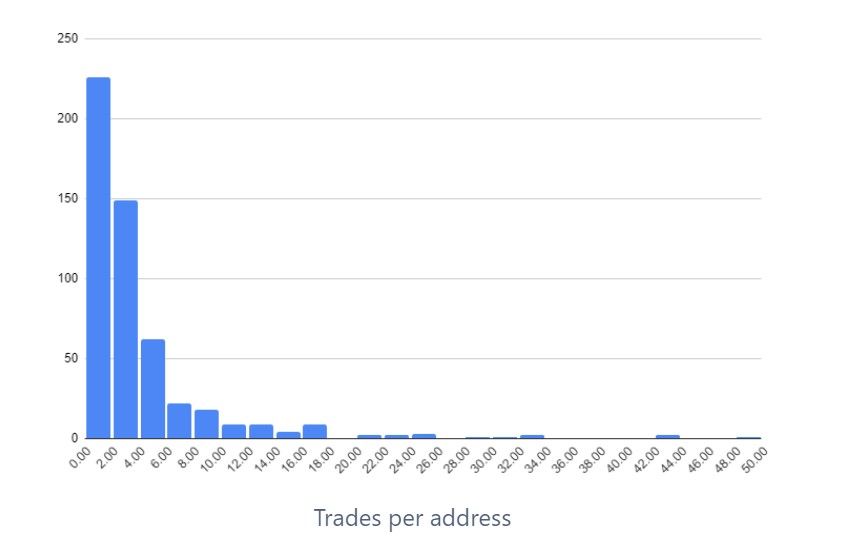 The load on the platform and matching engine was entirely consistent with market activity, peaking at 2 fills per second but averaging much lower.

So, what did we learn?
No launch ever goes entirely smoothly, although gratifyingly both DLM launch and the DVF token auction were executed almost entirely without blemish. The biggest issue we had was leaving it too late to engage with the Ledger team.
New tokens need to be specifically whitelisted in the ledger library in order to be usable and unfortunately we neglected to do this until a day before the start of the auction. Frustratingly it meant we were only able to cater for Metamask users initially. However thanks to the awesome people over at Ledger we were able to deploy a fix during the first few hours of the auction.
Something that surprised some of us was that we didn't see a big increase in funded addresses in the run up to the auction. Given how volatile gas prices have been recently and the amount of outreach we were doing, we anticipated having an uptick in user deposits in the days leading up to the auction.
However, users broadly didn't deposit funds to DeversiFi in advance, the vast majority occurring in the few hours prior to the start of the auction indicating people were not attempting to optimise their gas usage.

Whilst an uptick in deposits did occur in the two days before, the vast majority of deposits were made a few hours before and during the auction.
In total of 528 addresses accumulated DVF tokens of which 370 had previously not interacted with the platform before and on average new addresses bought 5.5x more DVF than addresses that had previously used DeversiFi.
User experience is really important to us, so not only do we actively engage on Discord with our users, we also have a crisp integration that allows for users on the site to directly talk to us if they encounter an issue.
Over the course of the auction we answered 82 support requests averaging a 22 minutes response time. Reading the messages on Discord and elsewhere it seems the reception to the DLM and token launch was widely positive which was very gratifying to see.
Now the dust has settled we can safely call our DVF token launch a resounding success. Along with this we now have a proven, well received and flexible mechanism for launching tokens on L2.
We are eager to help other projects looking to launch their own tokens, so please reach out to Ross Middleton here.
Team DeversiFi
---
About DeversiFi
DeversiFi makes DeFi easy. Swap, Invest and Send without paying Ethereum network fees.
Website: https://rhino.fi/
Twitter: https://twitter.com/deversifi
Discord: https://discord.gg/bfNDxZqPSvf