There is no sugar-coating it. This month (nay, this entire summer) has been an exciting yet challenging one for cryptocurrencies. Despite the phenomenal growth of DeFi protocols and exchanges (mainly on Ethereum) we have also seen important developments that alter the landscape and further open a window onto future trends for the industry.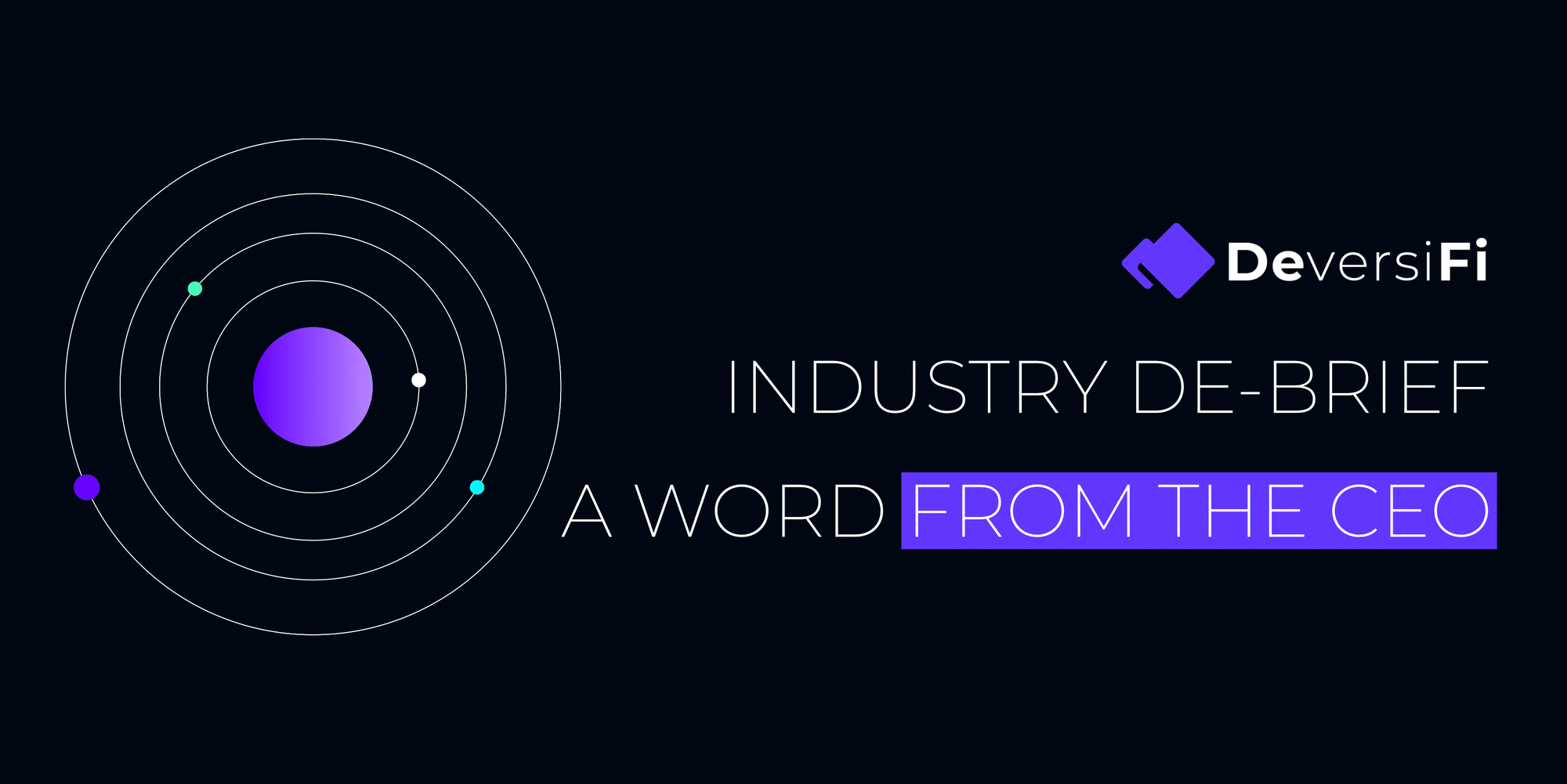 These trends place an ever-growing emphasis on the need for self-custodial platforms like DeversiFi. Below I use these recent events to highlight how the industry as a whole is evolving and how these market trends fit DeversiFi's vision.
Let's start with the positive
Over the last several months, Defi was on a mind-blowing bender. Truth be told, at DeversiFi, we never believed this WOULDN'T happen. And while we were just as electrified as the next person at the rate of growth, we had seen the seeds of this growth and it wasn't a complete surprise. Below is just a cherry-picked selection of achievements and growth stats over the last period:
130,000 BTC has moved to Ethereum. Source.
Spurred by yield farming and LP incentives, Ethereum entered a mini bull market. Source.  
DeFi TVL (Total Value Locked) rapidly shot from the millions to the billions being at $10bn+ as of writing. Source.
Lots of L2 dapps were released symbolising significant growth efforts from key players while solving Layer1 issues plaguing DeFi.
Aave received an official money licence from FCA in London.
And much, much, much more has happened that leaves us feeling excited about the future and also vindicated in our belief in DeFi.
Now the challenges
There have been two major developments, arguably negative, arguably positive, over the last week:
One of the largest cryptocurrency exchanges – Kucoin – was hacked for between $150 and $200+ million dollars.
The largest derivatives exchange – Bitmex – was charged by the regulators in the US with serious offences that threaten the exchange, as well as the CEO.
Now is a good chance to use these two events as reminders of why DeversiFi is pursuing its vision of building an exchange that can become the home of serious traders, using technology that empowers users through self-custody.
We have without a doubt taken a more difficult path than some of the other exchanges in the industry, allowing customers to keep custody of their own assets, while building cryptographic security into every transaction, removing any need for customers to trust us. It's been a challenge that we've enjoyed, and we've been pioneers in doing this for the first time. But we know it is also important and we believe that it is worth the extra effort because we are building this platform and company for the long term.
Unlike Kucoin, our customer's funds are not kept in a single wallet, but are secured cryptographically and can only be moved, sold, or withdrawn with permission from those customers.
For the moment this benefit can have the drawback of making DeversiFi slightly more clunky and hard to use than other exchanges, however, the benefits of our approach are clear when reminded by a hack like this. When reminded by how important of an advantage self-custodial platforms offer. Kucoin is not the first major centralised exchange to be hacked and it won't be the last. There were 12 hacks in 2019 alone, and hacks have been ongoing since the early days with MtGox being the oldest, most well known. Our growing and talented team will keep building the solution to this problem for future customers, improving UX, and eventually provide the alternative that customers are searching for and need.
---
We recently saw BitMex become a target of serious US enforcement. We have been cautious so far as we build our technology and gradually continue to improve the platform. We have a small number of currencies that can be traded, we block IP addresses from those in the United States (which is more aggressive towards cryptocurrency exchanges than the rest of the world), and we don't allow the trading of derivatives. If we ever introduce derivatives in the future, we will do so in accordance with applicable law and best practices.
But again, longer-term regulation is an area where we are working hard to carve a clear advantage for DeversiFi.  Ultimately, part of our goals in building the exchange is to create a technology that will be compatible with regulation, and institutional customers while not sacrificing the values at the heart of this movement.
We believe that the use of all cryptocurrencies and digital assets of many types will become more and more mainstream. Our company and technology is being shaped from the start to be able to fit that future world, and we are already starting to build more connections with traditional finance.
Some of the ways that we are preparing for regulation:
Our technology for self-custody is an important step in terms of the approach towards regulation because it offers greater security and protects our customers,
We have been working with a partner (Iden3) to create a Know-your-customer (KYC) solution that is compatible with DeFi –– allowing customers to own their own identity and prove they are from certain countries and above 18, all without needing to send us their private data.
DeversiFi is actively exploring several countries where we can apply for a license to be regulated, including Abu Dhabi, the UK, and several jurisdictions in the EU.
---
Wider trends
We are continuing to see why our long term vision is so badly needed by the industry. Self-custodial trading will become the norm, helping to not only reduce reliance on centralised exchanges but also to enable more efficient uses of capital, including prime brokerage models with orders routed to multiple non-custodial and DeFi exchanges for best execution.
We are still very early on in this mission, and we have a lot of work to do to achieve it, but we are making faster and faster progress day by day. Our team is expanding rapidly with several new developers hired in the last month alone.
DeversiFi was also mentioned in two highly recommended articles in the past week which add more context around the industry market and technology trends:
First Arjun Balaji of Paradigm talks about the Crypto Market Structure and how it is grown up until 2020 and how it will continue to evolve. Amongst other trends he highlights the normalisation of non-custodial exchanges like DeversiFi: https://arjun.af/crypto-market-structure.
Vitalik Buterin published an article about the importance of projects using the style of scaling solution that DeversiFi uses to enable high-throughput trading, and suggestions for how Ethereum itself could adapt its roadmap to better accommodate these solutions. https://ethereum-magicians.org/t/a-rollup-centric-ethereum-roadmap/4698
Learn more about DeversiFi, stay updated and join the movement on the links below:
🗣 Discord
✅ Twitter
📈 Website!
🔥 Dapp
— Will Harborne, Co-Founder/CEO DeversiFi
---
About DeversiFi
DeversiFi gives traders the edge in fast moving decentralised finance (DeFi) markets by allowing them to trade at lightning speed and with deep aggregated liquidity, directly from their privately owned cryptocurrency wallet.
Traders can take advantage of more trading opportunities while always preserving control of their assets for when they need to move fast. DeversiFi's order-books are off-chain, but settlement occurs on the Ethereum blockchain. This means that traders benefit from fast moving order books and instant execution, without having to trust the exchange and whilst always maintaining control of their assets at all times.
For the first time, traders can enjoy all the benefits that they would expect from a legacy large centralised exchange, but with no exchange or counter-party risk.