We've launched an integration with Moonpay, and it's a massive moment for DeFi. Moonpay allows anyone to buy and sell crypto using traditional fiat payment methods – and now they'll be able to go straight to layer 2 on DeversiFi for fast, gas-free trades. So the entire world can access DeFi, with no barriers to entry. It's a catalyst for universal adoption.
The Moonpay integration supports USDC initially and will soon support USDT too. Here's everything else you need to know.
Moonpay has been dubbed 'the Paypal for crypto', but that doesn't go far enough. Not even close.
Moonpay is one of those digital barrier-breakers, a project that takes an entire technology mainstream. Just like Zoom birthed the videocall revolution and Amazon took online shopping mainstream, so Moonpay is bringing crypto to the masses.
Up until now, new entrants to crypto who don't have a background in digital trading have faced several frustrating barriers to buy virtual currency. But with Moonpay you can buy or sell crypto coins and tokens with old-school payment methods, like bank transfers and credit cards. The ones everyone understands.
And now these same noobs will be able to jump directly to layer 2, thanks to Moonpay's new integration with DeversiFi.
We've just launched an integration which will allow users to make instant trades with minimal fees, and open up decentralised finance to a mass audience.
DeFi won't just be for crypto pros anymore. It'll be for everyone.
A gateway to layer 2
To date, the entry point for new people coming into crypto has been centralised exchanges like Coinbase, Kraken and Gemini. These provide a conduit between physical and digital currencies, allowing you to deposit fiat money and creating a market to buy and sell digi-assets.
But in the case of Ethereum, these platforms only provide a gateway to layer 1. In other words, they only allow users to trade on the main blockchain, which is often extremely busy and can charge high transaction fees.
Those who wish to trade on layer 2 platforms like DeversiFi, which are built on top of the original Ethereum blockchain, have had to get their heads around decentralised finance and find their way past the Ethereum mainframe, to avoid the spiraling fees.
For less experienced crypto users, this can be a serious challenge. In terms of mass adoption, it's a big ol' hurdle.
By partnering with Moonpay, we will enable the entire crypto universe to reach layer 2 directly. Layer 2 networks can process transactions far more quickly than the main blockchain, which means users can make instant trades with only minimal costs for doing so.
Once users have set up a DeversiFi account with a wallet such as MetaMask, they will be able to deposit fiat through Moonpay. They'll receive ETH or USDT tokens directly into their DeversiFi account, and be able to start trading.
When they get to DeversiFi, users will benefit from our fast, gas-free trading. They'll also be able to tap our trading rewards programme (which returns a share of each person's trading fees as a DVF gift) and very soon they'll be able to earn rewards for providing liquidity to our AMM pools. Which means they'll see returns straightaway.
What this means for decentralised finance
As a layer 2 platform, the integration is amazing news for us. Moonpay is already a mega-name in the crypto space: transaction volumes have gone up 35-fold this year and the platform has been used by superstars like Diplo and Future to buy NFTs.
This partnership removes several layers between the physical and digital worlds, and significantly reduces the hurdles that non-veterans face when it comes to crypto. One of our core goals is to make decentralised finance more accessible for everyone, and this integration is 100% aligned with that objective.
DeversiFi has already established itself as a trading platform, but this kind of partnership is the next stage. By creating these integrations and building bridges to other platforms and protocols, we can establish ourselves as an enabler for universal DeFi adoption.
At the same time, we'll create a lasting bond with a project that shares our goals. Moonpay is striving to bring crypto to the world: in fact one of its core objectives is to enable the planet's 1.7 billion unbanked citizens to access crypto, and thereby skip the outdated financial systems completely.
We couldn't agree more with this core sentiment, and we're psyched to join forces with such a bold and ambitious venture.
So roll on 2022…
2022 is going to be the year of decentralised finance on layer 2. We're already seeing significant migration beyond layer 1, and with just a few more steps we'll reach full critical mass.
Layer 2 protocols are proving themselves to be resilient, scalable and ultra-fast. They're both trustworthy and trustless, allowing people to make off-chain transactions in confidence.
We're ready for takeoff. With Moonpay, we'll have the rocket fuel.
How to make your first deposit to DeversiFi via Moonpay
The integration will make it super-easy to deposit funds to DeversiFi via Moonpay. All you'll need to do is follow these steps:
1. On the main DeversiFi trading page, go to 'more' in the bottom-left corner of the screen and then click 'Deposit'.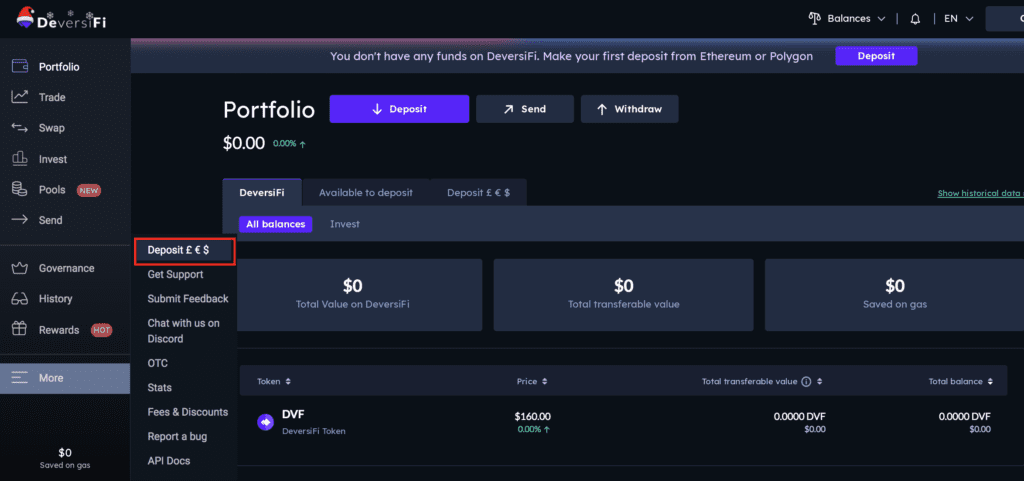 2. Enter the amount you would like to deposit, and then hit enter or click continue.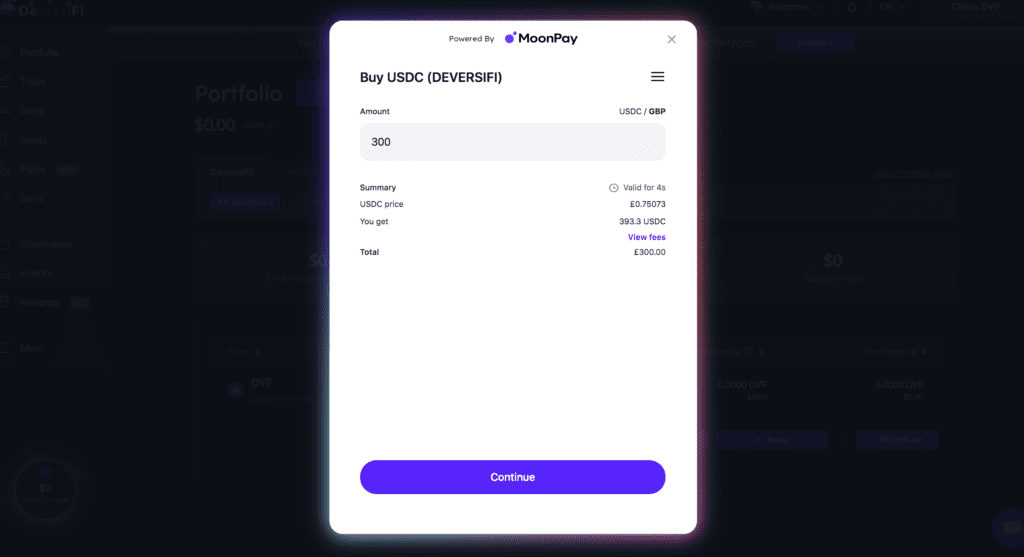 3. Enter your email address, and then enter the verification code you receive.
4. Enter some basic details about yourself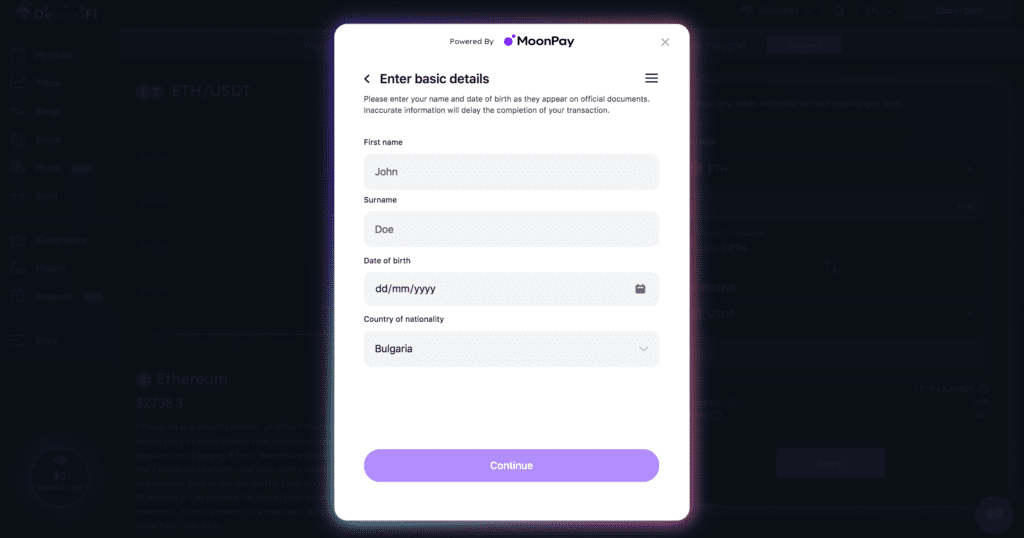 5. Once you've entered your details, you'll be asked to provide verification and then given a QR code to scan. The QR code will open up a screen on your phone asking for some basic details.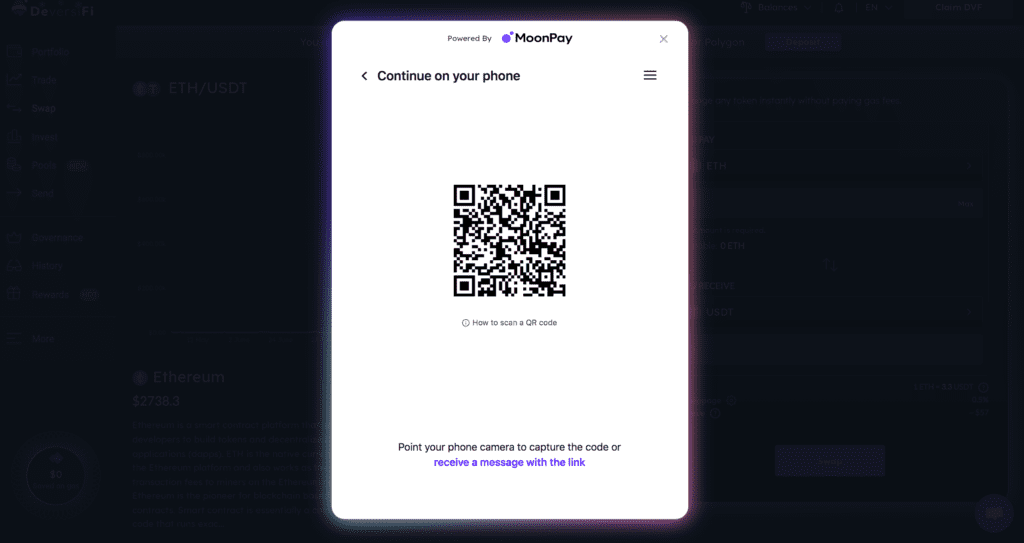 6. When you've provided verification, you'll be ready to return to the main screen and deposit funds! As a first step, select your preferred payment method.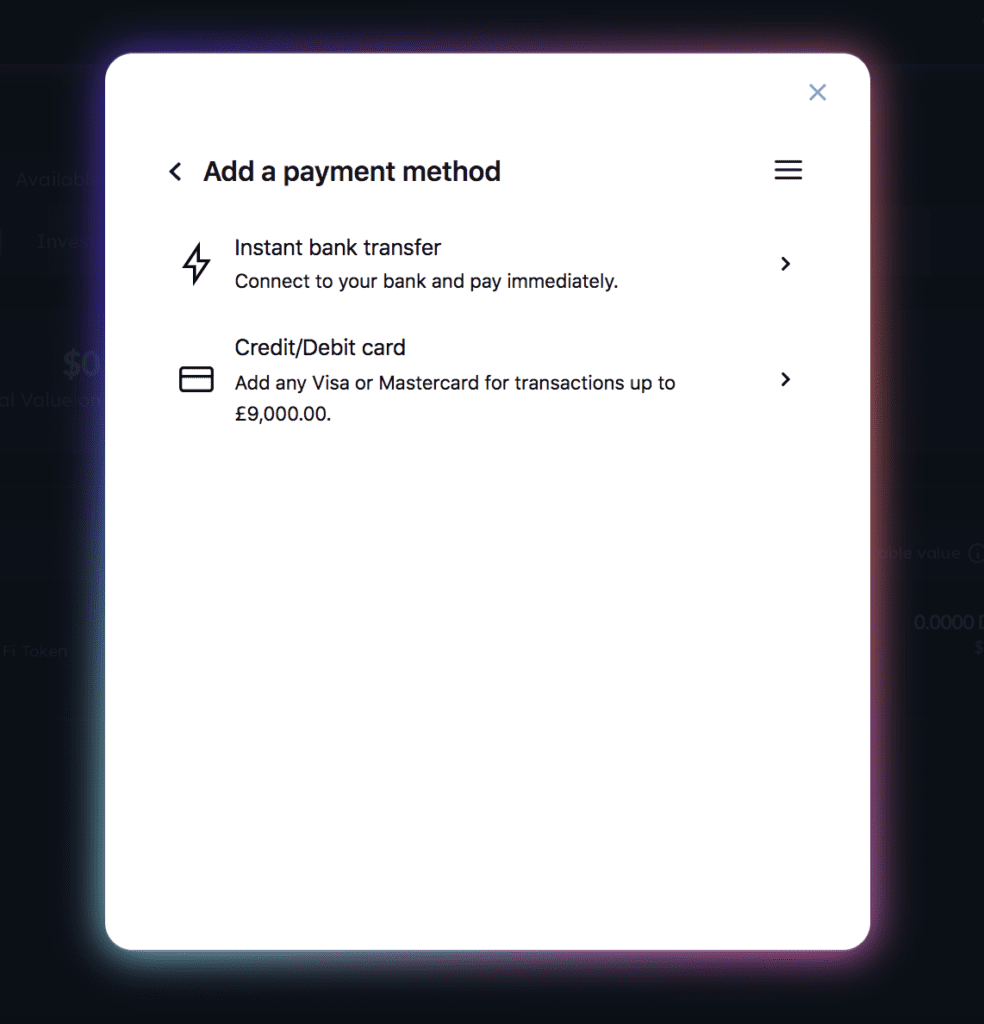 7. Once you've provided the necessary details, you'll be able to make your transaction.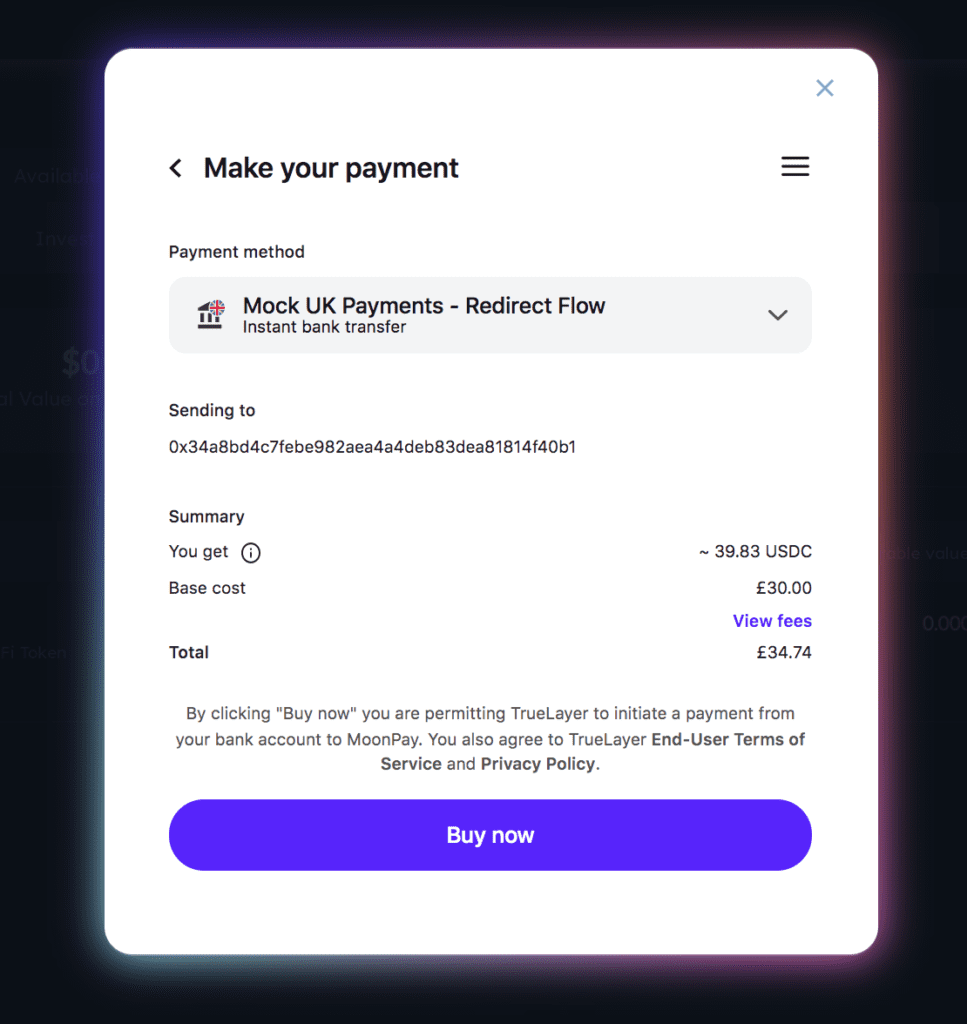 8. Finally, you'll see a screen informing you of the progress of the transaction.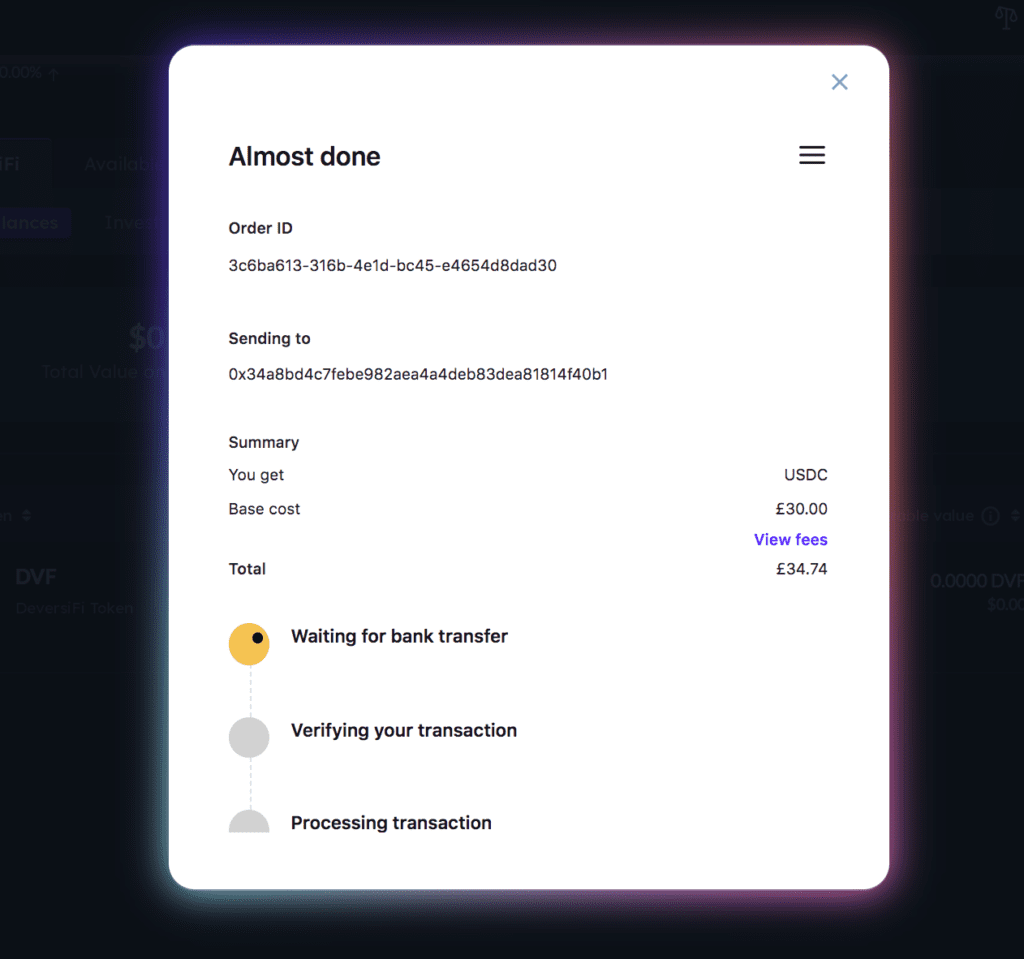 9. And when that's gone through, congrats… you've made your first transaction!
Please note that we'll be making further improvements to the UI over the next few weeks, so the experience will be even better.