NB – The Crypto Twitter celebrities featured in the DeversiFi leaderboard are not affiliated with DeversiFi, and have not endorsed DeversiFi in any way.
We have loaded 15 trading accounts on DeversiFi with 1 ETH + $230 USDt (approximately 2 ETH in total for each account) and linked each of them up to a Crypto Twitter celebrity's Twitter account. Each time a celeb tweets, DeversiFi will market buy on that celeb's linked trader account if the tweet is 'positive' and market sell if the tweet is 'negative'.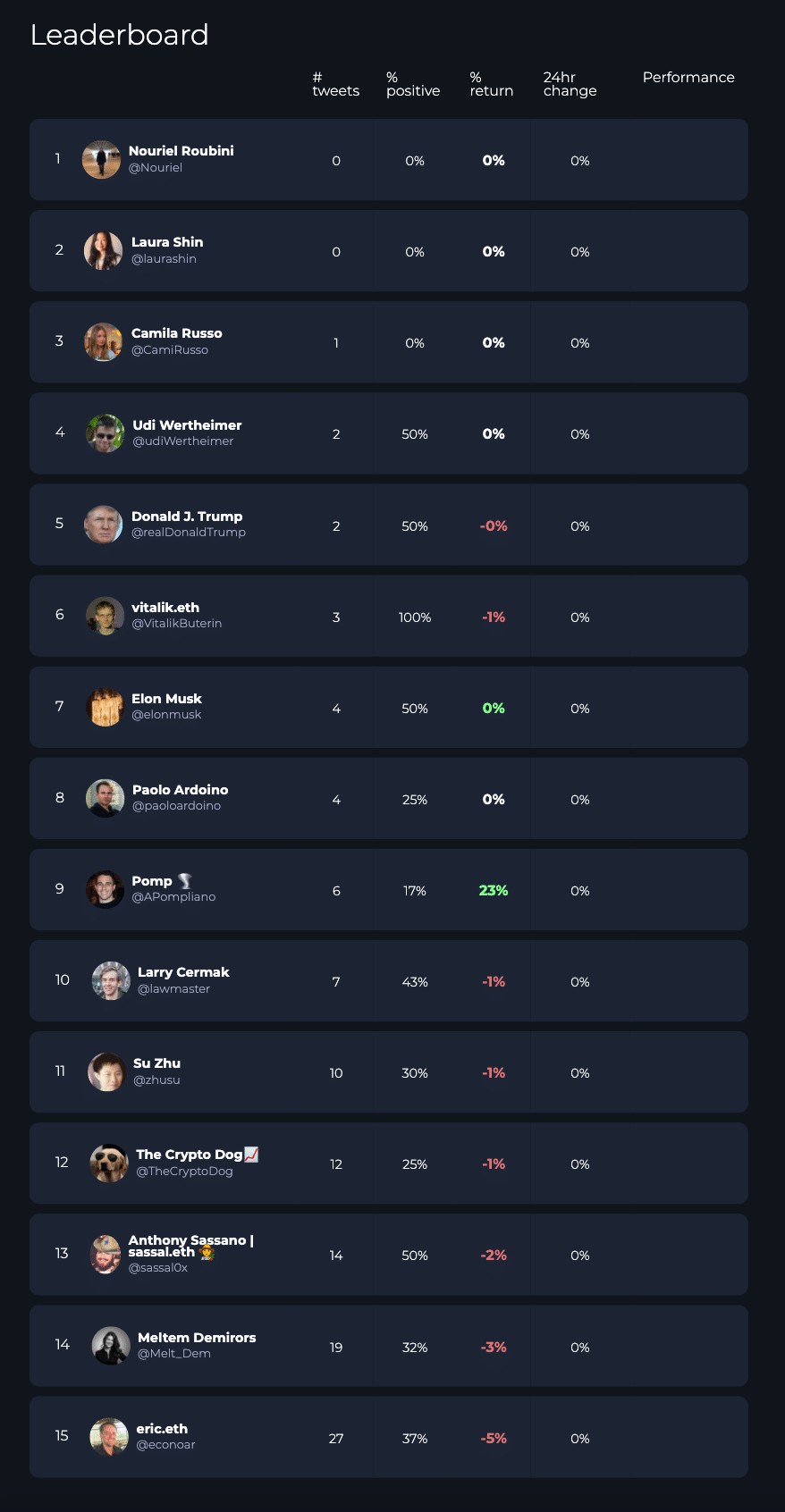 At the end of two weeks' the celeb who's account has made the highest portfolio returns (or lost the least!) will be declared the best trader on Crypto Twitter!
Portfolio % returns are measured in terms of ETH from the starting c.2 ETH. For example, a +50% return means the account would now hold 3 ETH.
Competition
If you can guess the crypto twitter celebrity who will end up top of the leaderboard after the three week competition ends then you will be entered into a random draw to win all of the ETH & USDt in their DeversiFi trading account at the end of the competition!
To enter, you simply need to use the box on the right hand side of the leaderboard page to select your celebrity and tweet your choice using the pre-populated tweet.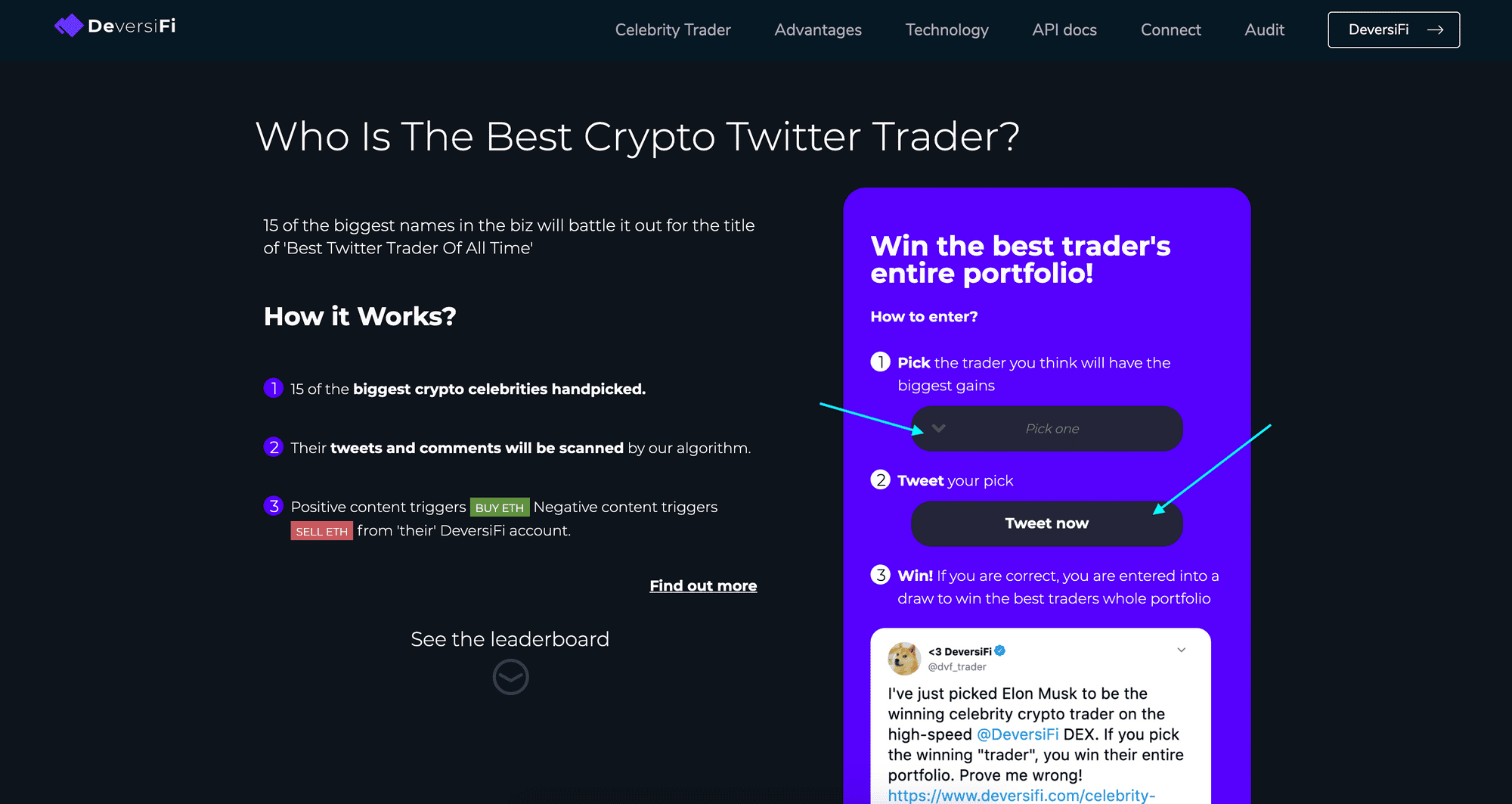 You have two weeks from the start of the competition to enter, and can change your entry as many times as you like by using the box on the right hand side of the leaderboard page to change your choice of celeb. After the two week entry period closes, we will scan twitter and find your latest tweet with the DeversiFi hashtag and choice of celeb.
The leaderboard will run for a total of three weeks, giving the crypto twitter celebrities lots of time to tweet and therefore trade on DeversiFi.
Rules:
Leaderboard start and end (three weeks):
Leaderboard Start: 8th July 12pm UTC
Leaderboard End: 29th July 12pm UTC
Competition entry start and end (two weeks):
Competition Entries Start: 8th July 12pm UTC
Competition Entries End: 22st July 12pm UTC
You can change your mind regarding celebrity selection as many times as you like by simply using the box on the right hand side of the leaderboard page to tweet pre-populated tweets to twitter within the first two weeks of the competition. DeversiFi will count your most recent competition entry tweet as your final choice of celeb.
You must keep your competition entry tweets public and published on Twitter for the duration of the competition so that DeversiFi can scan twitter and discover your entry
DeversiFi shall decide a competition entrant's eligibility to participate at its absolute discretion
DeversiFi reserves the right to disqualify any person who is known or suspected to be cheating or violating any provision of these rules
Residents of the following countries are not permitted to participate in this competition: Cuba, Pakistan, North Korea (DPKR), Iran, Syria, Ukraine (Crimea), USA, Canada, Venezuela, Ethiopia, Iraq, Serbia, Sri Lanka ,Syria, Trinidad & Tobago, Tunisia, Vanuatu, Yemen
At the end of the competition, all eligible entrants who picked the celebrity trading account with the highest portfolio returns will be identified, and a winner picked at random.
The competition winner will be contacted on Twitter by a member of the DeversiFi team and an Ethereum address for the winner will be requested.
Prizes will be distributed to winning participants private Ethereum wallet within seven days of the competition end, provided that a valid Ethereum address is supplied
What now?
Head straight to the leaderboard, take a look at who's winning and make your prediction!
For any questions, join our community on Telegram or follow us on Twitter. Or for general updates, sign up to our newsletter.
---
About DeversiFi
DeversiFi gives traders the edge in fast moving decentralised finance (DeFi) markets by allowing them to trade at lightning speed and with deep aggregated liquidity, directly from their privately owned cryptocurrency wallet.
Traders can take advantage of more trading opportunities while always preserving control of their assets for when they need to move fast. DeversiFi's order-books are off-chain, but settlement occurs on the Ethereum blockchain. This means that traders benefit from fast moving order books and instant execution, without having to trust the exchange and whilst always maintaining control of their assets at all times.
For the first time, traders can enjoy all the benefits that they would expect from a legacy large centralised exchange, but with no exchange or counter-party risk.