DeversiFi is on a journey of relentless improvement. Our goal is to fine-tune DeversiFi based on traders' needs and ensure it is the one place you want to trade. By design, we launched with only the core features, to test the underlying functionality of a 9,000+ tps DEX, before step by step, adding all the bells and whistles traders love. Today is just the first of many deployments achieving this goal. Read on to find out what we've done to improve withdrawals on DeversiFi.
What is Included?
The old DeversiFi UI was a carry over from it's old life as Ethfinex Trustless and a UI reskin has been on the table for some time now. We consulted our core trader base and brought in the heavy hitting designers to give DeversiFi the fresh feel it deserves, better reflecting a modern self-custodial exchange, but one that remains true to the needs of its professional target market. We added a countdown timer showing, to the second, the exact time the next proof will be submitted to the Ethereum blockchain, making for a far more accurate timer traders' can rely on.
The first step in this journey is a) a new visual withdrawal flow solving key friction points and b) faster and more reliable withdrawal functionality.
New Visual Flow Outline
Step 1. Select which withdrawal type you want
Step 2. Select the amount you want to withdraw.
Step 3. Take it easy and wait for the batch to be settled (approx. 5 mins), starting at the end of the countdown timer.
Step 4. When done, trigger the final transaction sending your tokens back to your wallet.
New Withdrawal Functionality

As you can tell from the visuals, there are some new improvements including:
A new maximum withdrawal wait time of 90 min (a reduction from 2 hours previously). You can also see a new withdrawal speed which will give you the option to pay a small amount extra and withdraw faster when speed is of the essence.
A new countdown timer now reflects the exact time until the next batch is submitted. This replaces what was an approximation, making for a smoother more reliable trader experience.
Fixed withdrawal schedule allowing traders to manage their trading with precision, initiating withdrawals just in time. See the schedule below: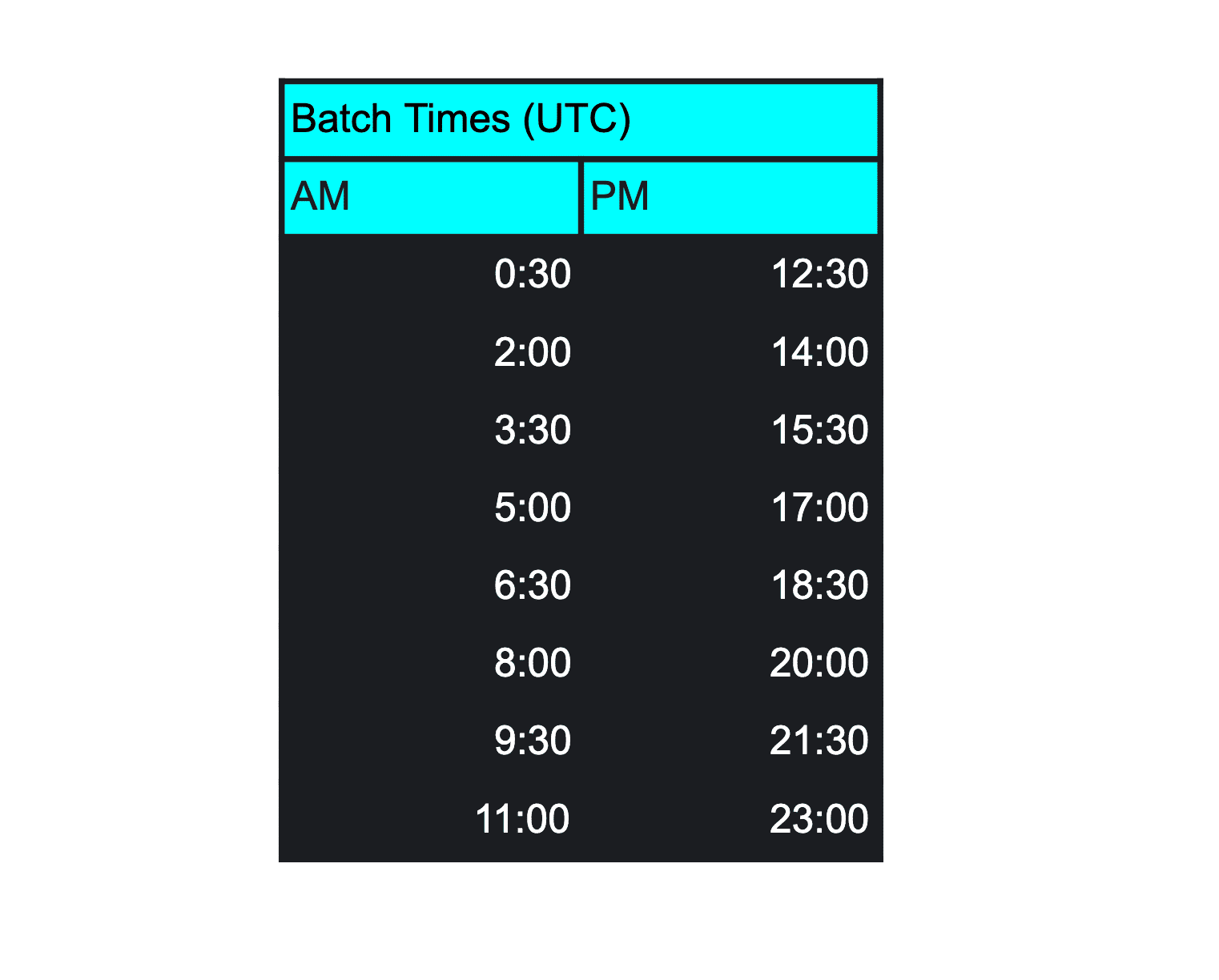 What is Yet to Come?
Despite all this, there are some incoming withdrawals-specific improvements not in this deployment. These include:
Cancel withdrawal functionality
More information on the finer details will be announced soonTM and shared across our telegram and twitter.
Stay tuned with us there or reach out for any questions. We thrive on feedback, so let us know what you think.
---
About DeversiFi
DeversiFi gives traders the edge in fast moving decentralised finance (DeFi) markets by allowing them to trade at lightning speed and with deep aggregated liquidity, directly from their privately owned cryptocurrency wallet.
Traders can take advantage of more trading opportunities while always preserving control of their assets for when they need to move fast. DeversiFi's order-books are off-chain, but settlement occurs on the Ethereum blockchain. This means that traders benefit from fast moving order books and instant execution, without having to trust the exchange and whilst always maintaining control of their assets at all times.
For the first time, traders can enjoy all the benefits that they would expect from a legacy large centralised exchange, but with no exchange or counter-party risk.