Three weeks ago, two landmark moments for the Ethereum community occurred. Both the new high speed, self-custodial DeversiFi exchange and the OMG Network launched on mainnet, in two symbolic moments that mark the arrival of layer two scaling on Ethereum.  
In celebration of the two launches, as well as today's listing of the OMG token on DeversiFi, we are launching a prize draw with a honey pot of $NEC up for grabs.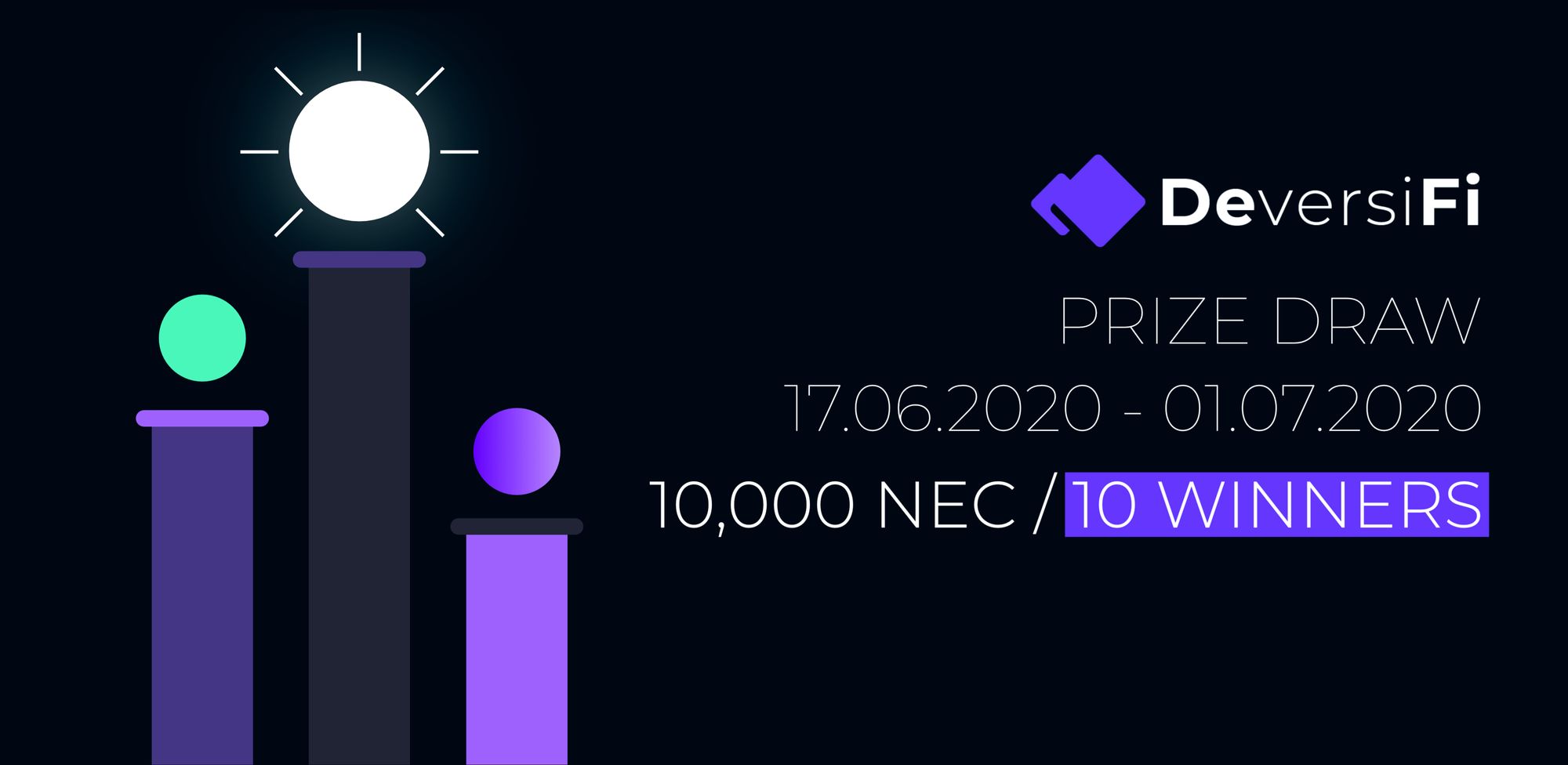 After hitting $1m of 24 hour volume a few days ago, the new DeversiFi high-speed self-custodial exchange is ready for prime time and now is the perfect time to give it a try.
Prize Draw Start: 17th June 2020 – 12pm UTC
Prize Draw End: 1st July 2020 – 12pm UTC
Any private Ethereum wallet that connects to DeversiFi and makes a single trade on any trading pair over the next two weeks, will be entered into a random prize draw to win one of ten 1000 NEC prizes. That's a total of 10,000 NEC divided equally by 10 random addresses.
Rules
To be eligible for the prize draw, you must make at least one on the DeversiFi exchange, via the UI or API between the 17th June 2020 12pm UTC and the 1st July 2020 12pm UTC
One competition entry is permitted per Ethereum wallet address
Competition Start: Wednesday 7th June 2020 12pm UTC
Competition End: Wednesday 1st July 2020 12pm UTC
Eligible volume does not include volume that a trader executes with themselves
Participants are in their trading activity on DeversiFi at all times subject to the DeversiFi terms of service
DeversiFi shall decide a trader's eligibility to participate at its absolute discretion
DeversiFi reserve the right to disqualify any person who is known or suspected to be cheating or violating any provision of these rules or the relevant terms of service
Residents of the following countries are not permitted to participate in this random draw: Cuba, Pakistan, North Korea (DPKR), Iran, Syria, Ukraine (Crimea), USA, Canada, Venezuela, Ethiopia, Iraq, Serbia, Sri Lanka ,Syria, Trinidad & Tobago, Tunisia, Vanuatu, Yemen
Prizes will be distributed to winning participants private Ethereum wallet within seven days of the competition end
Risk Reminder
Trading digital assets comes with high risks due to huge price fluctuations. Before entering this competition, please have a full understanding of all the risks involved in trading digital assets and be prudent of your own investment decisions.
---
About DeversiFi
DeversiFi gives traders the edge in fast moving decentralised finance (DeFi) markets by allowing them to trade at lightning speed and with deep aggregated liquidity, directly from their privately owned cryptocurrency wallet.
Traders can take advantage of more trading opportunities while always preserving control of their assets for when they need to move fast. DeversiFi's order-books are off-chain, but settlement occurs on the Ethereum blockchain. This means that traders benefit from fast moving order books and instant execution, without having to trust the exchange and whilst always maintaining control of their assets at all times.
For the first time, traders can enjoy all the benefits that they would expect from a legacy large centralised exchange, but with no exchange or counter-party risk.