We recently launched the #TopDeversiFiTrader campaign to show-case DeversiFi's new, high-speed API through a fun twitter integration. We created 15 'celebrity accounts' (well-known faces in the crypto-sphere and beyond) loaded them with real assets (ETH & USDt) and connected a sentiment analysis tool which triggered a real sell-ETH or buy-ETH function.
Anyone anywhere was then able to tweet their prediction as to which account would earn the most ETH and potentially win its entire portfolio. For real. In this blog-post, we'll offer a brief look at the purpose of the campaign, its success metrics as well as provide some key takeaways for the future. Dive in below!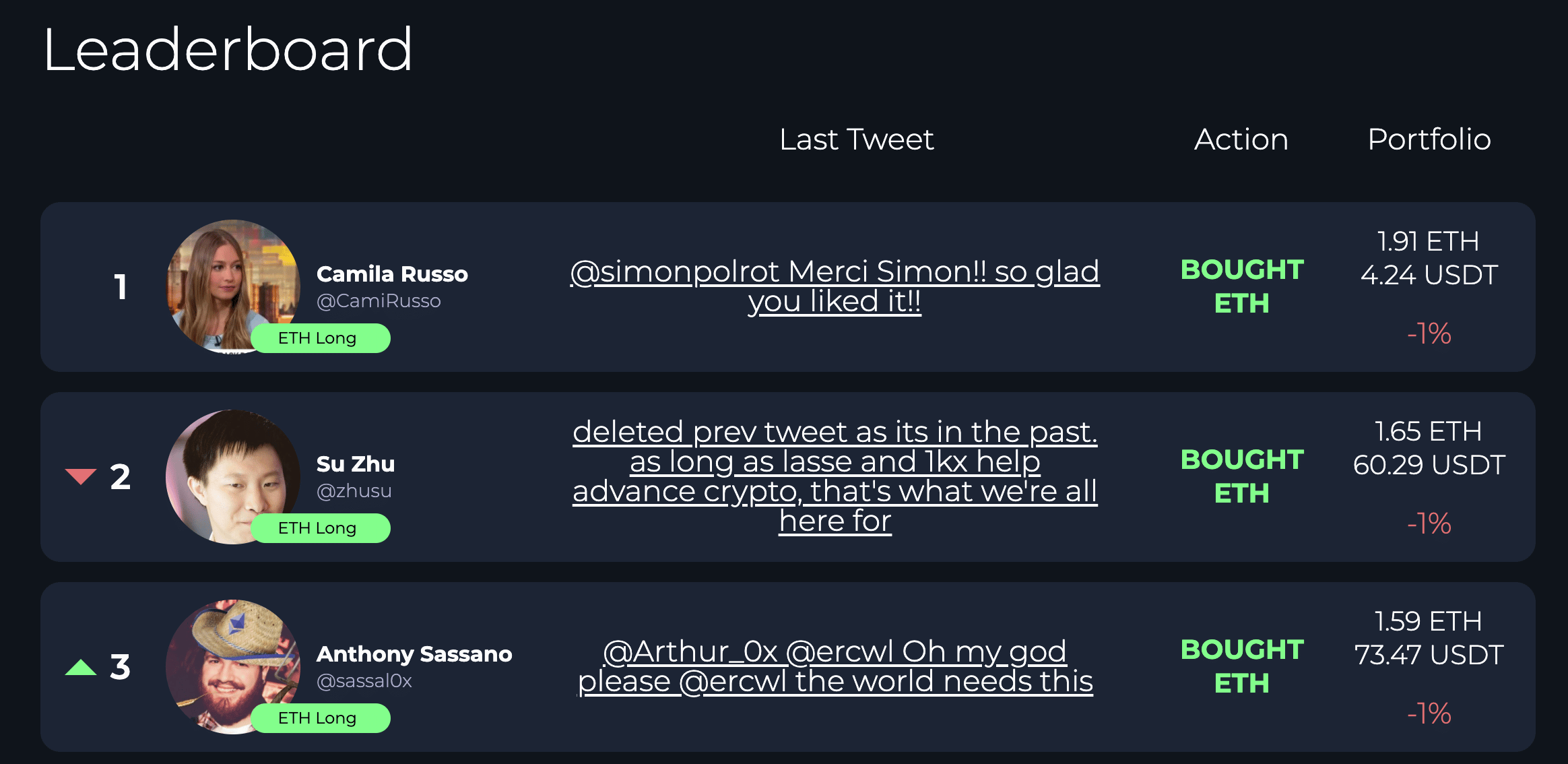 Full announcement blog here. For anyone who participated, the 'competition' started on 8 July 2020 and ended on 29 July 2020 with rewards being sent to winning participants within the following week.
First things first, we have now rewarded the winner with a total of $621 in ETH for correctly predicting Camila Russo would come out on top. In total, 3 people guessed correctly who were subsequently added to a raffle, producing the final outcome 🎉🎉🎉
So what was the purpose?
As you may know, we recently launched DeversiFi 2.0 — a professional-grade, self-custodial exchange built for serious traders. One core feature of the DeversiFi offering is high-speed API access. Programmatic (algorithmic/arbitrage/quantitative) traders, or just smart developers looking to build cool features, will need API access that is fast, reliable and user-friendly. That thinking is what went into revamping our API docs.  
Show-case API functionality & performance, while generating awareness of DeversiFi, were the main reasons behind the campaign. Naturally, we aimed to keep it transparent and fun, hence we cherry-picked the list of celebrities which can be seen here and ensure to keep the API bot open source. You can view the code here.
Success Metrics
The campaign was valuable and served its purpose, yet there was room for improvement. While the feature we built was of a high quality, we did not see as many participants as we had anticipated (for reasons we will get to) and thus the campaign's virility was constricted. Some stats:
To note
While fun, this campaign, naturally, did not sit at the top of our priority list. We built the UI in a short space of time to serve a specific purpose. In retrospect, the initial UI had some room for optimisation in terms of clearer messaging and more effortless usability. We believe this posed some initial problems with uptake which eventually caused us to swiftly revisit the UI design.
However, due to the short window of the campaign, this ultimately came late but now serves as an ideal template for bringing the competition back in a new form (to be announced soon) with the goal of putting a high volume of activity through our API.
Stay tuned with us and future competition on Twitter and Telegram. Subscribe to our periodic industry newsletter (The Defi Rollup).
---
About DeversiFi
DeversiFi gives traders the edge in fast moving decentralised finance (DeFi) markets by allowing them to trade at lightning speed and with deep aggregated liquidity, directly from their privately owned cryptocurrency wallet.
Traders can take advantage of more trading opportunities while always preserving control of their assets for when they need to move fast. DeversiFi's order-books are off-chain, but settlement occurs on the Ethereum blockchain. This means that traders benefit from fast moving order books and instant execution, without having to trust the exchange and whilst always maintaining control of their assets at all times.
For the first time, traders can enjoy all the benefits that they would expect from a legacy large centralised exchange, but with no exchange or counter-party risk.